The Man Behind the Bling of NBA Legends
As NBA season tips off once again this fall, some of us may begin to wonder: what's life like off the court for some of the NBA's biggest legends? Like you, these men appreciate the beauty and craftsmanship of luxury jewelry. From Kobe's single-ear rainbow studs, to Shaq's ID bracelet, to Magic's basketball-shaped diamond pendant; jewelry has a unique way of expressing a person's identity, culture, and passion.
Meet Razmik Hartonian, the man behind the bling of these NBA legends, a jewelry designer who has been in the Los Angeles jewelry business for over 30 years.
Razmik has crafted precious jewelry for some of the NBA's marquee players: Kareem Abdul-Jabbar (pictured to the right) – whose legendary career averaged 24.6 points and 11.2 rebounds with 3.6 assists per game; the iconic Magic Johnson who led the LA Lakers to five championships in the last century; Shaquille O'Neal; Kobe Bryant; and more.
Recently, My Jewelry Repair had the opportunity to sit down with Hartonian to learn more about his creative process, as well as his famous clientele.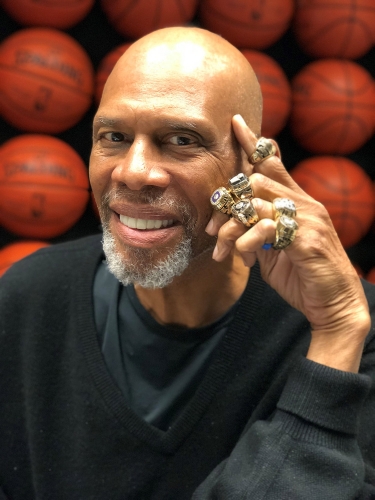 Q: "Who are some of your most well known clients, and what did you make for them?"
A: "I've crafted pieces for actors, hip hop artists, and some of the world's top athletes, including NBA players Kareem Abdul-Jabbar, Magic Johnson, Shaq, and Kobe.
For Magic Johnson, I made a diamond-encrusted basketball pendant."
The 7-foot, 1-inch Shaquille O'Neal – who made the NBA's list of the 50 greatest players of all time – requested an ID bracelet engraved with "SHAQ."
"I've crafted several pieces for Kobe Bryant" – who has spent his entire professional career with the Los Angeles Lakers, and was the youngest player in NBA history to start a game.
These pieces included "the 8-karat purple diamond ring he commissioned for his wife, Vanessa, as well as a matching set of bracelets for his wife and daughters, and a ruby ring for his 30th birthday."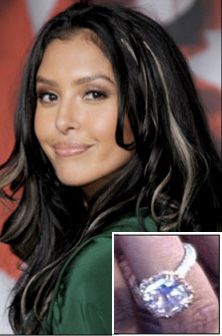 Q: "What do you love most about the job?"
A: "I love that I get to be artistic and creative, and I love surprising clients by bringing their vision to life. It makes me happy to see them happy – the fact that they now own a piece of jewelry they love and will always wear."
Q: "What are the more challenging aspects of your work?"
A: "The hardest part of the job is when orders are placed late. Sometimes the limited time I have makes it stressful and difficult for me. Also, dealing with clients that try to bargain and get more for the buck can be challenging. Other than that, I truly do enjoy my job."
Q: "From where do you draw design inspiration?"
A: "I have been in this industry for a very long time. Time has been my biggest inspiration – it has helped my design sense evolve and has given me the freedom to grow more and more creative. Much of what I design now comes from the individual for whom I am making the piece. They inspire me with the concept of what they want, and give me a vision that helps me capture what it is they are looking for within the piece."
Q: "When making a fine jewelry purchase, what elements should patrons consider to ensure their piece is of good quality?"
A: "Jewelry is about personal taste. If there is a piece that speaks to you, and you appreciate it, then that's the piece for you. You can look at labels and names and prices, however, nothing makes a piece good unless the individual wearing it feels good in it."