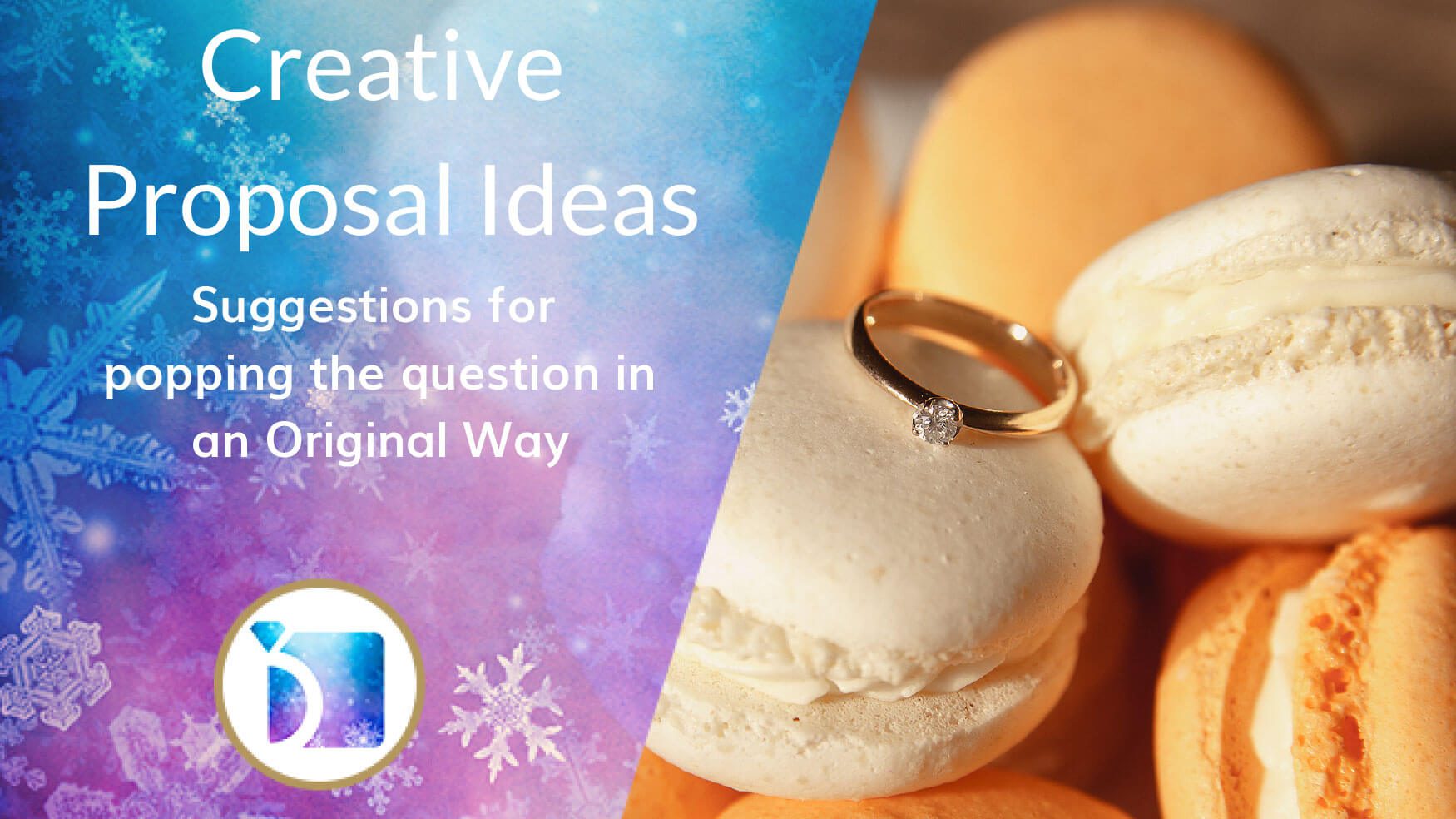 When a person proposes to their partner, it's always something that needs a significant amount of thought. A certain type of couple might necessitate a certain type of proposal. For instance, if your partner is not a fan of public speaking and is uncomfortable being the center of attention, maybe a more intimate and private proposal is necessary.
Below are a few suggestions to get the creative juices flowing if you still don't have a clue how you're going to pop the question.
Go for Simple and Private
Whether you decide to propose over a home-cooked dinner or you spell out "Will You Marry Me" on the Scrabble board, making your proposal simple and private doesn't mean you have to sacrifice cuteness or making some sort of a grand gesture. Just think about who you are proposing to and what would be the most comfortable and compelling way to win them over.
One popular method is putting the ring in the dessert, which can often work out perfectly, but has the potential to misfire. Macarons are a great idea, perhaps a decadent cheesecake of some sort, or even a souffle. Just make sure that the ring isn't so well hidden that your significant other ends up eating it.
Bring Your Pets Into the Proposal
Hiding the ring somewhere on your pet or having your pet bring in the engagement ring might be a fun way to get the entire family involved in the proposal. Should you go this route, you partner should likely be a pet lover.
The Destination Proposal
When we travel there's a certain air of possibility that makes things ripe for romance. When we travel with our partners and loved ones it's a great opportunity to bring us closer. Proposing while at a travel destination is a tried and true method of getting a "yes." Just make sure that this isn't the first time you're traveling with your partner — you learn a lot of new things about people while traveling in foreign lands.
Scavenger Hunt Proposal
If you're planning on proposing in your hometown, make an event out of it by planning a scavenger hunt that takes you throughout your entire city. Make sure you end up at a special spot that is significant to you and your significant other's relationship.
We hope some of these ideas get your creative engines firing on all cylinders. And remember that My Jewelry Repair provides ring repair and ring sizing services with our simple, online, mail-in process after you get that "yes!"
Are you thinking about proposing this Valentine's Day?
If yes, how you are going to pop the question is a big decision. The story of your proposal will be told over, and over again, and possibly captured on video forever. No pressure!
A creative proposal can be memorable and fun, so be sure to plan out all the details and possible scenarios. A proposal that is too creative can easily become a proposal blunder.
Here are a few examples of creative proposal mishaps:
Up, Up, and Away
Do you get air sick when you fly? Probably one thing to consider if you are planning a romantic proposal on a small plane. This proposal mishap included the young man getting air sick the instant he popped the question and tossing his cookies as they say. She said yes and handed him a towel.
Butterfingers
A man was proposing to his girlfriend in Times Square NYC and dropped the ring 8 feet down a utility grate. The couple reached out to NYPD officers for help, but ring was not able to be found that day. NYPD officers returned the next day and were able to find the ring. Although the couple did not leave their contact information, a Twitter post reconnected the happy couple with the found ring. Way to go NYPD!
Under the Sea
Planning on an underwater proposal can be tricky, so this groom to be decided to write his proposal in a card, the only problem was the ocean water destroyed the card before she could read it. She did say yes, once she knew the question.
Proposal from the Sky
A first time skydiver planned to propose when he landed and got down on one knee in front of his bride to be, unfortunately the weather did not cooperate and the dive was cancelled, but the proposal still took place with a little less of a grand entrance on the airfield parking lot, but she still said yes.
NBA Center Court
Last but not least, if you plan on making a very public proposal, you may want to be sure the answer is going to be "Yes". This young man proposed on the basketball court at a televised NBA game and she said no. The mascot walked him off the court. Poor guy!
Remember, MyJewelryRepair.com can provide ring sizing before or after your proposal with our easy to use online, mail-in process.
Wedding Horror Stories
If you've already experienced your wedding, there's a good chance that one or two small things didn't exactly go according to plan. If you haven't yet seen your wedding day, then it's likely that you've perhaps pondered over a few catastrophes that could possibly occur on your special day. Maybe you've even obsessed over it a little too much.
Below, My Jewelry Repair goes over some wedding horror stories in honor of Halloween. We scoured the internet to look for some pretty amazing things that could possibly go wrong so maybe you can make sure none of these things happen to you.
Sure, no wedding can be exactly perfect, right? Especially in the eyes of that mother-in-law who may or may not be impossible to please.
Horror Story #1
Since we're on the subject of mother-in-laws, we saw a story on the interwebs about a particularly ostentatious mother-in-law who wore a pith helmet and mosquito net to her own daughter's wedding, refusing to take it off for pictures. We might be going out on a limb here, but that could be considered over-accessorizing. PRO TIP: Make sure that, as a bride, you never, ever get upstaged like this.
Horror Story #2
This one comes from one of our employees on our creative team. He went to his friend's wedding and her father walked her down the aisle with long, disheveled hair and a beard, trying hard to pull off some strange version of the McConaughey look. Needless to say, several Geico Caveman Commercial jokes were made… but nobody at the wedding saved on car insurance.
Horror Story #3
This story falls on the ring bearer. A particularly precocious 5-year-old thought it would be a good idea to spin the pillow holding the ring, as a way to impress the nearby flower girl. However, the ring was not property tied to said pillow, and the ring itself flew off, never to be found.
Horror Story #4
Here's a horror story about a bride from Hades. We read a story online about a bride who would not allow any of her friends or acquaintances to get married the same year as her. For those who challenged her, this bridezilla threw a nasty fit and created obstacles for anyone who trespassed upon her bridal year.
Whatever you're going through or set to go through with your own wedding, hopefully you won't have to go through anything remotely close to any of these horrifying wedding tales. Needless to say, make sure that ring gets tied on the pillow!
If your wedding ring, engagement ring, or any other type of ring needs to be repaired, resized, or even just needs the sort of routine maintenance to truly shine, we're here for you. We have an easy, socially-distant process that you can do from your own home. Contact My Jewelry Repair today and let's get started!
Resources:
https://www.insider.com/worst-bride-horror-stories-wedding-planners-2018-7
https://www.brides.com/story/horrifying-wedding-disasters-from-reddit