Precious Moments Restored
When that special necklace needs quality repair or restringing, our secure process and certified specialists are ready to provide it. We evaluate them for free, and you choose the repairs you want! We then perform the repair and send it right back to you.
"Had a wonderful experience with MyJewelryRepair.com"
"Had a wonderful experience with MyJewelryRepair.com. You'd think it would be tricky sending your jewelry in to be repaired without being face-to-face. But everything went
…
"Had a wonderful experience with MyJewelryRepair.com. You'd think it would be tricky sending your jewelry in to be repaired without being face-to-face. But everything went so smoothly that it was astounding! Their online ordering tool makes it easy to get started. You immediately get confirmation and tracking information. The staff is quick to respond to any questions you might have. And if they have any questions, you get a call for clarification. The staff I have spoken with were super-friendly and understanding (shout-out to Iris, who is especially darling!) Then, when your receive your jewelry back in the mail and it is exactly what you wanted–AND at a reasonable price? Wow! I had a pair of modest diamond stud earrings that I never wore because I feared losing them. For years, I had wanted to have them converted into lever-back earrings, but hadn't found the right local jeweler to do the work. My "new" earrings came back and they were gorgeous–simple and elegant, comfortable and secure. I now can wear them all the time without any worries. What I did next was to scrounge around in my jewelry collection looking for more projects (doesn't everyone have some?) to send to MyJewelryRepair.com—because trust is an important part of the process."
CA
Read more ""Had a wonderful experience with MyJewelryRepair.com""
Carolyn B.
Want to see more of what our customers have said? Check out our Testimonials Page!

List of Necklace Repair Services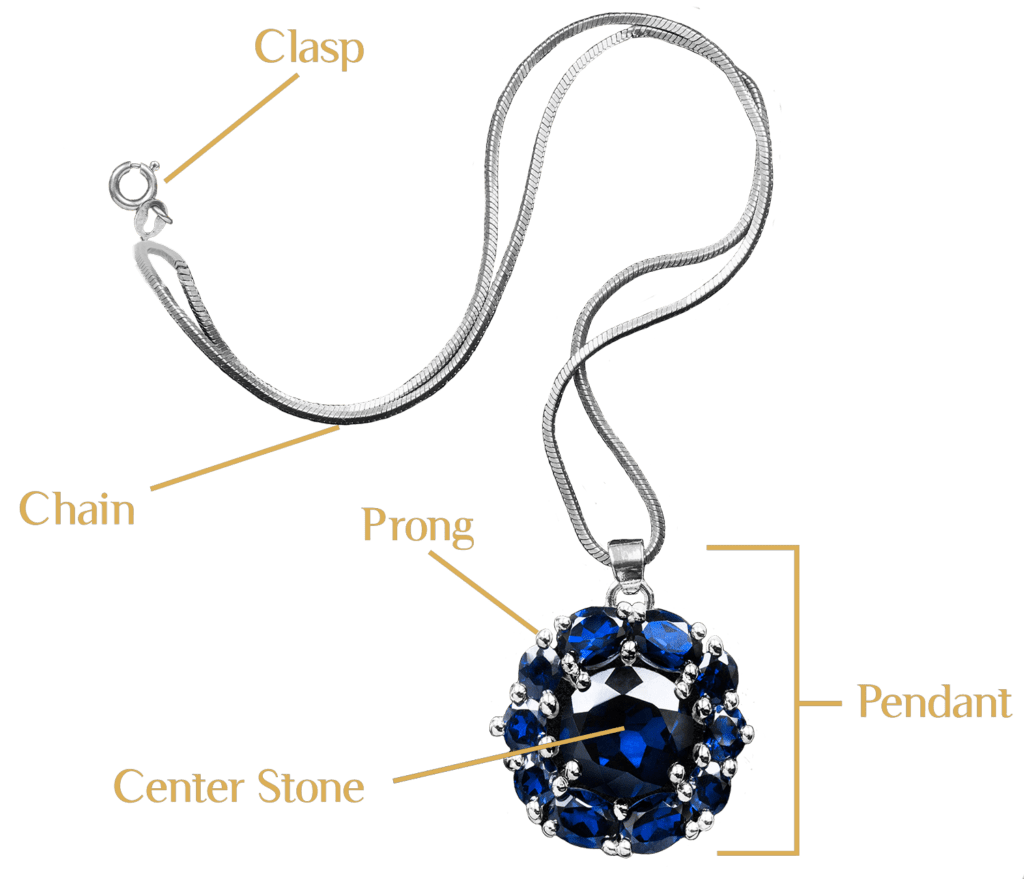 If you require a different kind of repair or service for your bracelet, feel free to Contact Us.

For a cost breakdown, please visit our Pricing List.
We Repair What Your Local Jeweler Cannot
We get many repairs from local jewelry and watch repair shops who don't have the means or expertise to provide the intricate metal work needed. You might have even been a My Jewelry Repair customer and not have known it!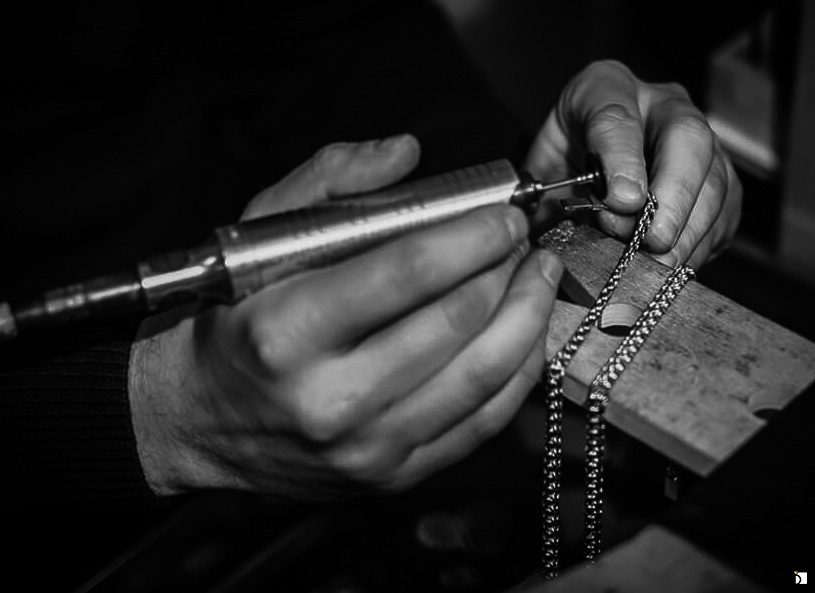 Necklace Services Available for Various Styles
Pearl Strand (Choker, Princess, Matinee, Opera, Rope)
Gemstone Necklace (Including Diamond, Ruby, Emerald, Sapphire)
Tennis Necklace/Rivière
Bolo/Lariat
Pendant (Hearts, Crosses, Initials)
Chain Necklace (Rope, Box, Marine)
State-of-the-Art Setting Labs
We have built out custom labs for our master craftsmen to have everything they need to focus on settings. This level of attention is needed for top of the line jewelry settings of the kind our premier manufacturing partners require.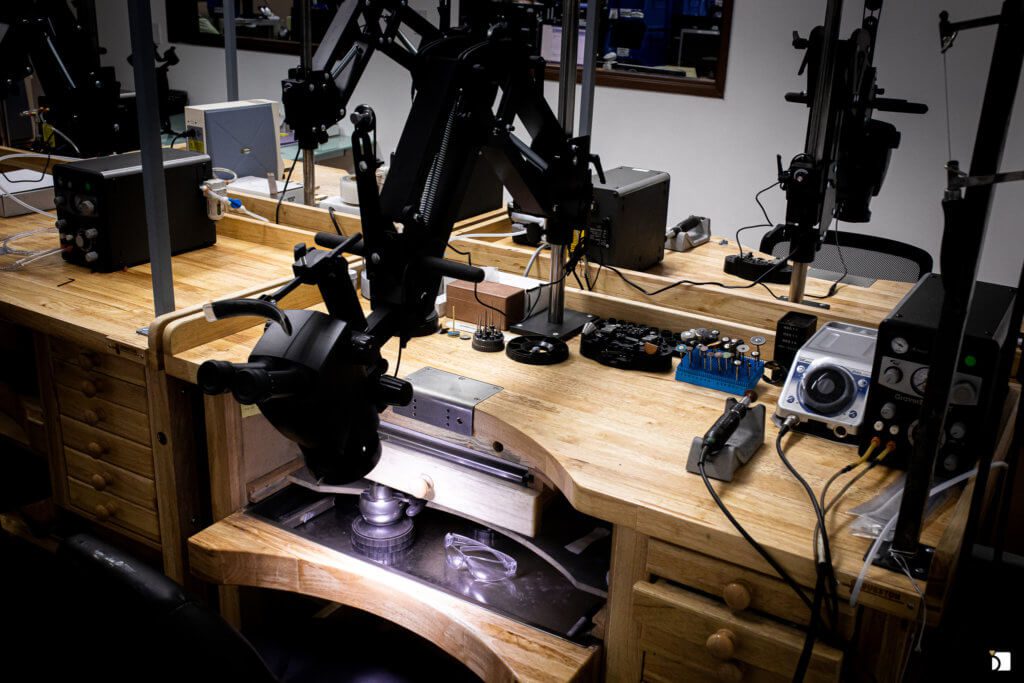 Frequently Asked Necklace Repair Questions
How Much Does Necklace Repair Cost?
See below for a complete breakdown
Necklace Repair Pricing
Pricing chart for costs associated with common necklace repair services.
| Service | Starting Price |
| --- | --- |
| Solder / Fix break in Ring or Chain | $44.99 |
| Prong Re-tipping (Up to 12 Prongs) | $49.99 |
| Rebuild / Replace Prong | $19.99 |
| Set Stones (1-5 Stones) | $49.99 |
| Clean & Polish | $39.99 |
| Engraving | $24.99 |
| Pearl Restringing (Knotted or Unknotted Per Inch) | $4.99 |
| Full Pricing List | |
How Does Necklace Repair Online Work
The Most Convenient Location of All is Your Own Home
You lead a busy lifestyle, so you don't really have time to research your local jewelers and jewelry repair shops thoroughly. That's where My Jewelry Repair comes in! All you have to do is select your necklace repair service, print out your packing slip, and arrange to have your repair picked up, or drop it off at your local carrier. Then leave the hard work to us!
For more information, visit our How it Works page.

Is Necklace Repair By Mail Safe?
We Give Your Necklace the TLC It Needs
Even if you take special care of your jewelry, every piece needs some form of service and routine maintenance to keep it looking like new. Our team of master jewelers will execute any type of necklace repair you might need. Everyone can take advantage of our repair services, no matter where your jewelry was purchased.
From soldering a broken chain to restringing pearls and beads, we have all of your necklace repair needs covered!
At MyJewelryRepair.com, our master craftsman have over 20 years of experience bringing necklace jewelry back to it's former glory.

Where Can I Find Necklace Repair Near Me?
With MyJewelryRepair.com… Anywhere!
Our Nationwide Reach
MyJewelryRepair.com can fix your necklace, whether you live in New York, Los Angeles, Ohio, or Texas. When you find yourself asking where to go, you'll be glad to know we can provide services from anywhere in the country! We have locations on both coasts and offer free standard shipping – even from Alaska and Hawaii. We dedicate ourselves to giving the highest quality necklace repair without restrictions or limitations. Send your damaged necklace to My Jewelry Repair today and we'll send it back good as new!
What's the difference between a necklace, pendant, or chain?
Any piece of jewelry worn around the neck is typically referred to as a necklace. A pendant can then be hung from the chain, but does not need the chain.
So to summarize:
A chain can be referred to as a necklace
A necklace does not have to be a chain

At My Jewelry Repair, we treat your showcase pieces and the jewelry you wear every day as if it were our own.