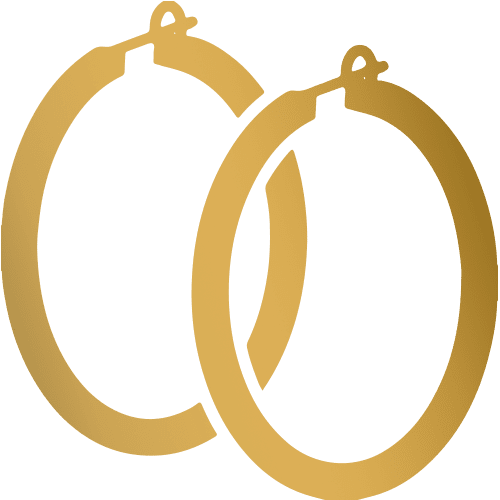 Earring Repairs Made Simple
Our easy-to-use ordering process makes it simple to place your order, so you can mail your earrings to our certified specialists. We evaluate them for free, and you choose the repairs you want! We then simply perform the repair and send it right back to you.
"Fantastic work done on my charm"
"I am 100% satisfied with the craftsmanship and quality of the work that was done on my charm. If ever i need any of my
…
jewelry repaired again i will be coming back. I'm very happy"
shawn williams
"Excellent prices"
"Great job excellent prices will use again" Pleasantville, NJ
Wendy S.
"I feel like I have found a treasure"
"THANK YOU for restoring my Montana Silversmiths Earrings back to their original condition! You did an awesome job, and, they are as beautiful now as
…
when I purchased them over 25 years ago! I called Montana Silversmiths and spoke with Sheila Green in Customer Service, and gave her your contact information so that they can now direct their customers directly to you when they need something reconditioned. I feel like I have found a treasure in knowing that you can repair and restore everything from inexpensive pieces to very valuable pieces. You can bet that I will be sending more business your way!" Lake Charles
Jennifer Greene
"The customer service team is amazing"
"I sent in a ring to be resized–my estimate also suggested a stone resetting. I hadn't planned on repairing the stone, and settled for just
…
the resizing. After accepting the repair, I had issues with my credit card going through on the website…we went back and forth with them bank and customer service team (for days) but when I was starting to feel hopeless about getting it resolved (and playing phone tag) I was informed my ring had already been shipped out free of charge, resized, and with a stone reset! The customer service team is amazing despite being a mostly online service center. if you ever need anything resolved, ask for Eboni. she works wonders. thank you thank you thank you!" Turtle Lake, ND
Rebecca R.
"I will certainly use again"
"Great job , and reasonable price. I will certainly use again for any repairs" Anchorage, AK
Mike R.
"The work is invisible and expertly done."
"I'm so grateful for the excellent repair work done on my delicate necklace. The work is invisible and expertly done. The service turnaround was fast
…
and the piece was returned in a very professionally boxed presentation. Thank you." San Pedro, CA
Rosamond D.
Want to see more of what our customers have said? Check out our Testimonials Page!

List of Earring Repair Services
Our team includes gemologists certified by

We are proud members of the

If you require a different kind of repair or service for your earring, feel free to Contact Us.

For a cost breakdown, please visit our Pricing List.
We Can Repair All The Different Earring Types
The Earring Types Include: Studs, Hoops, Dangles, Huggie, Leverbacks, Omegas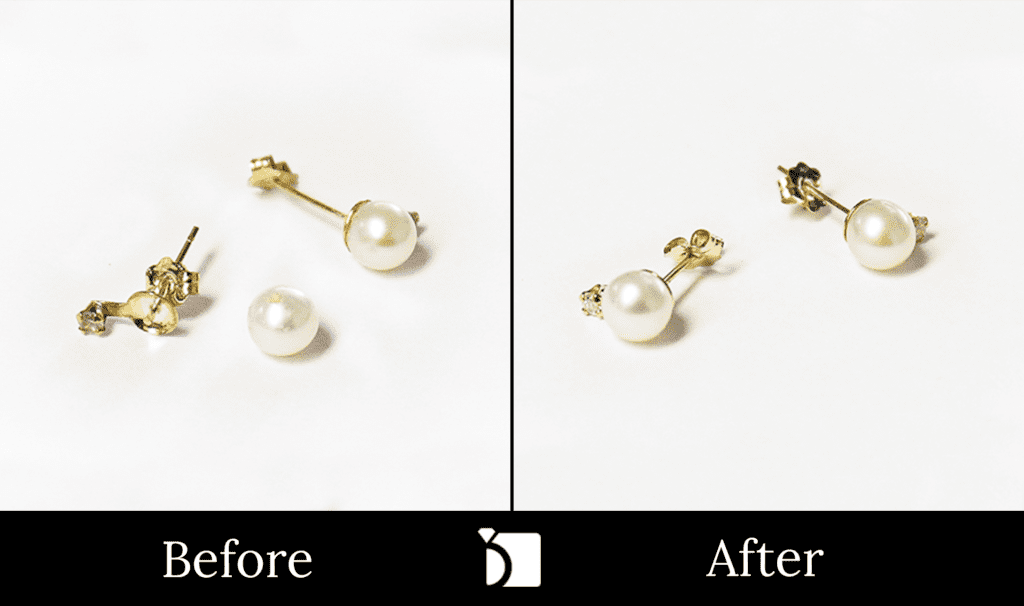 (Before & After #98)
State-of-the-Art Setting Labs
We have built out custom labs for our master craftsmen to have everything they need to focus on settings. This level of attention is needed for top of the line jewelry settings of the kind our premier manufacturing partners require.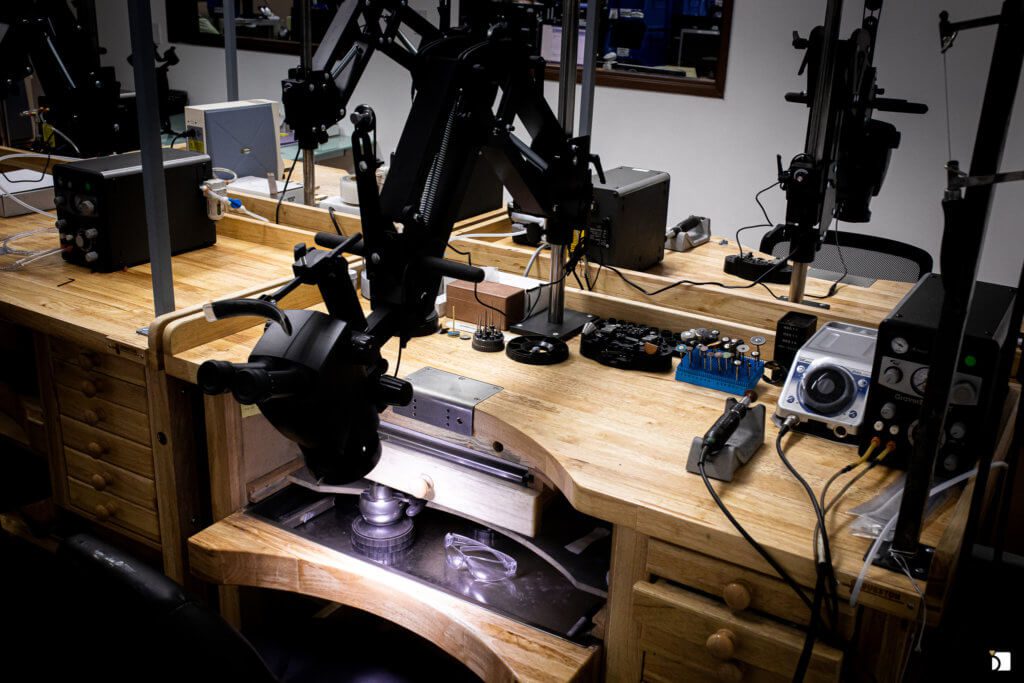 These clean environments are equipped with the best jeweler benches, tools, and high tech microscopes.

Frequently Asked Earring Repair Questions
How Much Does Earring Repair Cost?
Largely dependant on a variety of factors, here are a couple of the most common we see.
Jewelry Repair
Pricing chart for costs associated with various jewelry repair services.
| Service | Price |
| --- | --- |
| Tighten Loose Stone with repair | $4.99 |
| Pearl Restringing (Knotted or Unknotted Per Inch) | $4.99 |
| Rebuild / Replace Prong | $19.99 |
| Set Stones (1-5 Stones) | $49.99 |
| Solder 2-3 Rings Together | $49.99 |
| Prong Re-tipping (Up to 12 Prongs) | $49.99 |
| Solder / Fix break in Ring or Chain | $44.99 |
| Replace Earring Posts or Backs | $49.99 |
| Change Earrings to Screw Posts & Backs | $89.99 |
| Replace Head & Set Stone | Estimate |
| Gemstone Replacement | Estimate |
| Other Miscellaneous Work | Estimate |
| About our : | Ring Repair Services » |
| About our : | Necklace Repair Services » |
| About our : | Bracelet Repair Services » |
| About our : | Earring Repair Services » |
| About our: | Gemstone Replacement Services |
How Does Earring Repair Online Work
Print your shipping label and order slip. Choose your insurance, pack your repair(s). My Jewelry Repair provides step-by-step instructions for safe packaging and travel. All you have to do from there is schedule USPS courier pickup if you don't want to leave your home, or drop-off (with your nearest USPS location). Tracking included for safe arrival and transparency.
Our experienced team evaluates every bracelet individually, delivering personalized care to every item we receive for repair. No hidden fees. If additional jewelry repair is needed, we let our customers know up front.
For more information, visit our How it Works page.

Where Can I Find Earring Repair Near Me?
With My Jewelry Repair... Anywhere!
You Never Have to Leave Your Home!
When you find yourself asking where to go, you'll be glad to know we can provide services from anywhere in the country! We have locations on both coasts and offer free standard shipping - even from Alaska and Hawaii.
All of Our Services Are Available at All Times
From Manhattan to Oceanside, Silicon Valley to Jacksonville, our services are not limited by location, and can serve you anywhere in the U.S. with Free Standard Shipping. Meaning you can get the highest quality in earring repair without restriction
You'll never have to navigate a baffling mall layout again, looking for a 'quick' repair that takes forever. All you have to do is put your earrings in the mail and we'll have it back with a quick turnaround, fully restored, fully functional.
How long does earring repair take?
Once we receive your earring, we can usually send you your estimate the same day, but never more than 72 hours. Once approved we finish work on the earrings within 2-3 business days.
The total time depends on your location and the shipping option you choose. We provide free standard shipping utilizing USPS Priority Mail, which is 1-3 days, but we offer faster options as well
For a full breakdown, visit Standard Repair Timelines.


At My Jewelry Repair, we treat your showcase pieces and the jewelry you wear every day as if it were our own.