Main Content
Premier Watch & Jewelry Repair Services Online

Experienced & Certified Quality
Master Jewelers. Certified Watchmakers. We provide the highest caliber of Jewelry and Watch Repair Services.

State-of-the-Art Technology
NASA-Level Clean Rooms, 3D Printers, Laser Welders, and more! We utilize the latest in tech and technique to offer you the best possible service.

Active & Friendly Communication
We keep you updated every step of the way and are ready to respond to any of your questions so that you can have ease of mind.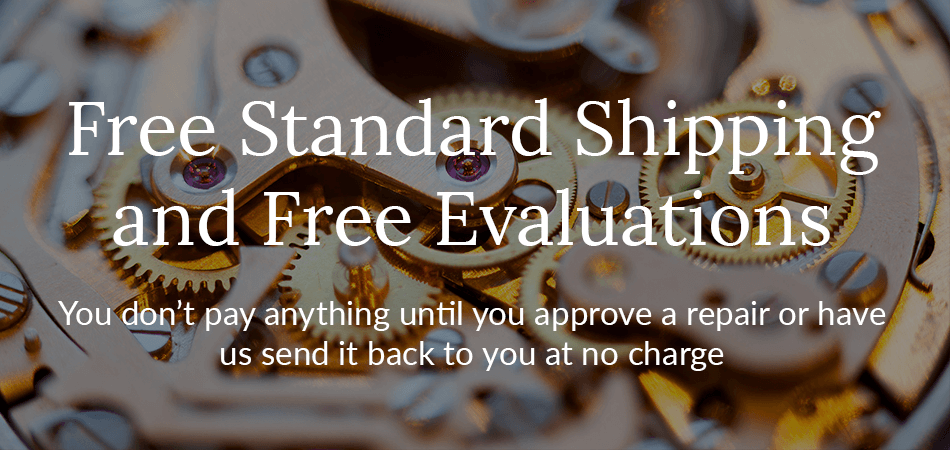 My Jewelry Repair's Promise
When you choose My Jewelry Repair, you're choosing Master Jewelers and Certified Watchmakers who are highly skilled in their craft. You're choosing state-of-the-art environments that were specifically designed to perform the highest caliber of service possible for our customers. Perhaps most important of all, choosing My Jewelry Repair is choosing a culture that prioritizes the safety and perfection of each item that passes through our doors. Choose My Jewelry Repair today!
Take a look at How It Works »
"It came back looking like a brand new watch!"
"I sent in a men's Ebel Sports Wave watch to have some repairs done to it, the strap adjusted and the clasp made tighter. It… came back looking like a brand new watch! It was polished and made to look perfect. Needless to say it runs great and I am very happy with the result. With great service like this, I will most definitely be using this great company again. I highly recommend My Jewelry Repair and suggest you place your trust in them too!" CA Read more ""It came back looking like a brand new watch!""
Norman F.
"I will certainly use again"
"Great job , and reasonable price. I will certainly use again for any repairs" Anchorage, AK
Mike R.
" I could not have been more impressed"
"Thank you, thank you, thank you. Recently I sent you my Bulova watch for cleaning and overhaul. I was unable to find any jeweler in… my immediate area, the Little Rock, AR area or the Memphis, TN area to do the work. I found you online and with some hesitation and apprehension, sent you my watch. You did acknowledge receipt and did provide an analysis of necessary repairs. I did call a couple of times and was a little concerned that repairs would require more time than I thought and that parts needed to be ordered. My apprehension grew. You had my watch and my payment. Then you notified me that my watch had shipped and when it arrived a couple of days ago I could not have been more impressed with your packaging and more so with the results. My watch looks better than new and now is keeping perfect time. I am absolutely satisfied with your work and will without hesitation recommend MyJewelryRepair to any and everyone that may need your services. You deserve the highest rating for a job well done!" Edgemont, AR Read more "" I could not have been more impressed""
Robert B.
"Did a phenomenal job repairing my ring"
"After noticing a stone had fallen out of my beautiful engagement ring I of course was devastated, after a lot of research I found My… jewelry repair online, I read testimonials and looked them up on BBB. After a lot of consideration I decided to send in my ring and that was the best decision I made My jewelry Repair did a phenomenal job repairing my ring. my ring is an invisible setting and not all jewelers can repair Invisible settings , however My jewelry Repair did a great job. I am soooooo happy to have my ring back and it looks brand new. I highly recommend my jewelry repair . Thank you"
Lake Worth Read more ""Did a phenomenal job repairing my ring""
Jessica D.
"Had such wonderful customer service"
"Words cannot express my thanks to this company! I recently lost a diamond out of my engagement ring. To make matters worse, it happened literally… the day after the store we bought the ring closed. I was reaching my breaking point until I was directed to this website. I was skeptical to say the least, I mean this was my engagement ring! After talking with a representative who assured me that everything would be fine, I sent my ring in. I followed the process diligently and any point I had a question I emailed the representative and received responses almost immediately. To top it all off, it was returned to me before my requested date! I have never had such wonderful customer service and will be using this company for all my jewelry concerns in the future!" Arkansas Read more ""Had such wonderful customer service""
Jamie Thomas
"I was so pleased to have found your Service"
Inez B.
"The work was quality–the ring looks great"
"I was not expecting anything exceptional from a mail-in service, but I was wrong! Our ring was repaired exactly as we needed. But the communication… was what surprised and impressed me most. Our Sears had left town, so I called MyJewelryRepair directly to find out what to do. The lady sent me an email and told me how to send our ring. Her email included not only the link to the service site, but also detailed instructions about how to fill out the online form. It was very easy to follow her instructions on the site. Once I filled out the online form and printed the shipping label, I received a confirmation email. I also received email communications when my ring arrived, a couple of days later telling me it was being evaluated, a couple of days later telling me what work was being done, and a couple of days later when the work was completed (including before and after pictures)! Wow! It was as good as taking it to a local jeweler where I could check on it in person. And the work was quality–the ring looks great." FL Read more ""The work was quality–the ring looks great""
Michele
"My ring looks brand new and you can't even tell it was resized"
Brittany
"So glad I took a chance, it saved my ring"
"I lost a blue invisibly set diamond from a ring i purchased on ebay, not from a jeweler, so I didn't know where to get… it repaired since it is a more complicated setting. A local jeweler gave me an estimate that was more than i paid for the ring. I was ready to just sell it for the gold weight when I found this site on Google and thought I'd get another estimate. It was half of what the local jeweler was asking! So glad I took a chance, it saved my ring–they did a great job." Read more ""So glad I took a chance, it saved my ring""
Jane O.
"My wedding ring is perfect"
"I am extremely pleased with the service provided . It was easy, fast and the job done on the replacement of the lost diamond on… my wedding ring is perfect."
Cedar Park Read more ""My wedding ring is perfect""
Armina Kulenovic
Making Our Mark in the Jewelry & Watch Repair Industry
At My Jewelry Repair, we aim to provide our customers with the highest caliber of jewelry and watch repair all from the comfort of their home. Our range of services allows us to cater to each individual need of our customers, ranging from a broken clasp in their childhood bracelet to an entire movement recreation in their favorite timepiece.
Our team of hand-selected master jewelers and certified watchmakers display not only noteworthy credentials but also years of experience, allowing our customers the confidence of knowing their item is being placed in the right hands for the job.
We are the one-stop-shop for anyone searching for a high caliber, proficient, and straightforward jewelry and watch repair service.
Ready to find the service you need? Check out all of Our Services »