From professional battery replacements to mechanical movement overhauls, we have all of your watch repair needs covered!
At MyJewelryRepair.com, our master craftsmen have over 20 years of experience bringing timepieces back to their former glory.
Watch Repair Made Simple
Our easy-to-use ordering process makes it simple to place your order, so you can mail your watch to our certified watchmakers. We evaluate it for free, and you choose the repairs you want! We then simply perform the repair and send it right back to you.
List of Watch Repair Services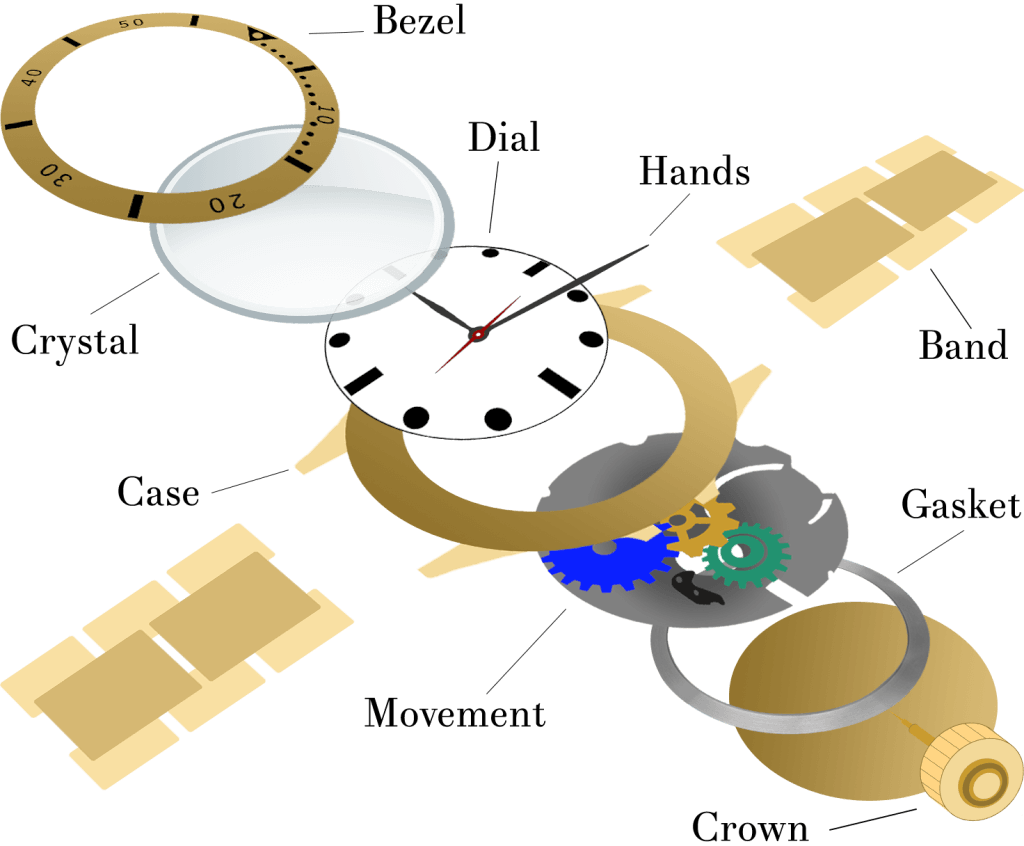 If you require a different type of repair or service for your watch, feel free to Contact Us.
For a cost breakdown, please visit our Pricing List.
Watch Services Available for Various Makes & Models
Bulova, Swiss Army, Citizen, Gucci, TechnoMarine, Omega, Seiko, Tag Heuer, Movado, Victorinox, Pocket Watches, Vintage Timepieces and more.
All Of Our Services Are Available at All Times
From New York to Los Angeles, Ohio to Texas, our services are not limited by location. We can serve you anywhere in the United States with Free Standard Shipping. Meaning you can get the highest quality in watch repair without restrictions.
Certified Watchmakers
Our team of Experienced Watchmakers have many Certifications, including:
Among others, and more still to come! (Learn More)
Want to see more of what our customers have said? Check out our Testimonials Page!

Print your shipping label and order slip. Choose your insurance, pack your repair(s). My Jewelry Repair provides step-by-step instructions for safe packaging and travel. All you have to do from there is schedule USPS courier pickup if you don't want to leave your home, or drop-off (with your nearest USPS location). Tracking included for safe arrival and transparency.
Common Watch Situations
Watches can be complicated and sometimes delicate objects, many of which are one of a kind. Our master watchmakers take utmost care during every step of the repair and restoration process.
Watches generally come to us due to:
Watch worn during inappropriate activities
Improper use of chronograph functions
Exposing watch to magnetic fields
Improper watch function settings
Winding a watch while wearing it
Cross-threading watch crown
DIY battery replacement
Improper watch storage
Unless you're a specialist, don't try this at home. We see a lot of interesting stuff that comes to us from those do-it-yourself folks.
Most new watches come with a 2 year warranty as long as you keep the recommended servicing at specific intervals set by the manufacturer. But warranty's rarely cover unforeseen accidents or negligence...
Manufacturer Warranties rarely cover:
Damage / scratches to watch finish (case, crystal, bracelet, strap or other components)
Damage caused by failure to comply with parameters of maintenance schedule
Moisture damage (applicable to non-water resistant watches)
Damage brought about by misuse, accident, or tampering
Damage caused by third party repairs
Accidental damage
No job is too simple or too complicated for our Master Technicians
Is your watch beyond its warranty? Send it on over to MyJewelryRepair.com right away for repairs with great turnaround and competitive rates!
"Where can I find watch repair near me?" With MyJewelryRepair.com... Anywhere!
When you find your self asking where to go, you'll be glad to know we can provide services from anywhere in the country! We have locations on both coasts and offer free standard shipping - even from Alaska and Hawaii.
You never have to leave your home
You'll never have to navigate a baffling mall layout again, looking for a 'quick' repair that takes forever. All you have to do is put Dad's watch in the mail and we'll have it back with a quick turnaround, fully restored, fully functional.
We do vintage watch restoration, mechanical and automatic movement repair, quartz movement replacement, and much more!
MJR's Commitment to Quality
MJR has been performing jewelry and watch repairs for manufacturers and department stores for over two decades. We pride ourselves on our list of quality Craftsman who employ our services. To learn more about our history, please visit our About Us page.
For information on how we keep your items safe, please visit: Security
To begin using our service and repair your jewelry, please click on the "Get Started" button below.