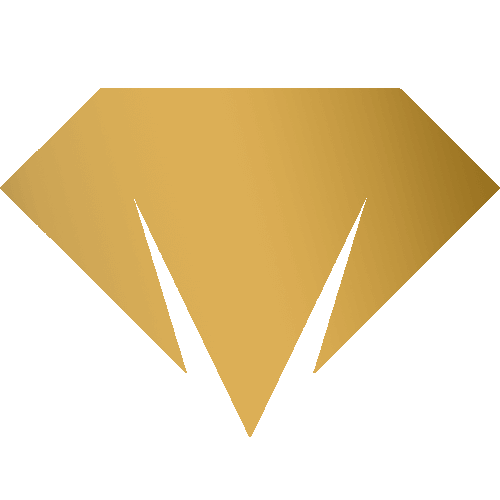 Revive Your Sparkle with Premier Invisible Setting Restoration
Seeking a Master Jeweler to entrust with your cherished Invisible Setting?

Our ensemble of Master Jewelers possesses the golden touch, adept at reviving the magical allure of this sophisticated setting to its fullest brilliance!

Premier Invisible Setting Repair Services
What Are Invisible Settings?
Invisible settings happen to be one of the rarest and most intricate setting techniques known to the world of haute jewelry. Originally heralded for its innovation and finesse, this meticulous technique allows gemstones to be set side by side with no visible prongs or metal separating them, creating a seamless and sparkling surface that captures the essence of luxury and elegance.

If you would like to learn more about invisible settings, visit our Invisible (Mystery) Settings Guide!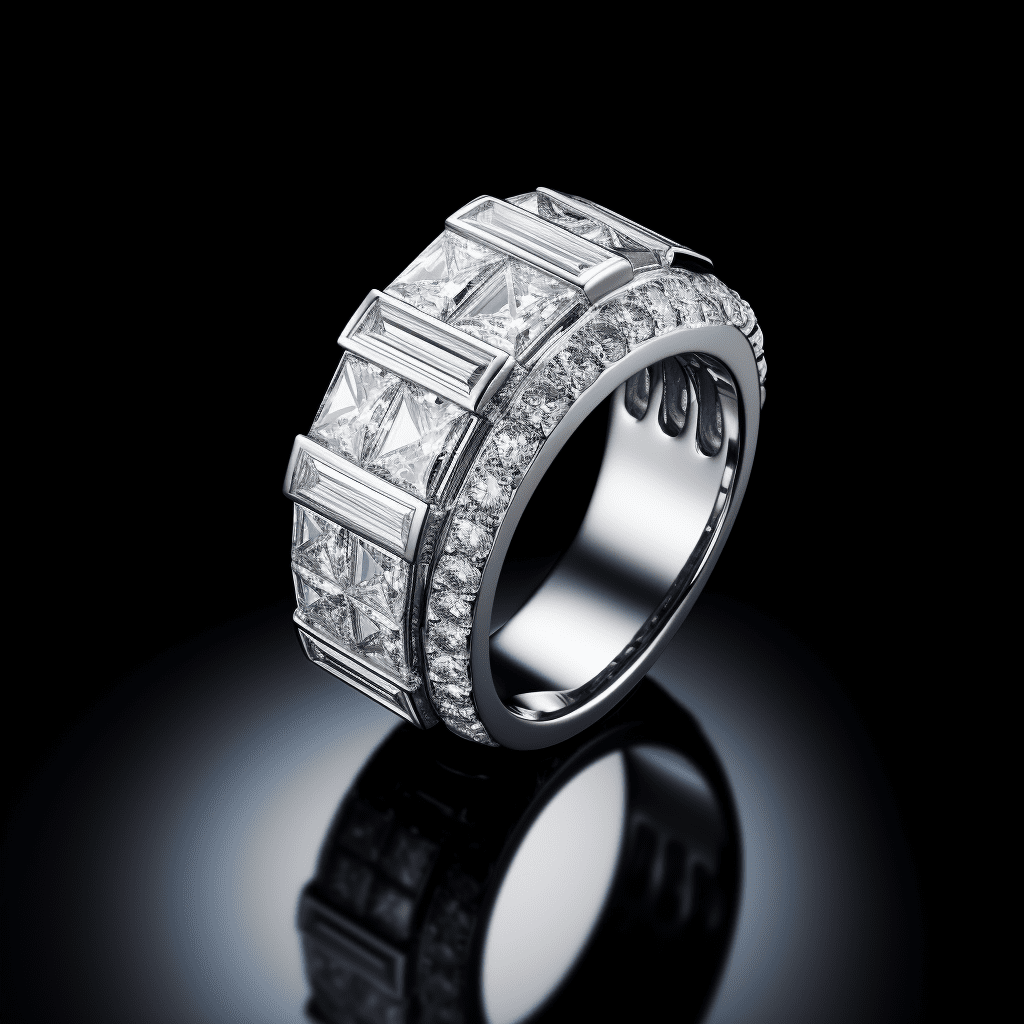 Our Invisible Setting Services
Whether it graces a ring, a bracelet, or even a necklace, your invisible setting demands the delicate precision and artistry of a Master Jeweler—one who understands not only the complexities of this beautiful technique but also appreciates the history and craftsmanship that underpin each dazzling creation. Entrusting your piece to an expert ensures the ultimate synergy of brilliance and sophistication, breathing new life into your precious gemstones and enhancing their natural allure.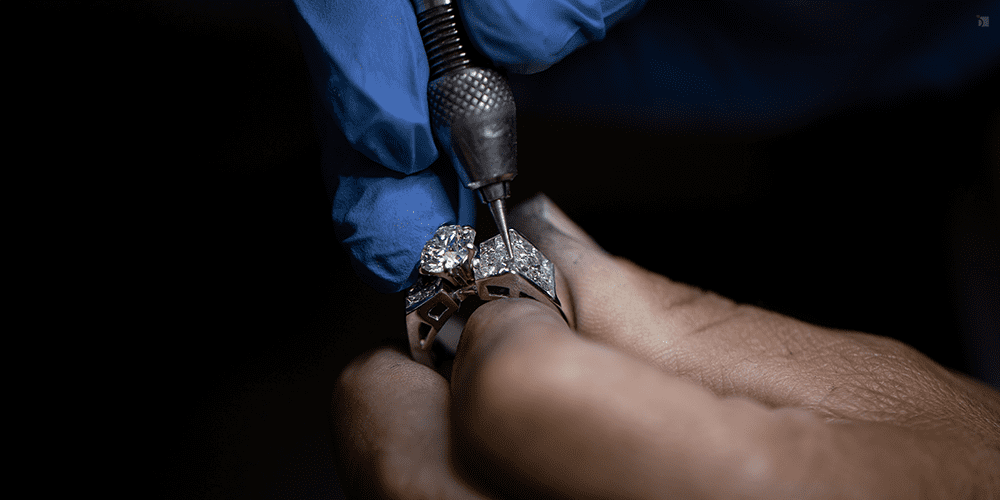 Why Choose My Jewelry Repair?
At My Jewelry Repair, we hand-select Master Jewelers who are not only adept at performing invisible setting repairs but are bona fide specialists, versed in the fine art of this technique. Each member of our team undergoes rigorous training and possesses a deep-seated passion for the craft, ensuring that your cherished accessory is nurtured back to its pristine glory.

Your special accessory will be placed in the hands of a seasoned professional who appreciates the intricate and meticulous process involved in restoring your invisibly set jewelry to a state of unparalleled perfection. Utilizing a blend of time-honored methods and innovative technologies, they work with an artisan's touch to recapture the original elegance and lustre that makes each piece truly unique.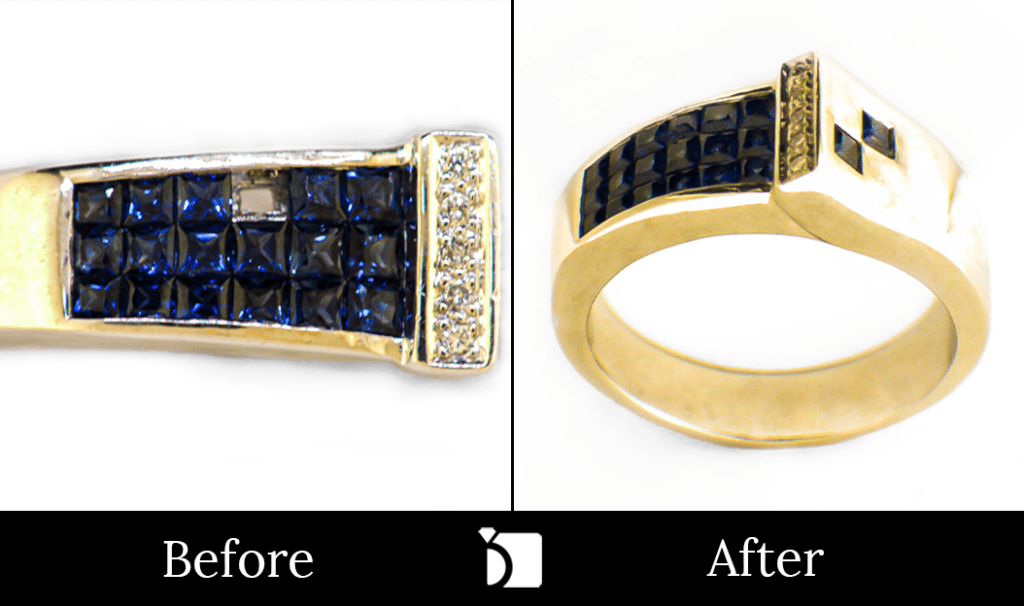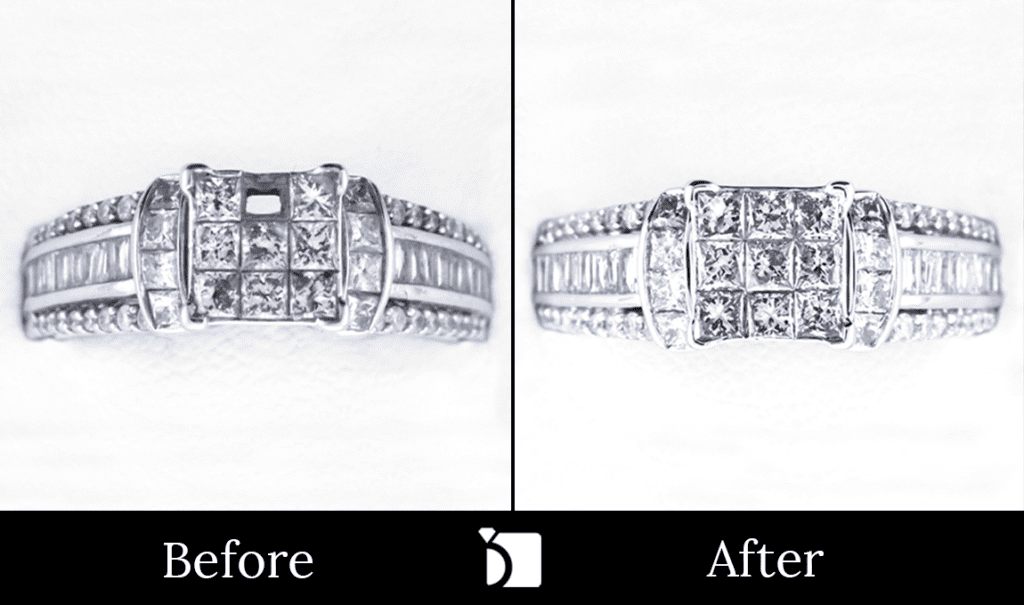 The Best Method for Your Invisible Setting
Choosing us for your invisible setting repair is synonymous with opting for the pinnacle of craftsmanship and precision.
The "Glue Method" is Not Practiced at My Jewelry Repair
Unlike some in the industry, we shun the widespread "Glue Method," a shortcut that can compromise the integrity and beauty of your treasured piece. At My Jewelry Repair, we reject this approach due to its potential to degrade the exquisite nature of invisible settings, which necessitates a level of finesse and expertise to maintain its mesmerizing allure.

Instead, we employ a range of advanced techniques characterized by precision and meticulous attention to detail. Our Master Jewelers are adept at utilizing methods that safeguard the structure and aesthetics of your precious accessory, restoring it to a state of flawless elegance and resplendent beauty. With us, you are not just choosing a repair service; you are investing in the prolonged life and vibrancy of your cherished jewelry, assured that it will be nurtured by the hands of individuals who regard this craft as a form of high art.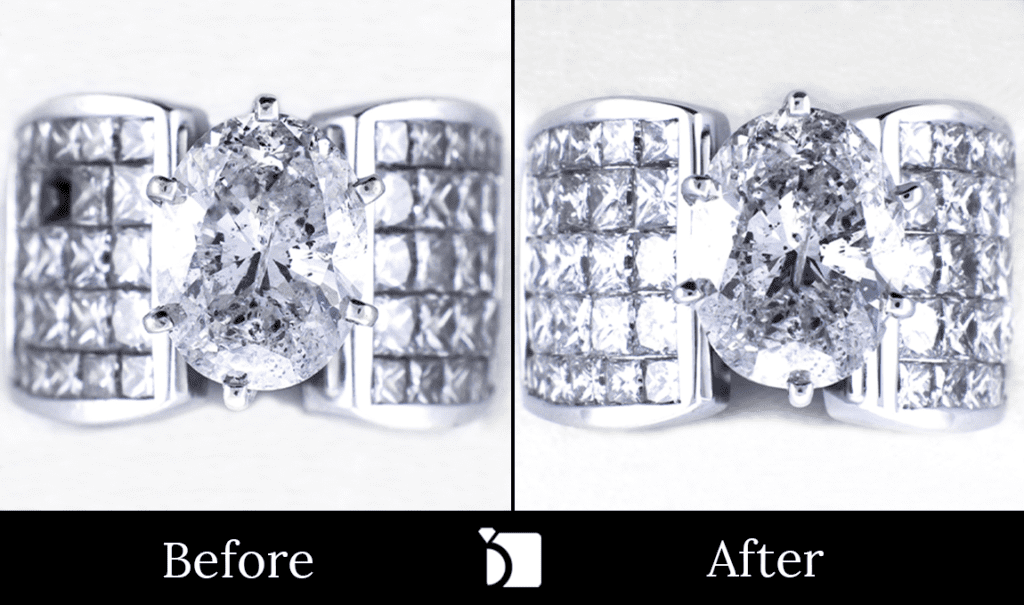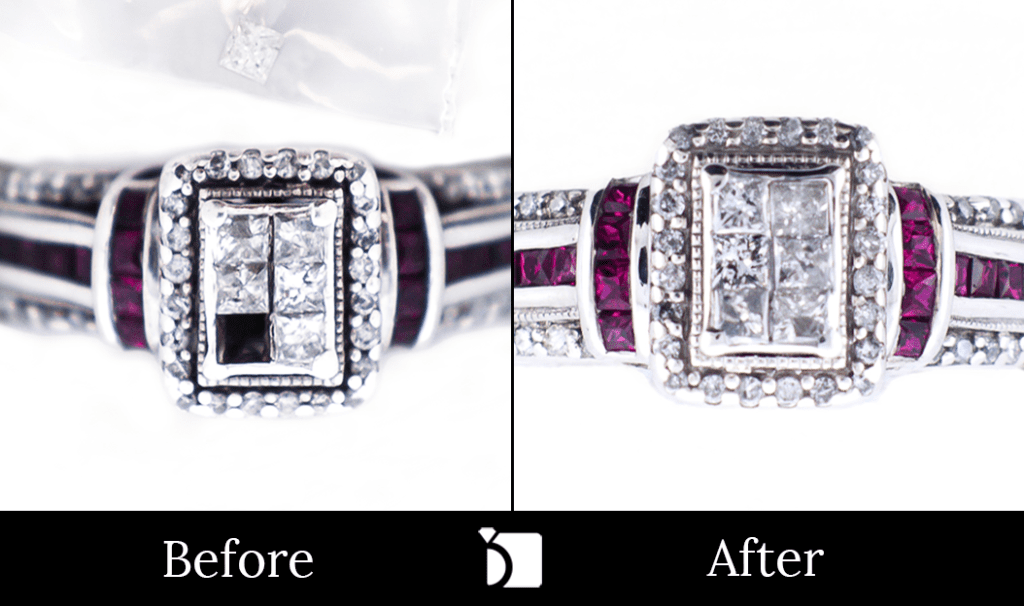 Providing Premier Setting Services
State-of-the Art Setting Lab
Our Custom Setting Labs have been meticulously designed for our Master Craftsmen. They provide an ideal environment to concentrate on perfecting each diamond setting. This level of dedication and detail is what our premier manufacturing partners expect from us.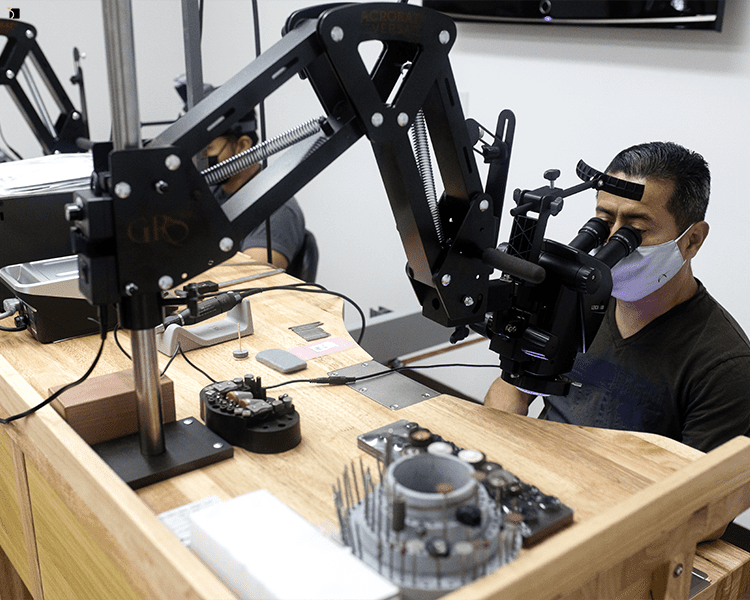 Our pristine labs boast state-of-the-art jeweler benches, the finest tools, and high-tech microscopes, all geared toward creating your perfect piece.

The blend of our Master Jewelers' expertise, the precision tools at their disposal, and years of experience empower us to deliver the highest quality opal setting services right to your doorstep!
"Had a wonderful experience with MyJewelryRepair.com"
"Had a wonderful experience with MyJewelryRepair.com. You'd think it would be tricky sending your jewelry in to be repaired without being face-to-face. But everything went
…
"Had a wonderful experience with MyJewelryRepair.com. You'd think it would be tricky sending your jewelry in to be repaired without being face-to-face. But everything went so smoothly that it was astounding! Their online ordering tool makes it easy to get started. You immediately get confirmation and tracking information. The staff is quick to respond to any questions you might have. And if they have any questions, you get a call for clarification. The staff I have spoken with were super-friendly and understanding (shout-out to Iris, who is especially darling!) Then, when your receive your jewelry back in the mail and it is exactly what you wanted–AND at a reasonable price? Wow! I had a pair of modest diamond stud earrings that I never wore because I feared losing them. For years, I had wanted to have them converted into lever-back earrings, but hadn't found the right local jeweler to do the work. My "new" earrings came back and they were gorgeous–simple and elegant, comfortable and secure. I now can wear them all the time without any worries. What I did next was to scrounge around in my jewelry collection looking for more projects (doesn't everyone have some?) to send to MyJewelryRepair.com—because trust is an important part of the process."
CA
Read more ""Had a wonderful experience with MyJewelryRepair.com""
Carolyn B.

Have Questions?
What is an Invisible Setting?
A centuries-old, originally French technique, invisible set gemstone jewelry (aka the Invisible Setting), is one of the most beautiful setting types available. It involves the process of setting stones side-by-side, hiding the metalwork underneath, which can give the appearance of a larger stone. This technique creates an uninterrupted flow in the gemstones, thus producing the coveted "Invisible Setting".
For those interested in learning more about Invisible Settings and what makes this jewelry technique so intricate, feel free to check out our blog - Invisible Settings - What Makes Them Different.
Who Fixes Invisible Settings & Where Do I Go to Get It Fixed?

An Invisible Setting repair requires the expertise of a master jeweler. Most often, it even goes beyond that, to the point of being a specialist in the field of invisible settings.
At My Jewelry Repair, we have a team of master jewelers who also specialize in the crafting and repair of invisible settings. You can be confident knowing that your Invisible Setting is being repaired with the best method and by highly skilled hands.
With us, you don't have to go anywhere! Our online, contactless service makes it possible to repair your Invisible Setting all from the comfort of your home!
How Much Does an Invisible Setting Cost?

The price of an Invisible Setting repair varies depending on whether or not new gemstones are necessary and the amount of damage, etc.
For more information regarding the pricing of our jewelry repair services, feel free to check out our Pricing page.
What Types of Diamonds Are Needed for an Invisible Setting?

The most commonly used cuts of diamonds in an Invisible Setting are the Square and Princess cuts.
Why? They are simply the best for sealing invisibly set stones into place. This is done by making sure they are secured through the pressure created by the hand-cut grooves the jeweler has prepared in the girdle of the gemstones.
For more information regarding gemstones, sourcing, etc., feel free to check out our Gemstone Replacement page.
How Long Does an Invisible Setting Repair Typically Take?

On average, a ring repair takes 2-4 business days, but the timeline will vary depending on numerous factors, such as the required labor, the extent of the damage, the receiving of necessary gemstones/materials, etc.
For more information regarding the timeline of your Invisible Setting repair, please refer to our Standard Timelines page.
You Have Questions, We Have Answers!

If you have any questions regarding our Invisible Setting service, please feel free to Contact Us. We are more than happy to answer any questions or discuss any concerns you may have!
Perfect Your Invisible Setting Today!
We are proud members of the

Our team includes gemologists certified by