Restoring the Missing Link
When it comes to chain repair, we're the missing link!
Your chain will be restored to its former glory in no time with the help of our master jewelers. From a broken clasp to a snapped chain, repair your necklace with us today!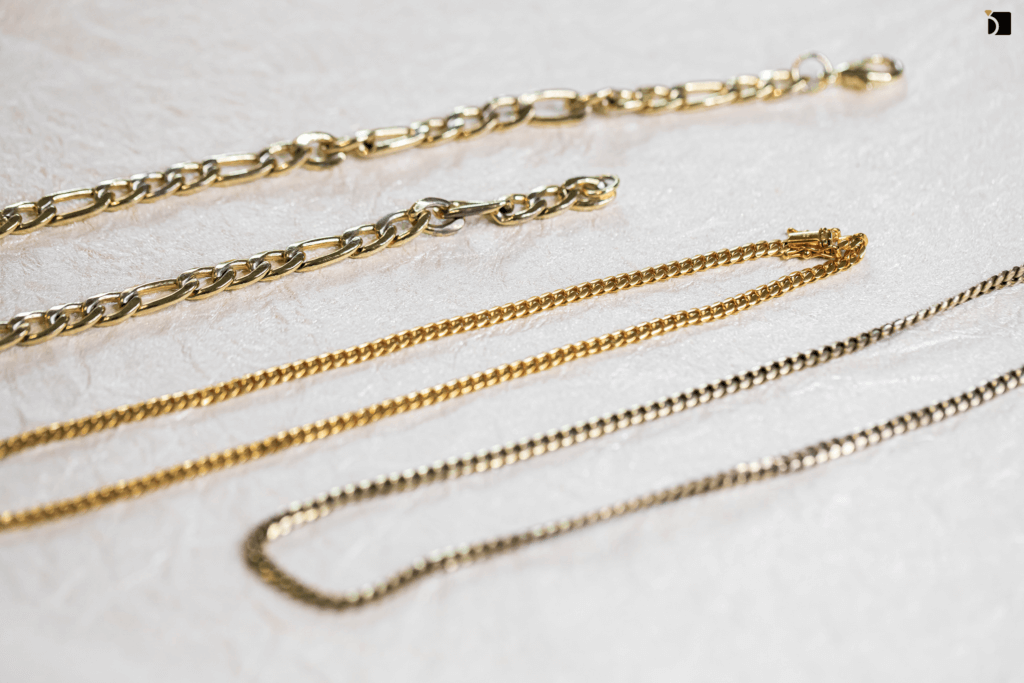 Chain Repair Services
When it comes to chain repair, there are various services that one may need:
Clasp Repair/Replacement
The clasp doesn't operate correctly.
Chain Soldering
The chain is snapped in half and needs to be soldered back together.
Untangle Chain
The chain is knotted and needs to be undone.
Chain Extension
This would require adding or subtracting links from the chain to increase or shorten its length.
Clean & Polish
The chain needs a deep clean and polishing service.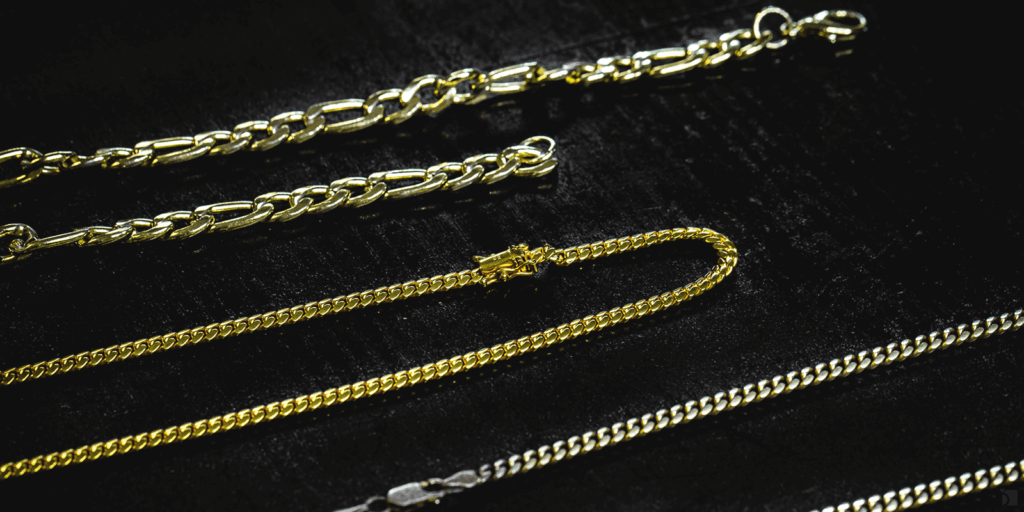 What Types of Chains Do We Service?
Regardless of your chain's metal or link design, we are able to service it.
For example, we are able to service any of the following chains made in any metal:
Rope
Cuban
Box
Cable
Figaro
Curb
Rollo
If you have any questions regarding the type of chain you have, as well as what it does to impact the price/service you receive, feel free to contact our service team!
Common Difficulties Found in Chain Repair
Chain repair is typically a simple service, but there are a few cases where it can be more difficult or even impossible. Here are 4 types of issues a chain may exhibit hindering the repair process:
The chain is hollow
The chain's design can't be fixed
The metal is strange
The chain is plated
If your chain happens to involve one of these criteria, we would still like to take a firsthand look to gain a better understanding of the situation and what the potential options are for restoring your chain.
For more information, feel free to connect with our customer experience team.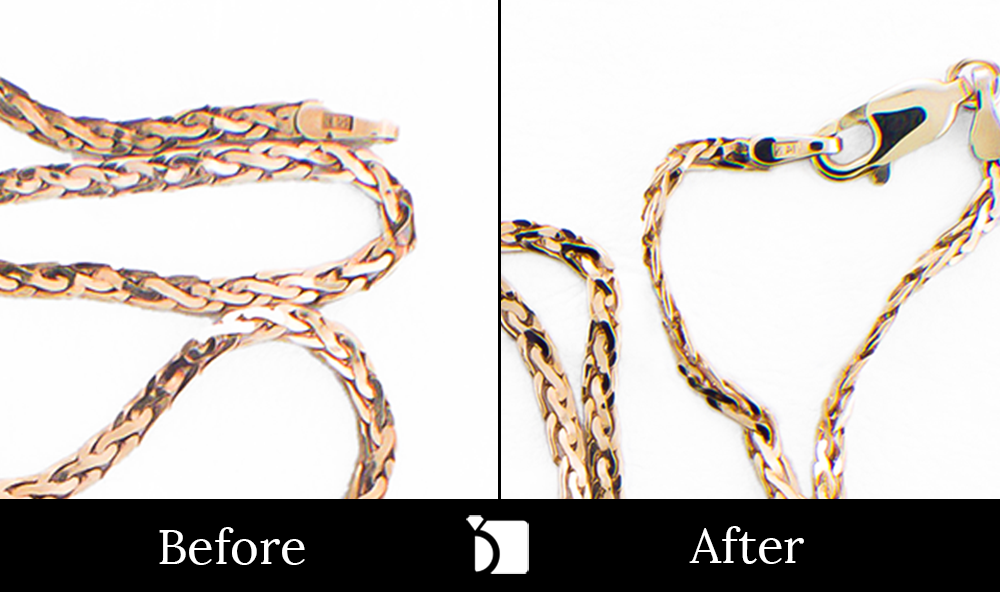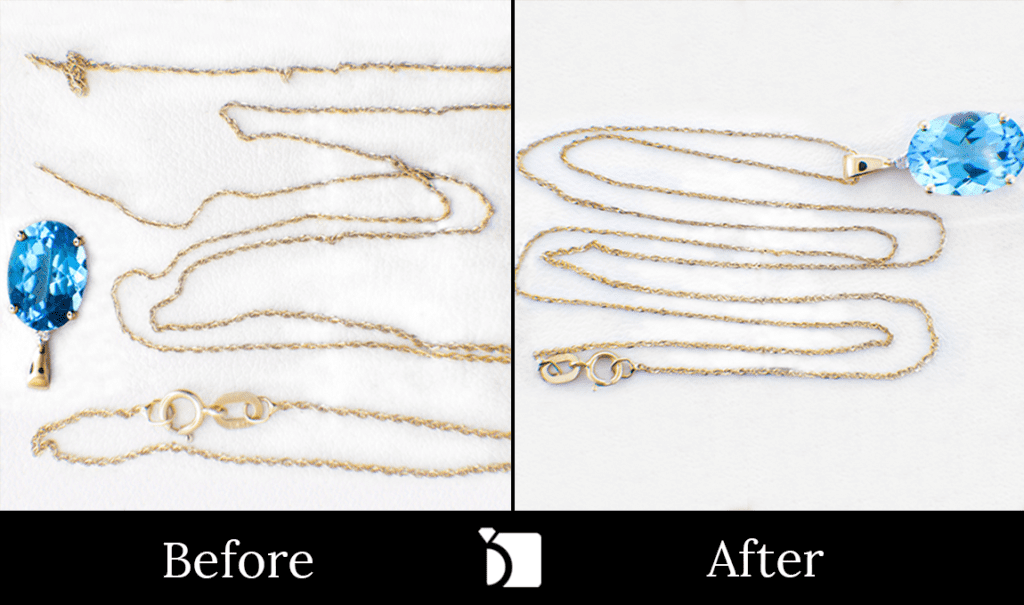 Have Questions?
How Much Does Necklace Repair Cost?
See below for a complete breakdown
Jewelry Repair
Pricing chart for costs associated with various jewelry repair services.
| Service | Starting Price |
| --- | --- |
| Tighten Loose Stone with repair | $4.99 |
| Pearl Restringing (Knotted or Unknotted Per Inch) | $4.99 |
| Rebuild / Replace Prong | $19.99 |
| Set Stones (1-5 Stones) | $49.99 |
| Solder 2-3 Rings Together | $49.99 |
| Prong Re-tipping (Up to 12 Prongs) | $49.99 |
| Solder / Fix break in Ring or Chain | $44.99 |
| Replace Earring Posts or Backs | $49.99 |
| Change Earrings to Screw Posts & Backs | $89.99 |
| Replace Head & Set Stone | Estimate |
| Gemstone Replacement | Estimate |
| Other Miscellaneous Work | Estimate |
| About our : | Ring Repair Services » |
| About our : | Necklace Repair Services » |
| About our : | Bracelet Repair Services » |
| About our : | Earring Repair Services » |
| About our: | Gemstone Replacement Services |
How Does Necklace Repair Online Work
The Most Convenient Location of All is Your Own Home
You lead a busy lifestyle, so you don't really have time to research your local jewelers and jewelry repair shops thoroughly. That's where My Jewelry Repair comes in! All you have to do is select your necklace repair service, print out your packing slip, and arrange to have your repair picked up, or drop it off at your local carrier. Then leave the hard work to us!
For more information, visit our How it Works page.

Is Necklace Repair By Mail Safe?
We Give Your Necklace the TLC It Needs
Even if you take special care of your jewelry, every piece needs some form of service and routine maintenance to keep it looking like new. Our team of master jewelers will execute any type of necklace repair you might need. Everyone can take advantage of our repair services, no matter where your jewelry was purchased.
From soldering a broken chain to restringing pearls and beads, we have all of your necklace repair needs covered!
At MyJewelryRepair.com, our master craftsman have over 20 years of experience bringing necklace jewelry back to it's former glory.

Where Can I Find Necklace Repair Near Me?
With MyJewelryRepair.com… Anywhere!
Our Nationwide Reach
MyJewelryRepair.com can fix your necklace, whether you live in New York, Los Angeles, Ohio, or Texas. When you find yourself asking where to go, you'll be glad to know we can provide services from anywhere in the country! We have locations on both coasts and offer free standard shipping – even from Alaska and Hawaii. We dedicate ourselves to giving the highest quality necklace repair without restrictions or limitations. Send your damaged necklace to My Jewelry Repair today and we'll send it back good as new!
What's the difference between a necklace, pendant, or chain?
Any piece of jewelry worn around the neck is typically referred to as a necklace. A pendant can then be hung from the chain, but does not need the chain.
So to summarize:
A chain can be referred to as a necklace
A necklace does not have to be a chain
Repair Your Chain Today!