Message, Placement, & Font Styling For Jewelry Engraving
Going the Extra Mile
In the world of jewelry and watches, it is quite uncommon to find a piece uniquely expressed to share a lasting message of love, encouragement, or commitment. Adding a little something to your jewelry can make all the difference. Going the extra mile can ultimately mark the moment, the person, and the item forever. This makes the decision of what to say, understandably, difficult.
Marking the Moment Forever
So just how do you decide on what to say? After all, there is no magic eraser for engraving into rockhard metal.
Given the nature of the situation, it is safe to assume that any message you relay should be two things, above all else –
From the Heart (Genuine)
Edifying (Positive)
Outside of these two key criteria, your message can (and should) be everything you want it to be and don't. By this we mean, your message should be unapologetically true to who you are, as well as the person you are gifting. For example, if you are gifting your boyfriend of two years with a new watch, you may consider engraving your pet name for him with "I love you" to top it off. Or perhaps you are gifting your sister with a new necklace just because. You may consider engraving "my best friend and sister in one" followed by "xoxo".
At the end of the day, your gift and your message should represent the genuine feelings and thoughts you have for that person, but don't be surprised if you are asked to answer your message later on.
The Importance of Placement and Style
ENGRAVING PLACEMENTS
When it comes to the placement and style of your engraving, it may not seem like too big of a decision. We beg to differ.
Depending on the item, the placement will dictate how often your message is seen/revealed to the world. For those sharing an intimate message, you may consider a placement more discreet, such as the inside of a ring, the back of a watch, or behind the charm on a necklace. For those wishing to share their message with the world, you may decide to put your engraving on the outside of a ring or along the rim of a watch's face.
Beyond privacy, the placement of your engraving can also impact the potential damage it may experience due to normal wear and tear. For example, the inside of a ring is a particularly safe location for engraving, whereas the outside of a ring may be subject to common bumping and scratching on surfaces that could damage the once-perfect etch.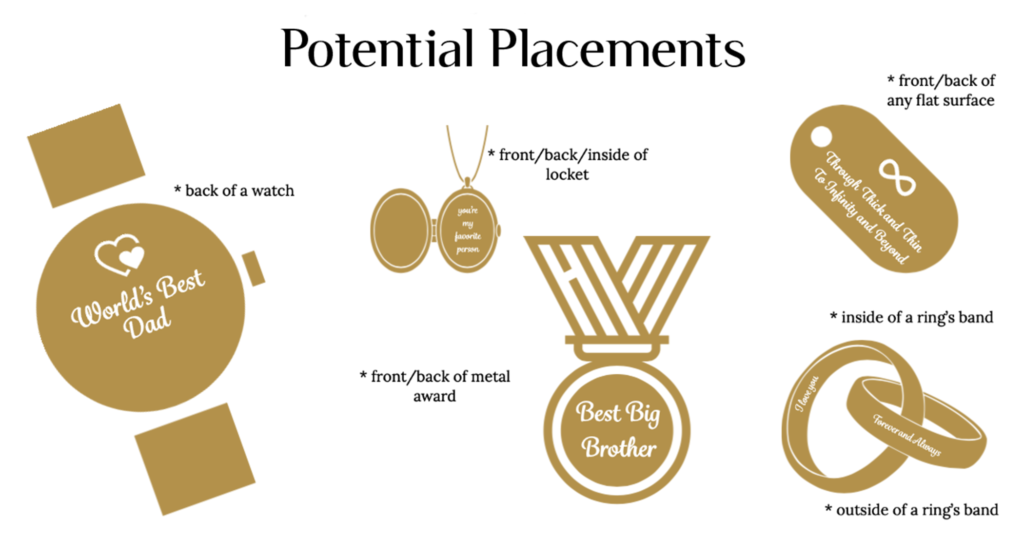 ENGRAVING FONTS
When it comes to style, we all know that sometimes how it looks matters just as much as what is being said. No one wants to be told "I'll love you forever" in a font they can barely read. Along with readability, it is also important to match the style with the item that is being engraved. For example, you wouldn't want to engrave a dog tag with puffy cursive (or would you?)
At the end of the day, the style of the engraving is completely up to you. If you are a fan of Times New Roman, use Times New Roman. If you prefer Old Standard, go for it! The beauty of engraving is you can make it 100% your own, making the moment even more special for that extra special someone.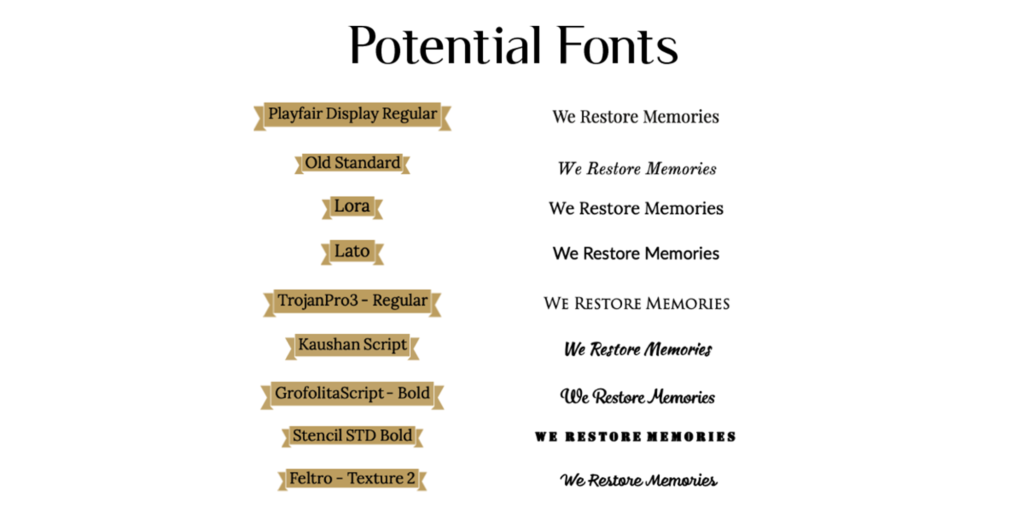 Common Engraving Ideas to Get You Started
Many engravings include the date of a special occasion, for example, an engagement date, a wedding date, a graduation date, or a birthday. Engravings can also include a symbol like a heart or a smiley face.
Here are just a few of the most common engraving themes:
LOVE
– I Love You!, You Complete Me, Be Mine
ANNIVERSARY
– Always and Forever, Our Love Is Timeless, You Are My Soulmate
FRIENDS
– Friends Forever, My BFF, Best Friends 4 Ever
SISTERS
– Sister and Best Friend, My Rock, Always There For Me
CONGRATULATIONS
– You did it!, Way to go!, Congratulations!
THANKS
– Forever Grateful, Thanks for Everything, Thank You
MOM
– Love You Mom, Best Mom Ever!, #1 Mom, Thanks Mom!
DAD
– #1 Dad, Happy Father's Day!, You're the Best
GRANDMA
– Best Grandma, I Love My Grandma, Grandma = Love
MEMORIALS
– Always In My Heart, I'll Never Forget, In Loving Memory
And you can also engrave quotes, faith-based messages, or even just a name or nickname.


My Jewelry Repair
We Restore Memories
The Premier Watch & Jewelry Repair Service Online
My Jewelry Repair runs on care and precision. Restoring memories is our motto and we have built our business around making that happen. Jewelry restoration and watch restoration are both services used by people from all walks of life. Customers needing watch repair or online ring resizing use our expert jewelry repair service, but it doesn't have to stop there.
We have a team of certified watchmakers and master jewelers who provide necklace, bracelet, earring, and gemstone repairs. We also equip our teams with state-of-the-art equipment, like a custom-built clean room watch facility in California, a diamond setting lab, or our ring sizing specialization departments.
Our team includes gemologists certified by
We are proud members of the


Ready to place an order? Click the 'Get Started" button!