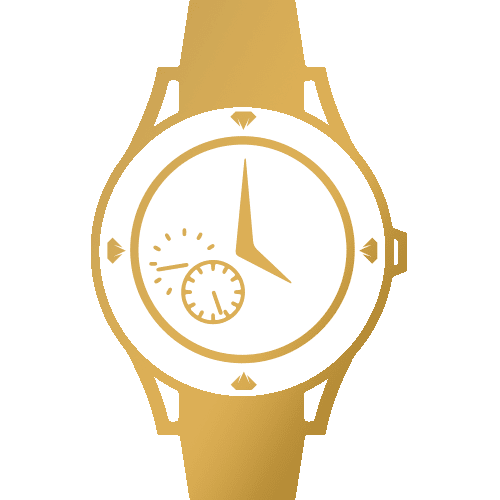 Iconic timepieces: THE LAST OF US
This article contains spoilers for HBO's and Playstation's "The Last of Us."
Writing about iconic timepieces is kind of our thing if you really think about it — and one recent timepiece that's been resurfacing and making its way into pop culture is from the hit live-adaptation HBO series "The Last of Us." Originally released in 2013, this video game is set in a post-apocalyptic world, following the story of Joel and Ellie's journey across the ravaged United States.

Exploring the emotional journey of Joel, a smuggler, and Ellie, a young girl who is immune to the fungal infection that took over humanity, this plot device of an iconic piece is definitely a memento of everything Joel has to deal with.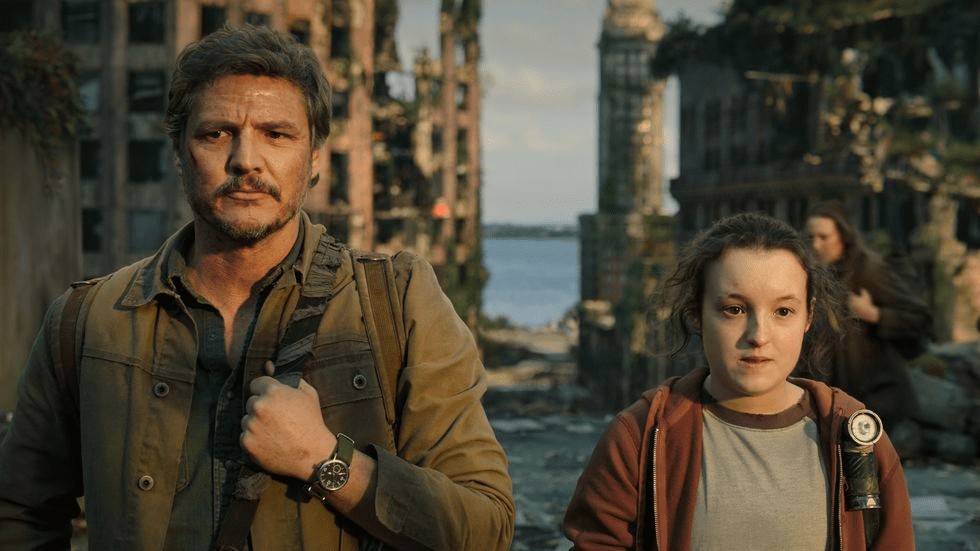 What Watch Does Joel Wear in The Last of Us?
In both HBO's show and PlayStation's game "The Last of Us," Joel's watch is an important item that carries significant emotional weight for the character and the story. We explore more about the emotional details and backstory of this plot device later in the article as we do want to take the time to talk about the physical appearances of the timepiece itself.

There was much focus set on the watch just in the first two episodes of the series, and by taking a closer look, it has a very similar appearance to the piece that belonged to Joel Miller in the video game.

The watch that Joel wears is a black military field watch that wraps around his wrist with a green two-piece nylon strap.
The watch in the series is unbranded with a black dial, coin edge bezel along the satin-finished case. This is a good touch in a post-apocalyptic world as it prevents shining glares and reflections in order to remain covert. Field watches are timepieces that were invented for military purposes, and are generally designed to be glare-proof.

There isn't an official brand model that was released for The Last of Us besides their limited edition collectors item that was released alongside The Last of Us Part 1, however, there are also fan-made replicas that can be found by artists on the internet. Looking at them ourselves, they look pretty darn close to the one in the game, and even have finishing details such as the break in its crystal and having the battery removed to have it stop at [2:15], just as it was before Joel had it repaired.
Fan-Made Replicas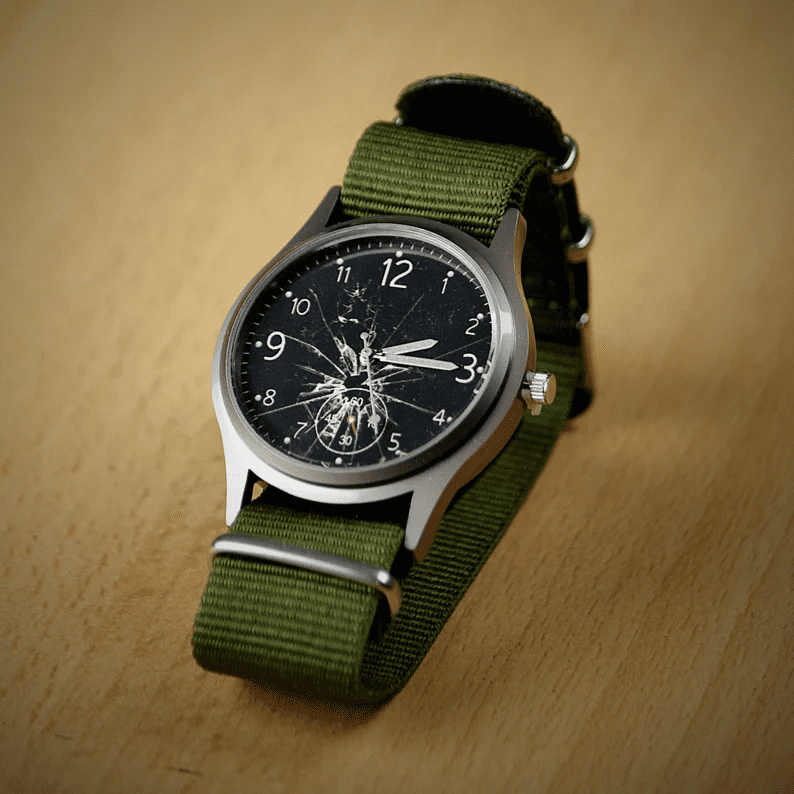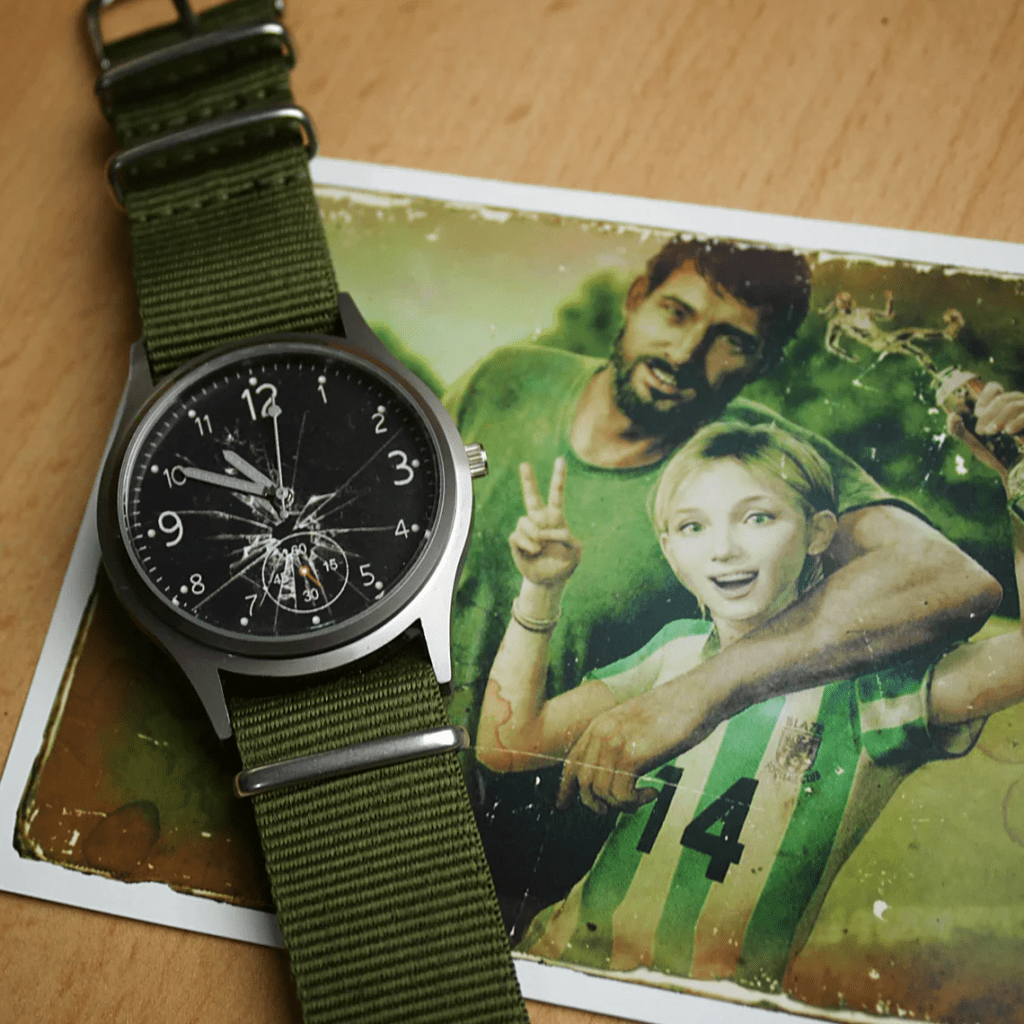 ---
What is Pedro Pascal's Watch Prop Design Based On?
Comparing the prop watch worn by Pedro Pascal, who plays Joel Miller, to the one in the video game, you can see how much detail they paid attention to when styling his character. Though, one specific discrepancy amongst others for example, is that there is a fluted bezel in the video game, but not in the HBO series.

According to the series creator Neil Druckmann on an interview with The Official The Last of Us Podcast in 2020, "the watch actually came from the concept art." This prop watch was intended to be a replica of that 3D rendering that was referenced from the video game, so that establishes that the watch itself wasn't a model that already existed.

There is a lot of inspiration that obviously could have been drawn when creating the watch model in the video game series, and there are many different types of watch models that many are forming a theory about.

Yes, if you pay close attention to the details from both the video game and HBO series, you'll be able to make a conclusion on what this model was based on yourself.
However, the fan community behind The Last of Us pays even closer attention. Fans on the internet have been expressing obsession over Joel's watch and speculating on what the watch model was based on actually years before the show premiered. There have been many speculations that the watch gained inspiration from this field watch: the Lüm-Tec Super Combat B2, which was out during the time of the video game's production.

Worn & Wound writes a lengthy description about the Lüm-Tec Super Combat B2 and another similar timepiece from the same series in their article, so we're breaking down the highlights for you.

The Lüm-Tec Super Combat B2 comes in a rugged 45mm Titanium case that "brings to mind classic military and modern stealth aesthetics and dial designs that are clean and purposeful." It does have the large 12, 3, and 9 markers that jump up at you just like they do on the video game's watch model. The lens is made up of sapphire with double-sided anti-reflective coating and covers an ETA Unitas 6498-1 watch movement.
Lüm-Tec Combat B16 + Super Combat B2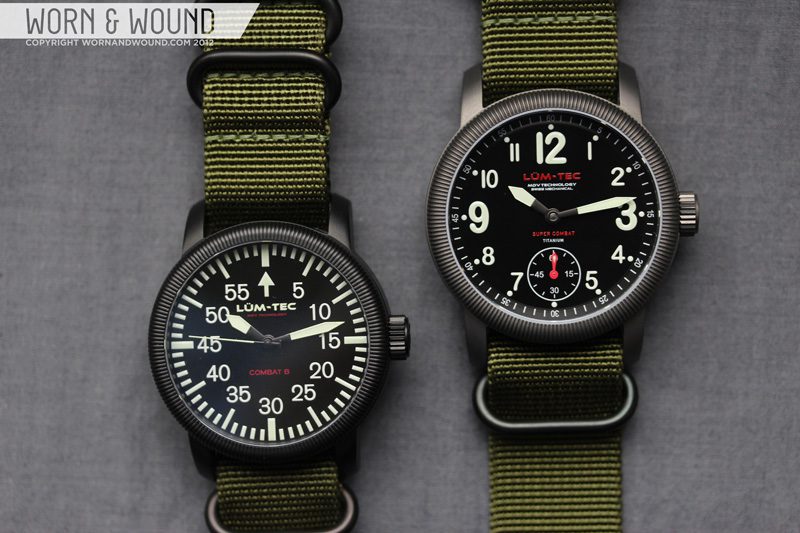 ---
What Is The Significance of Joel's Watch?
In "The Last of Us," Joel's watch is a memento of his daughter Sarah, who was killed during the early stages of the outbreak that turned most of humanity into infected monsters. The watch was a gift from Sarah on Joel's birthday, and it has the inscription "Dad's Watch" on the back. Throughout the game, Joel keeps the watch as a reminder of his daughter and the loss he has suffered. He continues to wear the watch even after the watch is broken, as Ellie points out in the story line.

A key difference: in the video game, Sarah does save up her allowance to buy the watch for Joel's birthday. In the TV show, Sarah's gift is the process itself of restoring Joel's broken watch and getting it serviced to working condition again.

(One side note that we couldn't help to point out in the HBO series was how unrealistic it was getting Joel's watch repaired so quickly. When the series first premiered on a Sunday night, our Team here at My Jewelry Repair couldn't help making that a talking point Monday morning. Servicing a watch movement takes time, let alone just the time to properly evaluate it in a clean environment. We couldn't believe our eyes when we first saw that scene!)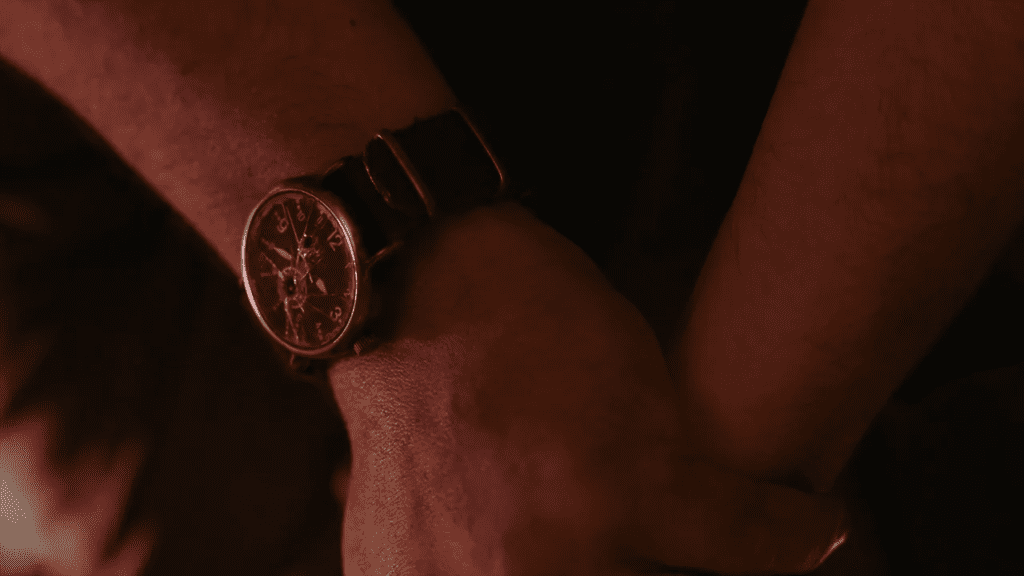 In HBO's "The Last of Us" series, the watch plays a similar role in Joel's character development. Pedro Pascal, playing Joel, and the show make sure to explore the backstory of the characters, including Joel's relationship with his daughter and his journey to protect Ellie.

In the show, Sarah explains that he never does anything for himself, so she took the liberty on taking care of his watch for him, which was clearly something important. This also suggests that Joel's main focus and direction in life was taking care of Sarah, and without her, he lost all order.
We can see so far that the show is following the original content's story on using it as a crucial symbol of Joel's emotional trauma and his commitment to keeping Ellie safe.
Game Trivia:
Joel's watch is actually an artifact that can be found in Joel's house, in a red box on his bedroom on the upper floor of the house. It is automatically acquired by the player during the Jackson chapter in The Last of Us Part II.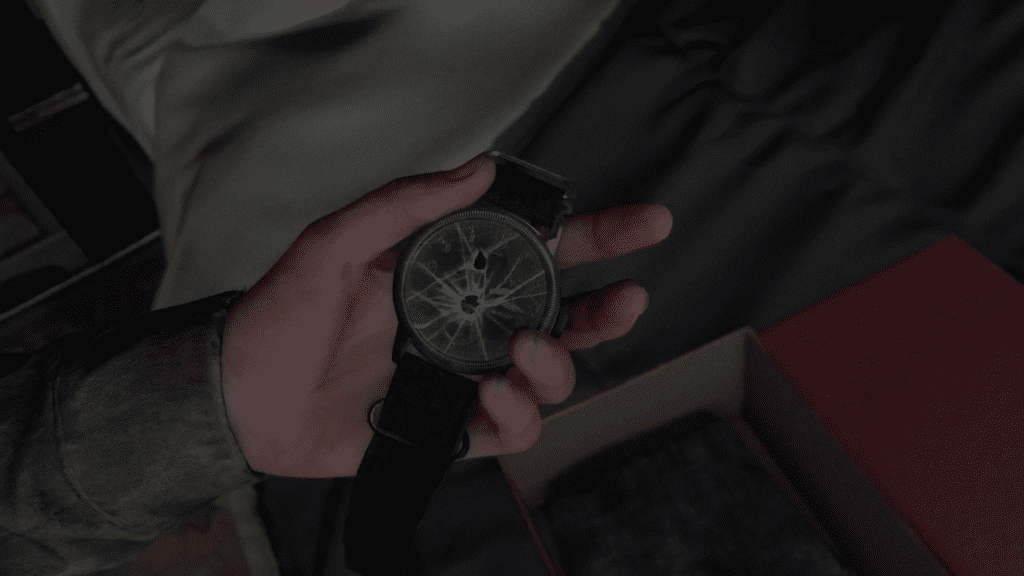 The broken watch symbolizes how his past life with Sarah had ended, and he continues to wear this broken piece to bring her wherever he goes in the post-apocalyptic world. Ellie pointing out his broken watch at the end of the series premiere also shows that he will continue on with life and have his new purpose be around Ellie.

It is seen that Joel glances at his watch after having some close moments with Ellie, unbeknownst that her presence welcomes a warm comfort and reminisce of Sarah to Joel. This timepiece does signify Joel's purpose to survive, once for Sarah in his previous life, and now evidently for Ellie, which eventually gets passed on to her as an heirloom and a reminder of Joel.

Overall, Joel's watch in both "The Last of Us" game and HBO's show is a poignant reminder of the loss and love that the character has experienced. It serves as a symbol of his commitment to protecting Ellie and his determination to carry on in a world that has been devastated by the infection.
---
Other Close Options If You Want to Wear Joel's Watch
Besides the previously mentioned Lüm-Tec Super Combat B2, there are other options out there that you could purchase if you want to live the fan dream and rep Joel. The Lüm-Tec Super Combat B2 is currently discontinued and those in existence are listed at a steep price. You can even find some original video game replicas up for re-sale on the internet, but going down that path is guaranteed to break the bank. (Don't worry, we're crying too.)

Two options that are more on the affordable end are the Timex Model T499619J Black Men's Watch and the Bertucci A-2T Original Classic Watch (shown below), both with green two-piece nylon straps and similar watch dials. Although they aren't the closest in appearance, they do share a lot of the same characteristics as the model featured in both the HBO series and video game.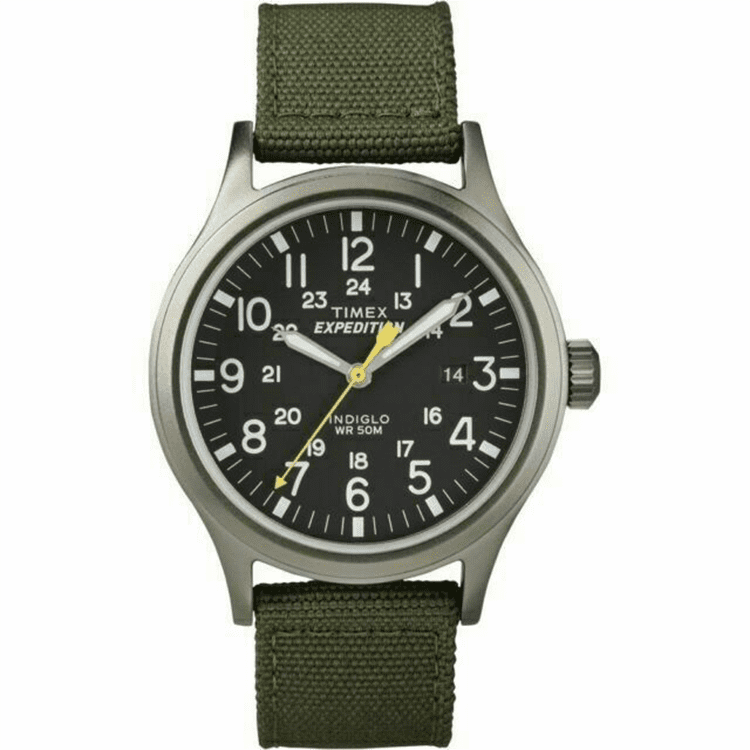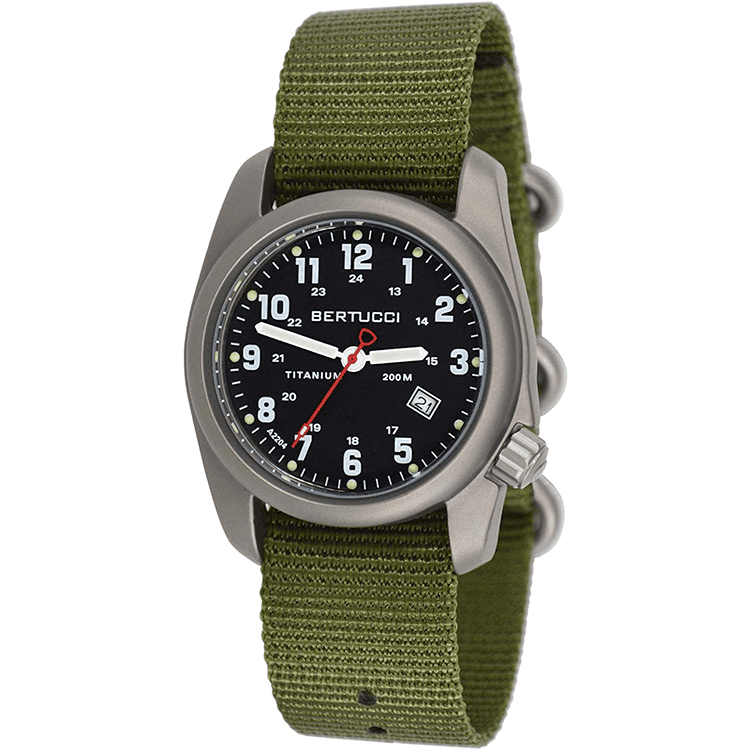 Resources:
Blog Resources for Media

Premier Watch Repair Services
Restoring Joel's Watch That You May Have Purchased
With the hype of The Last of Us on the incline, it would only make sense that there is also an increase in popularity for purchasing watches that look similar to Joel's.

In the case that you do, our Certified Watchmakers would be more than happy to handle servicing the timepiece that you get your hands on (in a proper setting and environment, as we may add in reference to our previous side note).

If you would like to learn more about our Premier Timepiece Restoration Services, feel free to visit our "Watch Repair" page.