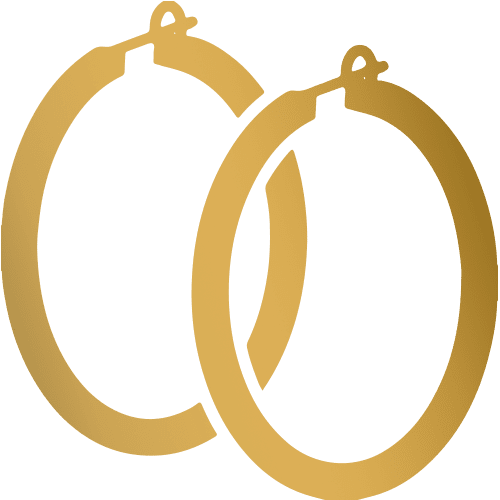 Earring Repairs Made Simple
Our easy-to-use ordering process makes it simple to place your order, so you can mail your earrings to our certified specialists. We evaluate them for free, and you choose the repairs you want! We then simply perform the repair and send it right back to you.
The Different Types of Earring Posts & Backs
Friction Earring Posts
Friction Earring Posts are the most common type of post and are found on basic stud earrings. They use push backs, also known as "friction backs," which are push-on and pull-off backings commonly used with friction earring posts. These backs are the most popular type of back and also the most affordable. Push backs slide onto the post easily and hold the earrings securely using friction. These types of backs also have a notch that helps keep the backing in place. Some people prefer this style of earring post & back as it is easier to put on and a bit more comfortable. However, this type of earring post could potentially increase the slight risk of the earring sliding out of your ear.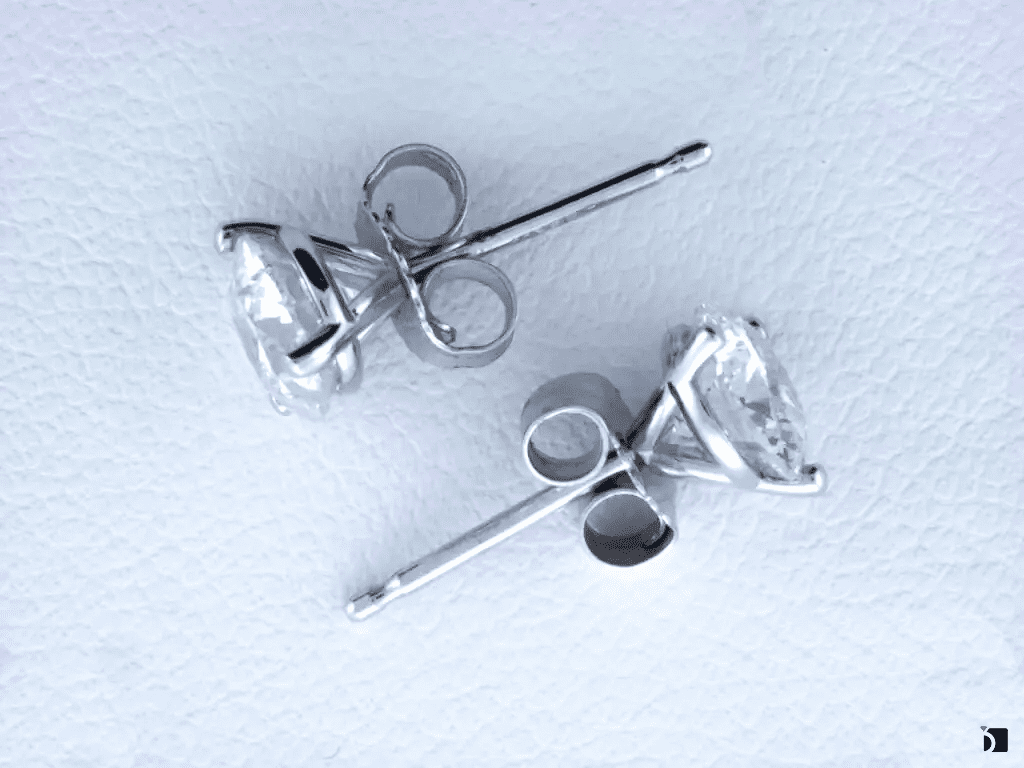 Threaded Earring Posts
Threaded Earring Posts tend to be found on higher-value stud earrings and are suitable for screw backings. Take, for example, diamond stud earrings. They have a threaded post which requires the ear nut to be screwed on and off the post, which provides greater protection against loss. There is also a threaded post option that is push-on and screw-off if you prefer the ease of a push-on but the protection of a screw-off. Some may prefer threaded earring posts because of their security and durability, although some find them to be more uncomfortable than the traditional friction earring post.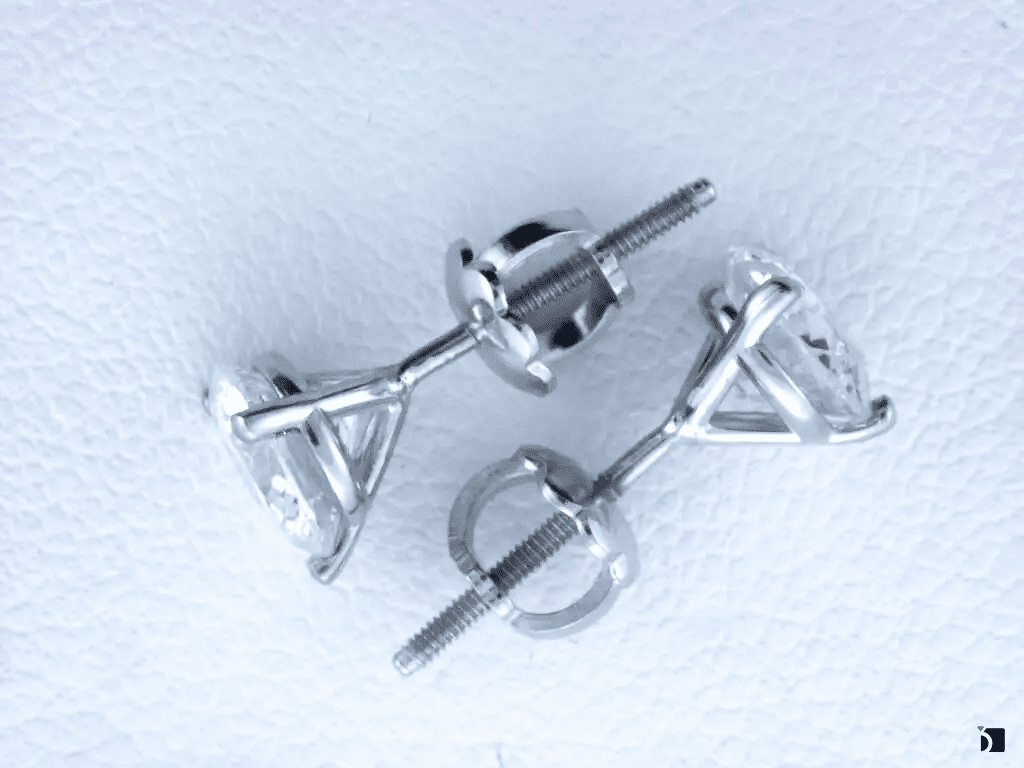 Secure Lock Backs
Secure lock backs are the most secure and durable type of earring back there is. Due to this, these types of backs are most recommended for more valuable earrings. Secure lock backs have a double-grooved locking mechanism, which allows the back to slide on easily while also keeping the earring securely locked into place. They also have a large plastic disc attached to them which can make heavier earrings more comfortable. However, if you're someone who has smaller earlobes, this backing may be more noticeable.
What If I Want to Change My Earring Posts & Backs?
Maybe you've decided that you no longer want the posts and backs that your earrings currently have. The good news is, if they do not have the type of post and back desired, they can be changed!
Converting a friction post to a threaded post is the most common request since the threaded post and ear nut provide greater protection against loss. The conversion process includes a complete replacement of both the posts and ear nuts. This earring post conversion can be easily done by an experienced professional jeweler.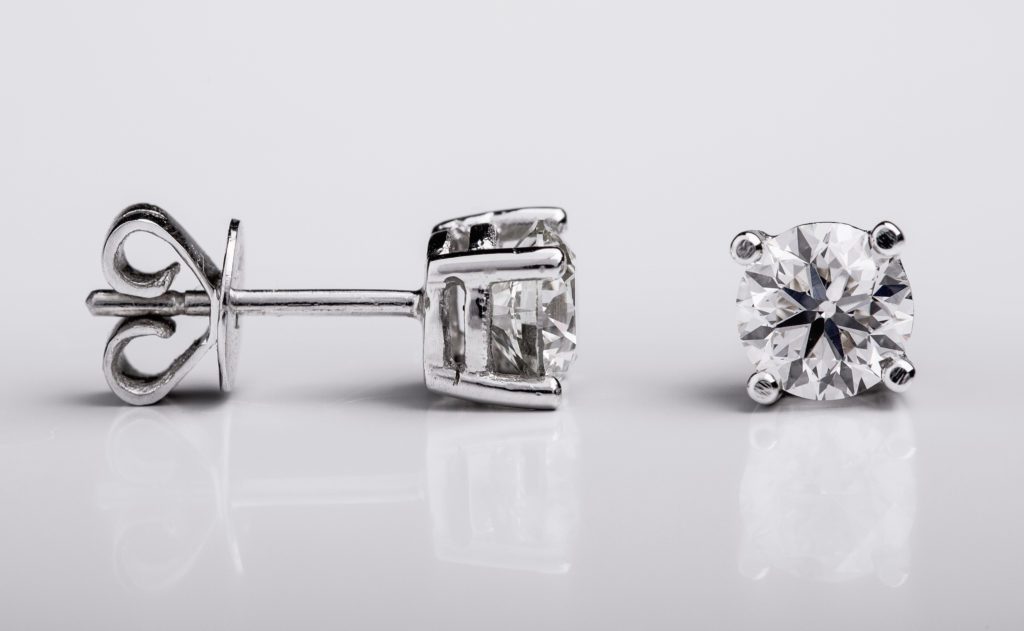 Some consumers do not like the feel of the threaded post in their ears or have trouble screwing the ear nut onto the post, so earrings can be converted from a threaded post to a friction post as well. Again, the conversion process includes a complete replacement of both the posts and ear nuts.
It is possible for your threaded post to become stripped accidentally or just with the typical wear and tear over time. If that does happen, it cannot be repaired, but it can be easily replaced with a new post.
If you're someone who has trouble using threaded posts and ear nuts, here's a quick tip: Put the post through the ear and line up the ear nut at the end of the post. Turn the front of the earring instead of the ear nut. You will find this much easier than trying to turn the ear nut itself.
If you have an earring post that you would like to replace or convert, check out our earring repair services.
---
At My Jewelry Repair, we treat your showcase pieces and the jewelry you wear every day as if they were our own.
Our team includes gemologists certified by

We are proud members of the