What's Your Plan for Valentine's Day?
(Jewelry and Watch Repair as a Less Obvious Gift Choice)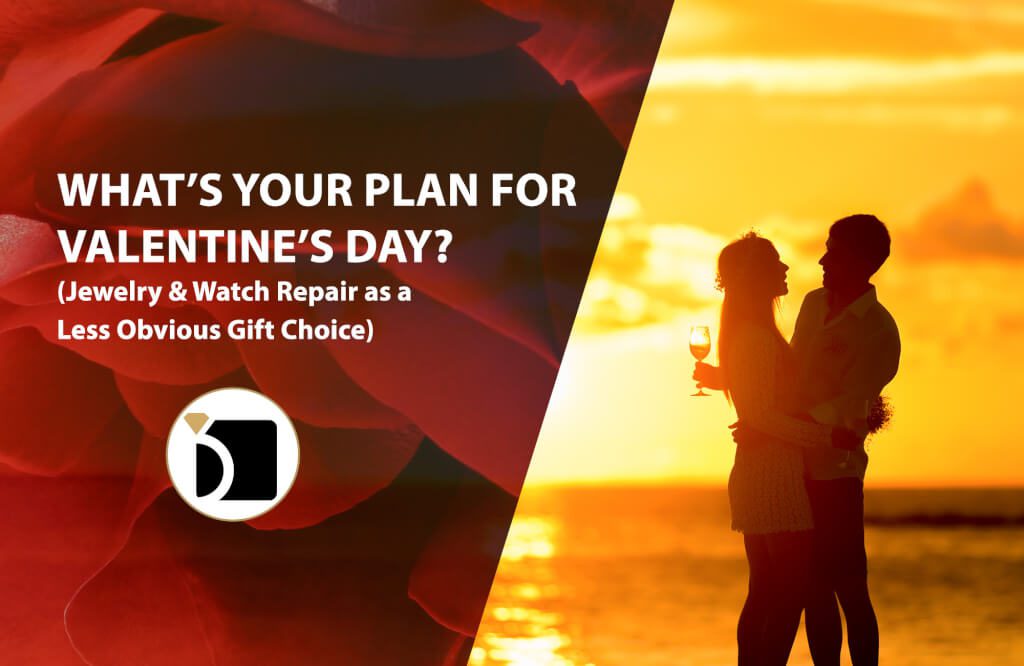 Sometimes roses and chocolate are right on the money. Sometimes we like to think that people are more complicated than they are. The traditional dinner and surprise, the bouquet, the gift cards, they exist are stereotypes for a reason. They get the job done.
But in this day and age originality gets you a lot of points. Instead of having another carbon copy Valentine's Day, maybe it's time to mix it up.
But What About Jewelry Repair by Mail?
This Valentine's Day My Jewelry Repair would like to encourage our customers and our readership to think outside of the box on this one. If your significant other has a brooch that's seen better days, a necklace in need of repair, or a timepiece in need of a complete overhaul, we can get the job done. Best of all, you don't even have to leave your home.
Valentine's Day by the Numbers
Statistic Brain asserts that our average annual V-day spending reaches $13,290,000,000. Yeah, that's a lot of coin. But how does the spending break down? Where's all that sweet, sweet Valentine's Day money going?
Greeting cards top the charts, raking in 52.1% of the action, followed closely by candy (you know, the chocolates and the colorful hearts) at 47.5%, then flowers at 34.3%. The average number of roses that are produced for Valentine's Day reaches upwards of 198 million! Jewelry makes up 17.3% of Valentine's Day purchases. Jewelry repair makes up a portion of that percentage.
Whether it's Vintage Jewelry Restoration or Refurbishment, Think Twice Before Buying New
Fixing jewelry in need of repair is still a growing industry as more and more people look to save money by refurbishing or repairing their existing jewelry and watches. If you have that special someone who has a piece of jewelry or a watch in need of repair or routine maintenance, then send it on over to My Jewelry Repair.
You could even be real sly about it and send your repair in without your significant other knowing. It'll be a nice surprise. We have an easy online, mail-in process. Select your repair, print your packing materials, and send your repair to either our East coast or West Coast locations.
My Jewelry Repair provides watch and jewelry repair nation wide, eliminating the hassle and limitations of going through a local shop.
Gifts Of The Heart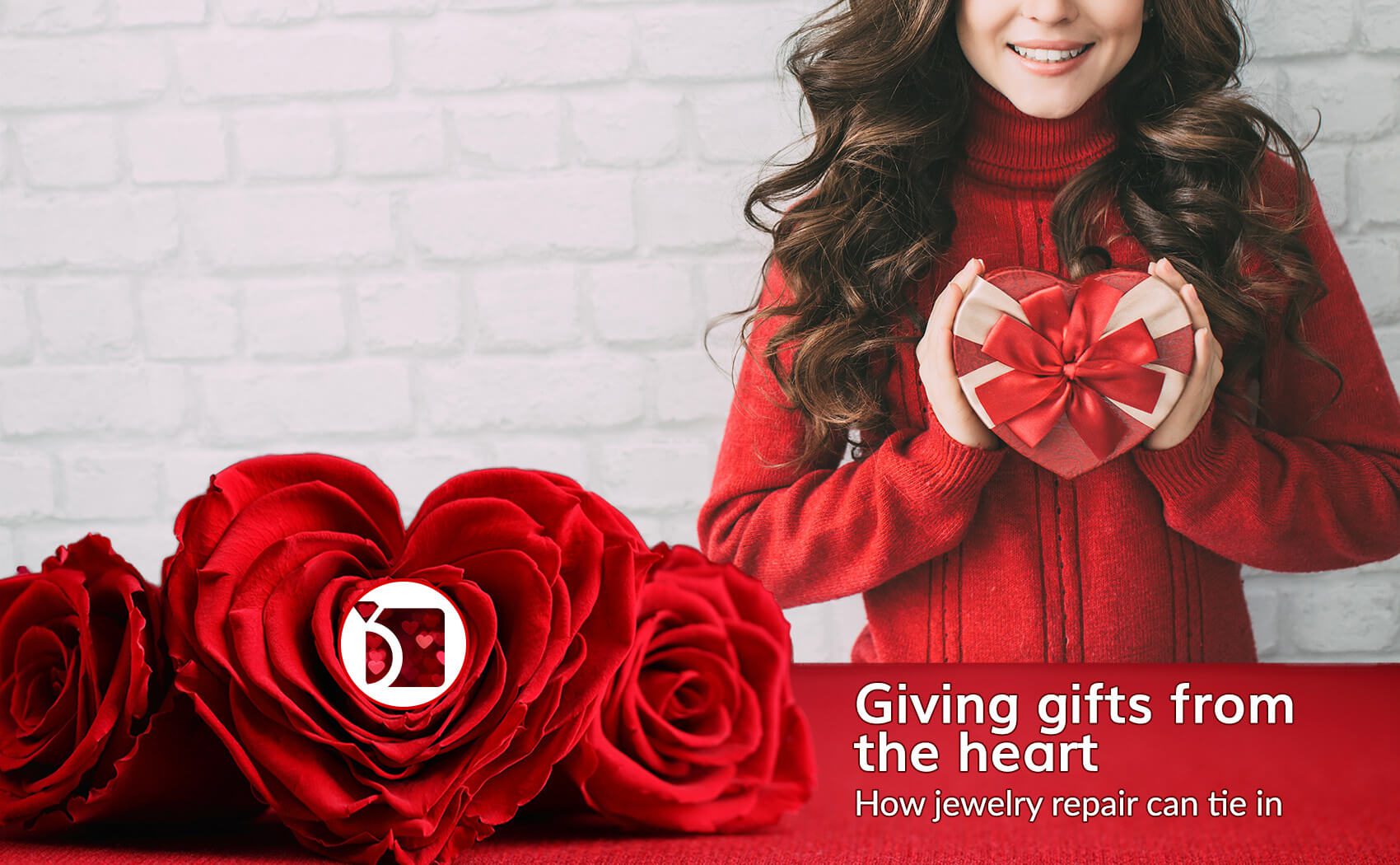 Flowers and chocolate are cool…
Flowers and chocolate are two of the most popular Valentines Day's gifts, over 36 million heart shaped boxes of chocolates, and over 110 million roses are given on Valentine's Day each year and greatly appreciated by the recipients, however wouldn't it be nice to do something different this year?
A case for jewelry refurbishment
Refurbishing a favorite piece of jewelry or a watch that is in need of reapir or has just been retired to the jewelry box a few years ago because it is scratched and worn is a thoughtful gift for that someone special. A clean and polish service may be all it needs to look like new again.
Valentine's Day is also a big day for wedding proposals, it is estimated that over 6 million couples will become engaged on Valentine's Day, and many of these proposals will be done with a family heirloom engagement ring. That family heirloom ring may need a little work before it is ready to passed to the next generation, a basic clean and polish service or possibly a ring sizing.
Whether it is an old favorite or a family heirloom My Jewelry Repair can perform all the services needed to make this Valentine's Day a memorable one.
Your Heart-Shaped Jewelry Companion for Valentine's Day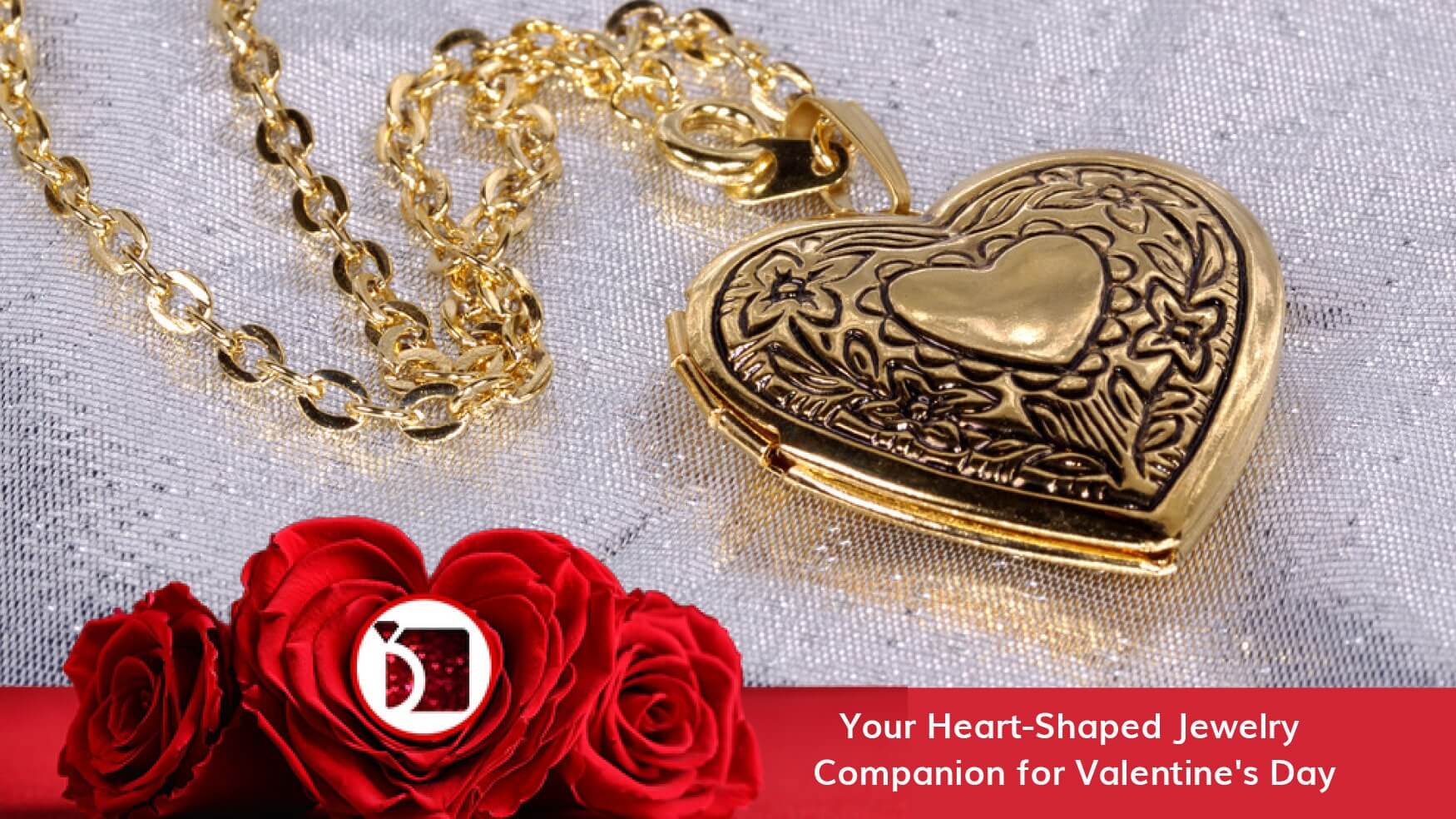 Heart-Shaped Jewelry
This Valentine's Day season we'd like to talk about a popular gift choice for this time of year: Heart-Shaped Jewelry!
Below are some heart-shaped gift ideas that will make any Valentine's Day pop.
Heart-Shaped for Her
One obvious choice is the Heart Lock Necklace, which is generally a heart-shaped lock which comes along with a matching key — both dangling from a petite necklace for that special someone. These can often be anywhere from simple to intricate, often styled in sterling silver, some featuring diamond accents, etc.
Heart hoop earrings are another fantastic Valentine's Day gift that will stand out and get your significant other in a Valentine's Day sort of mood. Heart-shaped earrings can either be open, or you can opt for something like polished gold heart-shaped studs which will give off V-day vibes aplenty.
Heart lockets are another popular choice for her along with heart-shaped pendants, charms, and heart bracelets. There are plenty of options specific to Valentine's Day that will show your loved one they are on your mind and in your heart.
Heart-Shaped for Him
If you're shopping for heart-shaped jewelry, it might be a little more of a challenge to land on something for the fellas. That's okay. There are still ways to get creative in this department. You don't have to opt for socks, ties, or golf clubs if you don't want to. Heart-shaped tie bars are a great and festive accessory.
There are also fantastic heart-shaped cufflinks available — for both men and women. It's a great way to bring you and your partner's love to the workplace.
No matter what you decide to get, there may be a chance that your heart-shaped jewelry needs to be fixed at some point. Just like any other type of jewelry, your heart-shaped jewelry will go through wear and tear or need to be serviced or repaired — we can help with that sort of thing.
My Jewelry Repair has an easy online mail-in process. We can repair rings, watches, necklaces, bracelets, earrings, and more. We have locations on the East and West coast of the United States and are now performing repairs nationally. We wish you a happy and heart-shaped Valentine's Day this year.
Two Easy Ways to Make Your Valentine Smile with My Jewelry Repair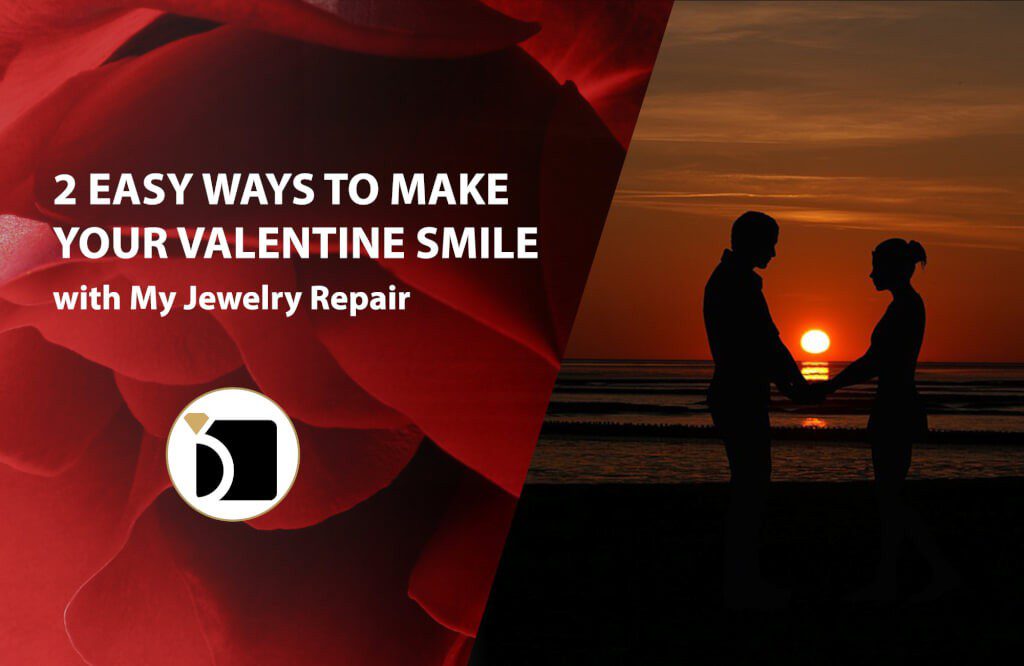 While florists' hands start to cramp up and suffer from thorn pricks, as boxes of signature chocolates come flying off the shelves and into shopping carts, as pink, white, and red teddies sit strapped in passenger seats of cars during lunch breaks, it's important to look for less obvious ways to make your statement of love this Valentine's Day. It's closer than you think and the time to act is now. Instead of getting flowers or thoughtlessly buying a gift certificate to the massage parlor or a day at the spa, think about making a bolder statement.
Are You Planning an Engagement Soon?
Why not make it on Valentine's Day? It's not like you have to celebrate your engagement every year, so it'd be different than getting married on Valentine's Day — which, hey, that's not such a bad idea, either. It's an economical choice for couples just starting to build their life together. Plan a gondola ride or a nature hike and profess your love to that special someone. It will make this Valentine's Day that much more special. In fact, it's sure to be the best ever. If you plan on making the engagement real, My Jewelry Repair offers ring sizing services, including ring sizing beads, spring shanks, arthritic, half, and full shanks. Whether the engagement ring is brand new, or if it's a family heirloom, our master jewelers can handle the job.
Is There a Watch in Your Life that Isn't Working Out?
Instead of ending in separation, send your dysfunctional watch to My Jewelry Repair. It's a fantastic gift for Valentine's Day, come to think of it. Do you have a loved one who in turn loves a watch, a watch that doesn't work properly or fit properly? We have certified watchmakers, expert craftsmen who can perform the following watch repair services and more:
Don't see what you need here? Give us a call at (909) 204-5266, because it's likely we can handle it. Make this Valentine's Day count with My Jewelry Repair. From watches to engagement rings, from earrings to necklaces and pendants, we have the personnel, the expertise, and the precision tools to get any jewelry or watch repair done the right way the first time around.