The History of Jewelry Around the World Series
The geographical world of ancient Islam provides a vast glimpse into historical and cultural developments that are still present in today's world, and Islamic jewelry and accessories are no different.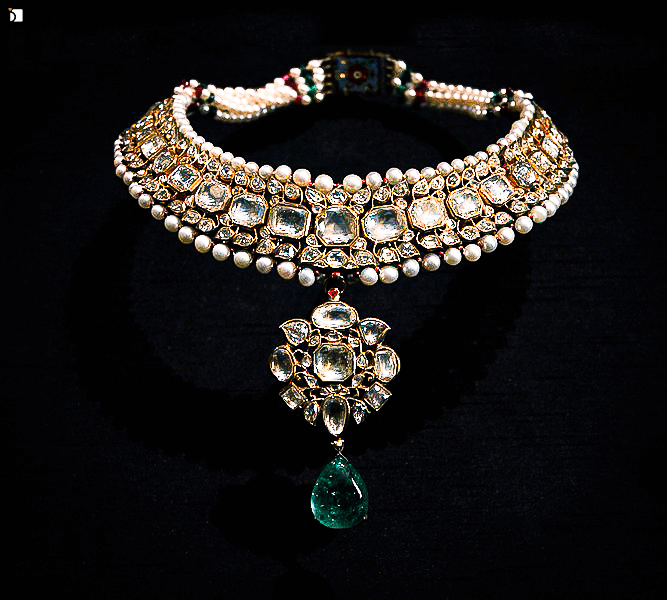 British Museum – The Islamic World Necklace Kundan India¹
Ancient Islamic Jewelry Steeped in Tradition…
The religion and empire of Islam intertied rich regions and touched the entire world — reaching places like Spain and Malaysia through travel and trade.
Islamic jewelry and accessories can be classified as being a rich amalgam that incorporates many different styles and elements from wide-varying sources.
Early Islamic jewelry is a product of ancient, classical, Byzantine, and Sasanian traditions, not to mention many others that survived and helped form the Islamic aesthetic.
Changes in Islamic jewelry came about from influence from outside cultures.
Classic Jewelry Coming from Conquest and Innovation
The Arab conquest of Iran accelerated the production and societal implementation of rings, pendants, earrings, and necklaces that other ancient cultures had also developed.
Gold continued to be worn and a sign of affluence in ancient Islamic cultures. The Iranian people developed a rich tradition of animal art that persists to this day. Back then these depictions were modified to some degree according to the regulations of the canons of Islam, which in some respects made making images forbidden.
A person of stature in the 12th-century Middle East might be seen sporting a gold pendant depicting the form of a lion — it would have to be a specifically schematic rendering of the animal and decorated with a good amount of granulation.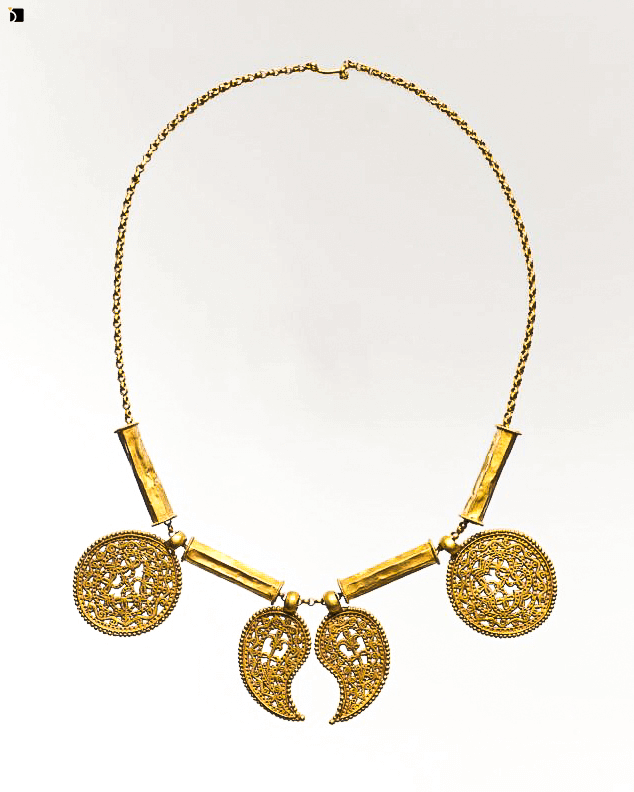 Byzantine Gold Necklace with Pendants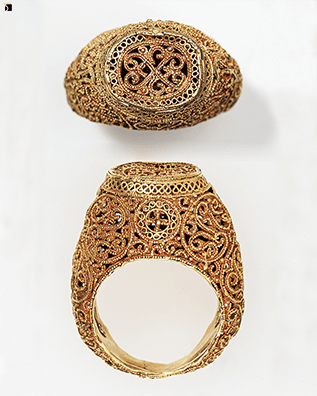 Rings – Khalili Collection Islamic Art²
Important Jewelry-Making Techniques Used in Ancient Islam
Other important jewelry-making techniques that were used in ancient Islam included filigree, the use of niello, not to mention the use of encrustation with semi precious and precious stones.
Crescent-shaped pendants were also enjoyed by many, popular in Islamic culture just as they were in Hellenic culture. These creations featured sculpturally satisfying designs that were volumetric to boot!
During the 14th century and moving forward, there are a significant amount of manuscript illustrations available to historians today that give a good idea about what kind of jewelry was worn by ancient Persians. During Mongol and Timurid reigns, jeweled coiffures were worn often by women. Men wore diademed headdresses, which were the utmost fashionable in court circles.
Under Ṣafavid reign, Islamic jewelry started to become a little more elaborate and ostentatious. Traditional designs continue to persist in places like Zīnjanāb as well as among the Kurdish mountaineers that occupy northwest Iran.
Zīnjanāb features jewelry and accessory creations made of silver and decorated with twisted wire delicately arranged in scrolls. Kurdish goldsmiths tended to work feverishly with silver, decorating the precious metal with chased or repoussé designs. Ooh la la!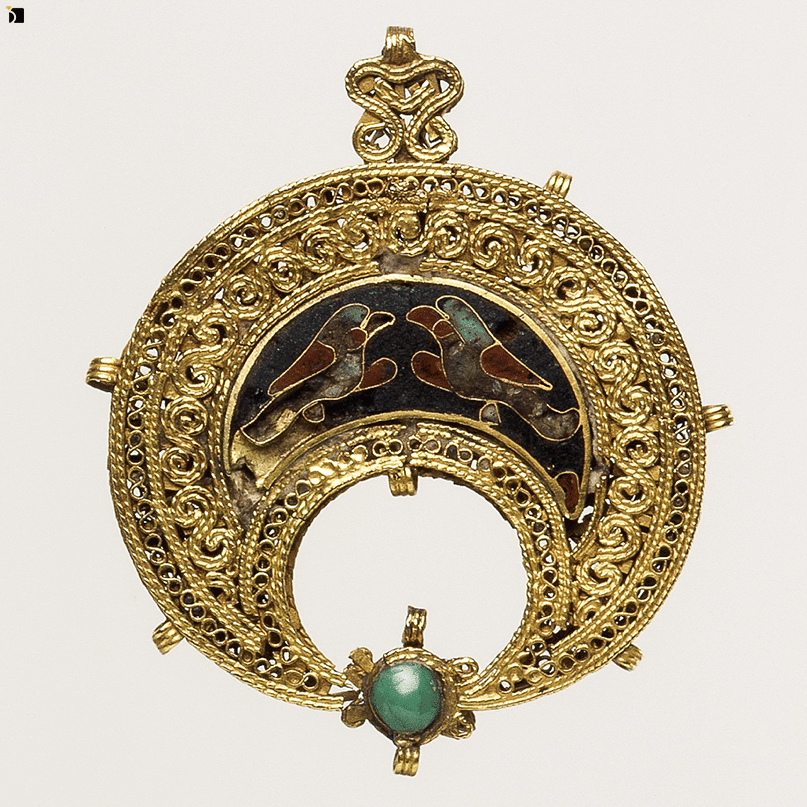 Crescent Shaped Pendant with Confronted Birds³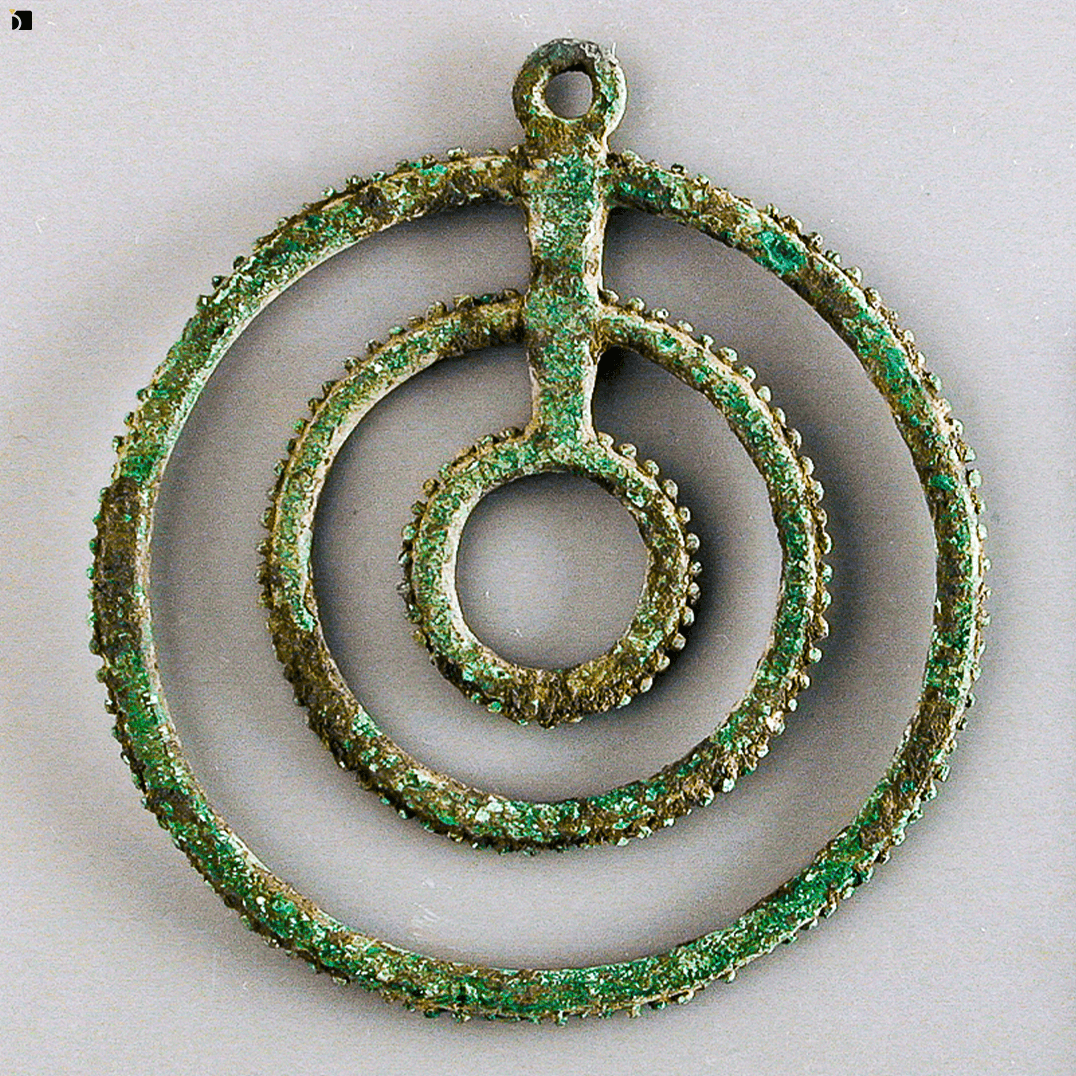 Bronze Pendant – LACMA⁴
During the Ottoman period, Islamic men and women were likely highly influenced by fashions that were current in Iran. Accessories included jeweled turban aigrettes, not to mention rings, necklaces, bracelets, and, of course, the all-fashionable armlet.
One technique popular in Turkey during the 16th century was encrusting jade and other kinds of harder stones with elaborate jewels that were attached by delicate, floral scrolls made of gold. There are not many surviving pieces that come from earlier than 19th century Islam, which is highly unfortunate. Native tradition in Islam has now been somewhat supplanted by a wide acceptance and affinity for Rococo jewelry.
When it comes to North Africa, an independent tradition has been upholded (incorporated by Amazigh and Arab tribes).
Jewelry design of ancient southern Morocco exhibits curious connections to Byzantine jewelry. Heavy silver plaques are featured and decorated with either cabochons or niello which serve as headbands or diadems.
Other parts of Morocco and in Algeria and Tunisia incorporated headbands, brooches, ornaments, chest ornaments, pendants, triangular-shaped shawl pins, and more.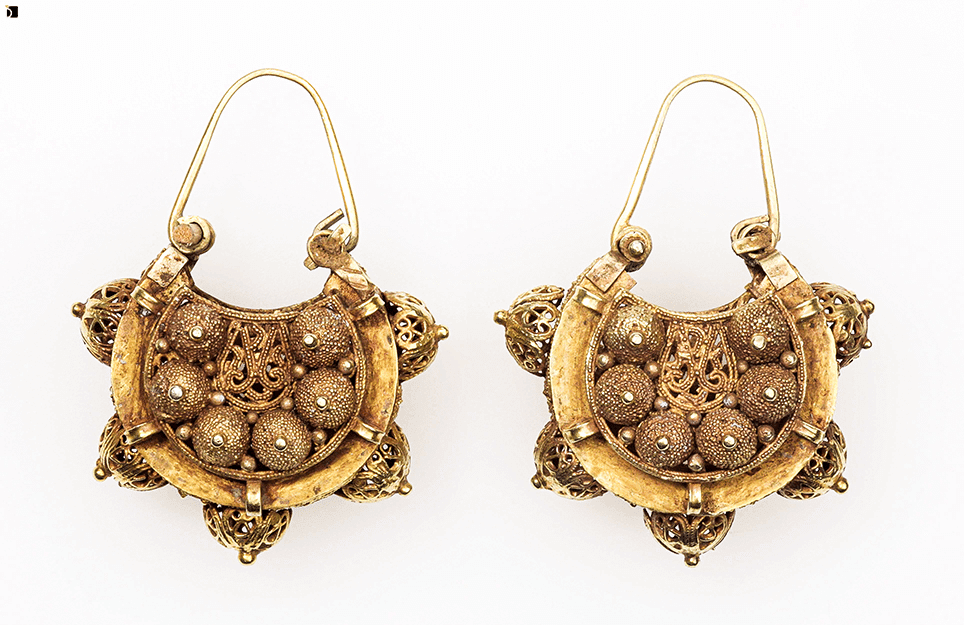 Earrings – Islam Khalili Collectio Islamic Art⁵

Resources:
https://www.britannica.com/art/jewelry/The-history-of-jewelry-design
https://books.google.com/books?id=5c9NoOBf2Q4C&printsec=frontcover&hl=en#v=onepage&q&f=false
¹ Original Image "British Museum – The Islamic World Necklace Kundan India"
² Original Image "Rings – Khalili Collection Islamic Art"
³ Original Image "Crescent Shaped Pendant with Confronted Birds"
⁴ Original Image "Bronze Pendant – LACMA"
⁵ Original Image "Earrings – Islam Khalili Collectio Islamic Art"

My Jewelry Repair
Continuing the History of Jewelry
Clearly the world of Islam has a rich history of jewelry and accessorizing that lives on today. No matter where you and your ancestors come from, My Jewelry Repair has an easy online process that will help you get the expert jewelry and watch repair you need nationwide.
Contact us today to learn more about our easy online jewelry and watch repair service!