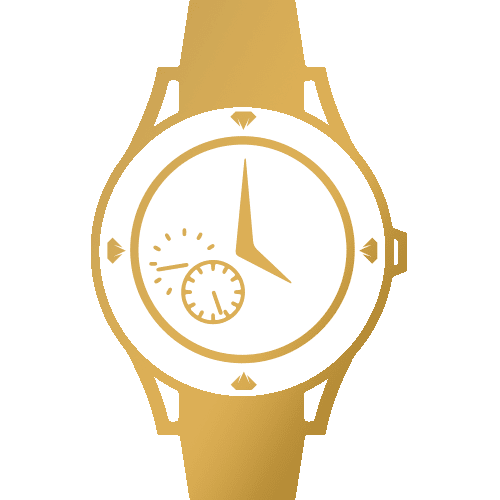 Iconic timepieces: Indiana Jones AND THE DIAL OF DESTINY
Don't worry, this article doesn't contain any spoilers.
When it comes to Hollywood blockbusters, every prop is selected with precision, and each minute detail tells a tale. The Hamilton Bultron Quartz watch is a notable accessory of our favorite archaeologist, Indiana Jones in the latest saga, "Dial of Destiny". This particular timepiece not only adds to the character's overall persona but also forms a pivotal part of the film's narrative. So, let's embark on a journey to uncover the unique facets of this fascinating accessory.
The Hamilton brand is renowned for producing durable, precision-driven timepieces, often spotted on the wrists of many movie characters. Its history is tightly woven with the cinema, from the "Interstellar" Murph's watch to the Ventura model worn by Men in Black agents. In "Dial of Destiny", the choice of the Hamilton Bultron Quartz watch for Indiana Jones only adds another layer of depth to this rich heritage.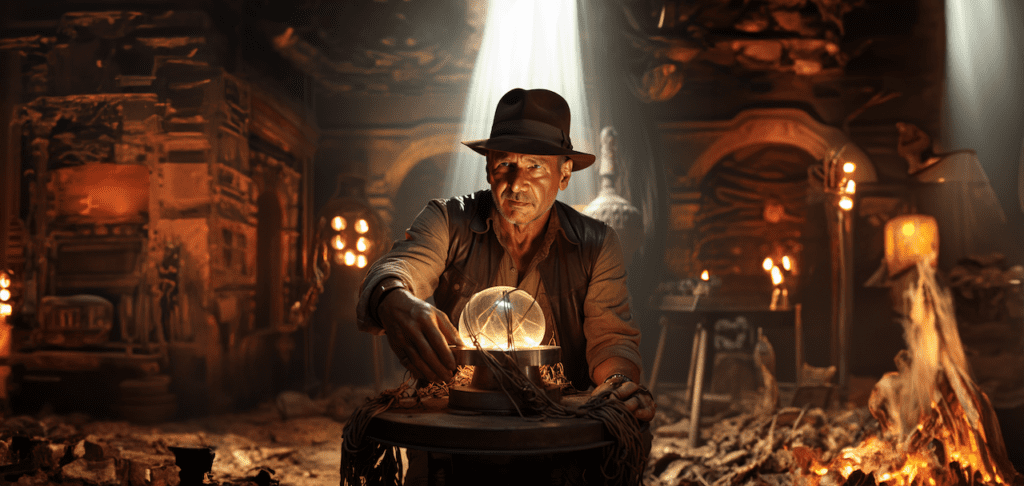 Braving the Elements: How Indiana Jones' Hamilton Watch Masters Durability and Design
The Hamilton Bultron Quartz watch distinguishes itself with its unique design and exceptional craftsmanship, a testament to the watchmakers' skills. This striking timepiece, armed with a rugged stainless-steel case, is built to endure the challenging conditions of Indiana Jones' adventures. From a dust-choked desert to a dense jungle, the watch stays reliable, reflecting its dedication to durability and precision.
Boasting a clean, readable dial and scratch-resistant sapphire crystal glass, the watch perfectly aligns with Indiana Jones' practical nature. The dial remains legible under any lighting conditions, an essential feature for an explorer engaged in solving mysteries. The robust sapphire crystal glass, second only to diamond in strength, reinforces the watch's endurance. With this careful blend of durability and function, the Bultron Quartz watch transforms into more than a timepiece. It becomes a steadfast companion for Indiana Jones, encapsulating the spirit of a man forever ready for action and adventure.
Timeless Precision: How the Bultron Quartz Watch Mirrors Indiana Jones' Unwavering Reliability
The Bultron Quartz watch, a crucial accessory for Indiana Jones, mirrors his traits through its precise, reliable quartz movement. This technology underscores Jones' punctuality, resilience, and adaptability under pressure, keeping time consistently under any circumstance. The battery-powered watch ensures sustained performance, freeing Jones from the need to wind it, no matter how unpredictable his quests are. Therefore, the Bultron Quartz watch's dependability and easy-to-maintain nature make it a suitable accessory for the thrill-driven Indiana Jones.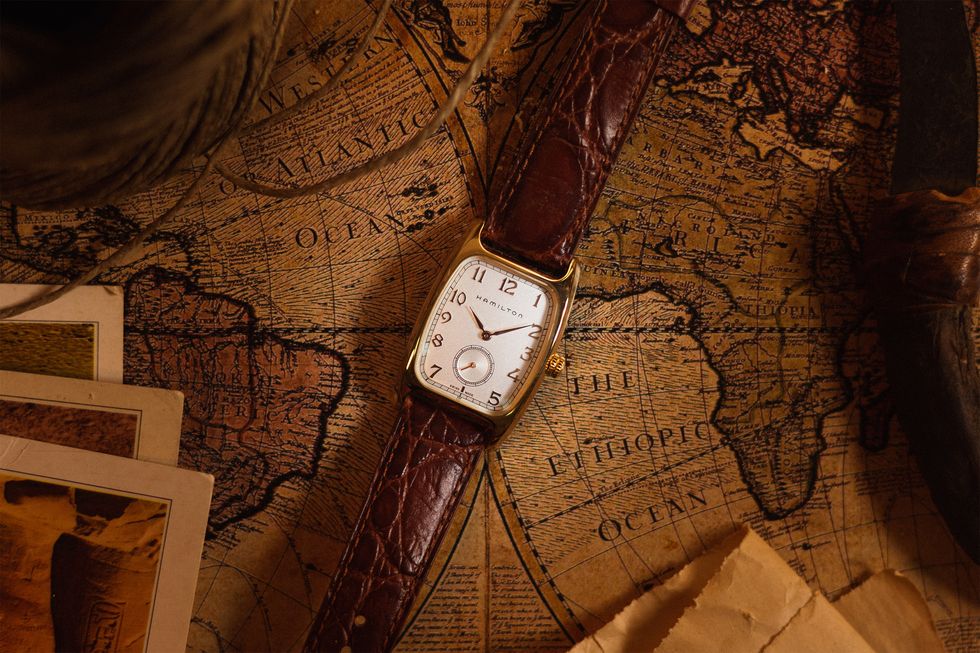 Photo by Gear Patrol
In "Dial of Destiny", the Hamilton Bultron Quartz watch is not just a mere accessory. It's a reflection of Indiana Jones' personality – practical, resilient, and reliable. The filmmakers have also ingeniously incorporated the watch into the storyline. As the movie progresses, the watch transforms from a simple timepiece to a crucial tool, helping Indiana in his relentless pursuit of uncovering historical mysteries.
Furthermore, the Bultron Quartz watch brings a touch of modernity to Indiana Jones' classic aesthetic. The minimalist design and sleek silhouette complement his earth-toned, rugged outfit, creating a blend of the old and the new. It presents Indiana Jones as a character who remains true to his roots while adapting to the demands of the current era.
From Screen to Wrist: A Nostalgic Piece of Indiana Jones' Cinematic Universe
For fans of the franchise, the Hamilton Bultron Quartz watch is a collectible item. As it plays a vital role in the "Dial of Destiny", owning one can provide a tangible connection to the cinematic universe of Indiana Jones. This watch captures the essence of Indiana Jones and serves as a nostalgic piece for those who have followed his thrilling exploits through the years.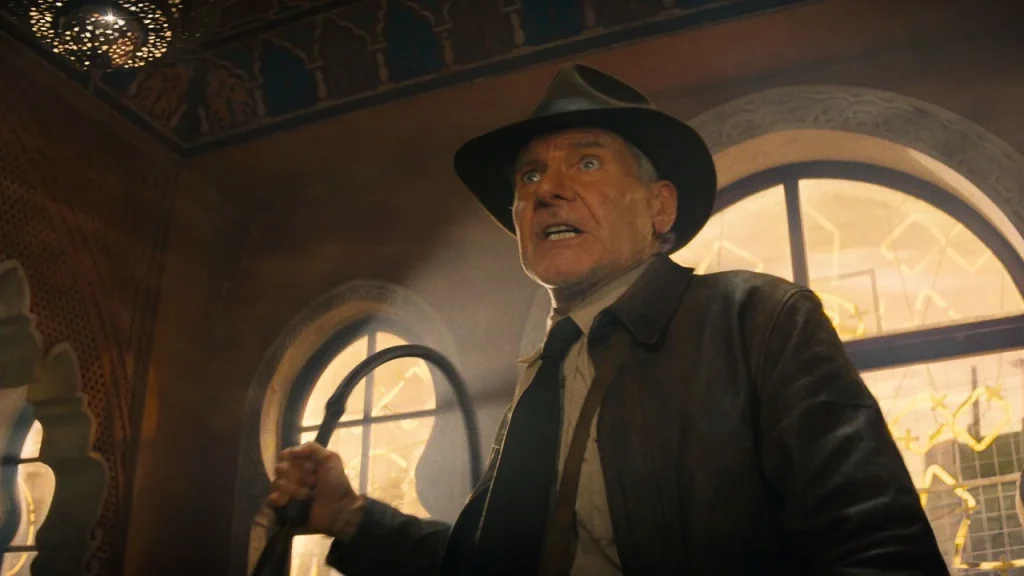 Photo by Entertainment Tonight
The Hamilton Bultron Quartz watch is more than just a timepiece. It's a character in itself, a story-telling prop, and a reminder of the unbreakable bond between cinema and horology. As we enjoy the on-screen adventures of Indiana Jones in "Dial of Destiny", let's also appreciate the attention to detail and the careful choice of accessories that add depth and realism to our beloved characters.
Resources:
Blog Resources for Media

Premier Watch Repair Services
Restoring Indiana Jones' Watch That You May Have Purchased
With the hype of Indiana Jones and the Dial of Destiny on the incline, it would only make sense that there is also an increase in popularity for purchasing watches that look similar to Indiana's

In the case that you do, our Certified Watchmakers would be more than happy to handle servicing the timepiece that you get your hands on (in a proper setting and environment, as we may add in reference to our previous side note).

If you would like to learn more about our Premier Timepiece Restoration Services, feel free to visit our "Watch Repair" page.