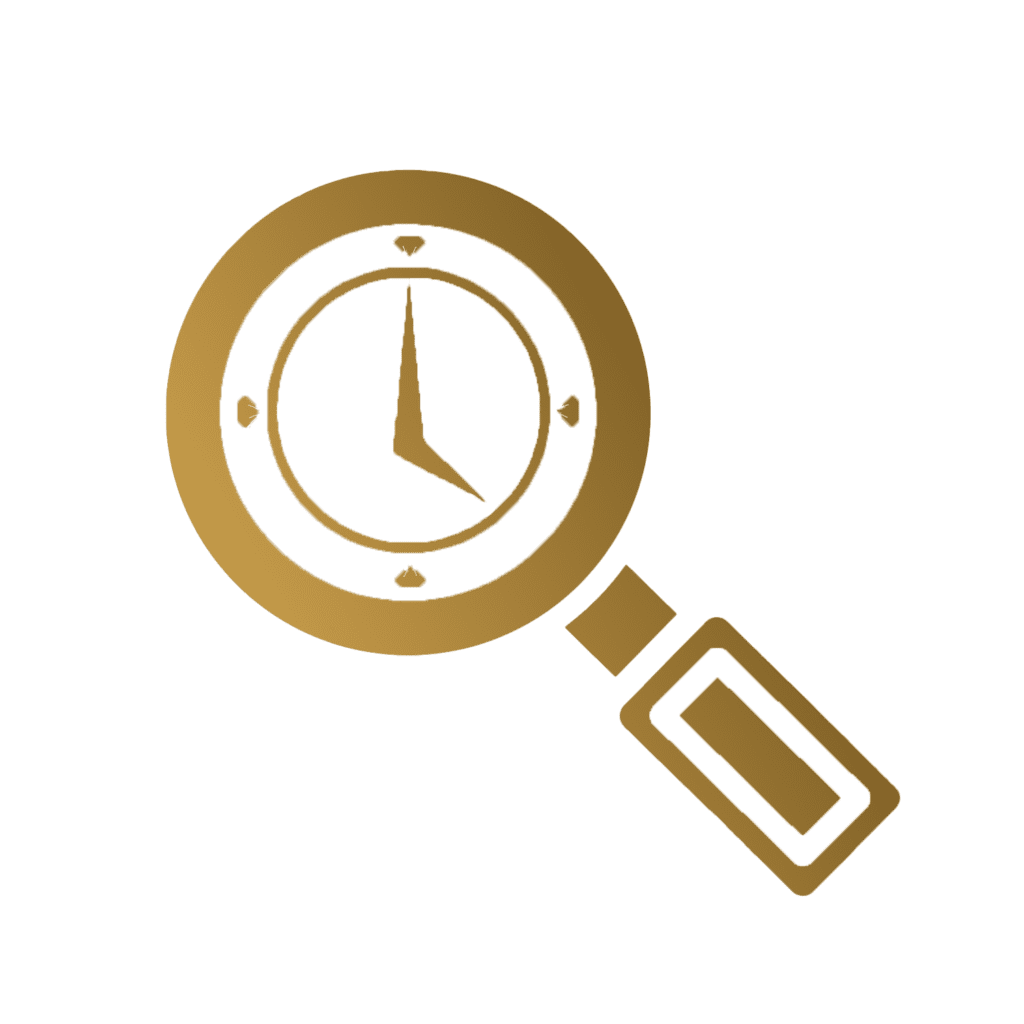 Jewelry Through The Decades Series
Step back in time and discover the boom of popularity for jewelry in the 1950s.
From pearls to yellow-toned gold jewelry, this post-war era embraced the concept of jewelry as a defining element in shaping "the perfect woman."

The 1950s fashion era radiated classic elegance, luxury, and glamour through iconic style icons like Audrey Hepburn, Marilyn Monroe, and Grace Kelly. In this captivating era, jewelry held a pivotal position, infusing the finishing touches of sophistication and allure. Pearls and diamonds stood as timeless favorites, emanating everlasting charm, while gold epitomized traditional luxury. Notably, trends such as "evening jewelry" and matching jewelry sets soared in popularity, further accentuating the overall allure of the era. The influence of the 1950s on modern fashion remains unparalleled, as the retro revival reintroduces classic styles and wholeheartedly embraces vintage-inspired accessories. It was an era that truly epitomized timeless elegance, with jewelry serving as a crucial element in enhancing the traditional woman's overall look.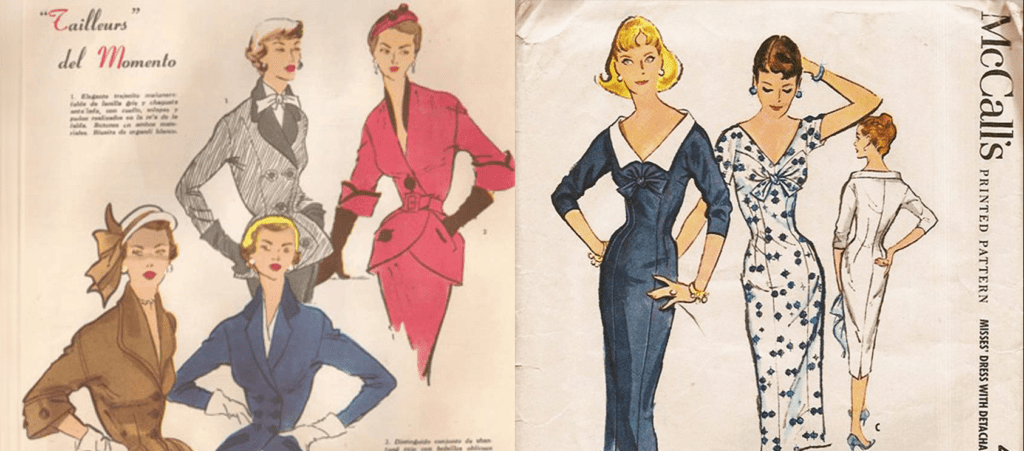 Women's 1950's Fashion & Jewelry Illustration
Golden Elegance: The Allure of 1950s Gold Jewelry
During the 1950s, yellow-toned gold reigned supreme as the favored choice for exquisite jewelry. Rose gold also gained popularity, especially when paired with rubies and warm-colored gemstones. Innovative designs emerged, including textured gold, which encased gemstones and motifs with mesmerizing depth. Gold earrings, necklaces, bracelets, and brooches struck a balance between grandeur and simplicity.
Gold button earrings added refined charm, while gold flower and leaf necklaces brought nature's beauty to luxurious ensembles. Polished gold cuff bracelets exuded timeless allure, and figure gold brooches sparked playfulness. The late '50s saw the rise of gold chain bracelets and necklaces, epitomizing chic sophistication.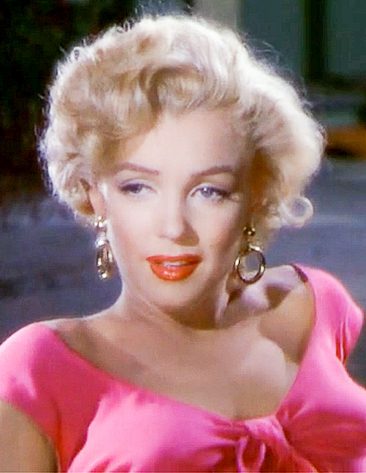 Marilyn Monro Sporting Gold Drop-Hoop Earrings Circa 1953
Radiant Nights: Rhinestones & Evening Jewelry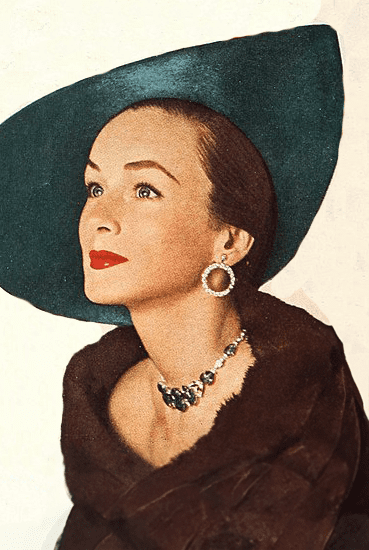 Revlon Magazine Feature of Rhinestone Necklace & Earrings Circa 1950s
The love for shiny jewels has always been there, but it hit a peak in the 1950s. After World War II ended, the once scarce rhinestones became popular again. They added sparkle to clothes, hats, and bags, and they were perfect for evening dresses. Jewelry for the evening could range from simple rhinestone necklaces to more dramatic ones for deep-neck dresses.
For cocktail outfits, large rhinestone earrings or a brooch were often the picks. Crystals were a pricier but brighter option than rhinestones, crafted into large necklaces, earrings, and bracelets. If a woman couldn't afford these, pearls were a great alternative. They worked well from day to night, with bigger and more layered versions for the evening, which later became known as "evening jewelry".
Pearl Power: The 1950s and the Dawn of the Matching Set Revolution
For many decades, pearls have held a coveted position in the world of jewelry. In the 1950s, their allure amplified significantly, becoming the quintessential accessory for the universally adored little black dress. Their chicness was not confined to black and white; they sparkled in a plethora of hues including champagne, coffee, lemon yellow, cream, and grey. These colors added a unique touch, magnifying a woman's natural beauty.
The norm for pearl strands was a shorter length, designed to sit neatly above a modest neckline, ensuring they were always in view. However, a distinctive shift in trend was witnessed in the mid-1950s. This era saw the emergence of waist-length necklaces, a dramatic departure from the previous style, adding an air of sophistication and elegance to the wearer.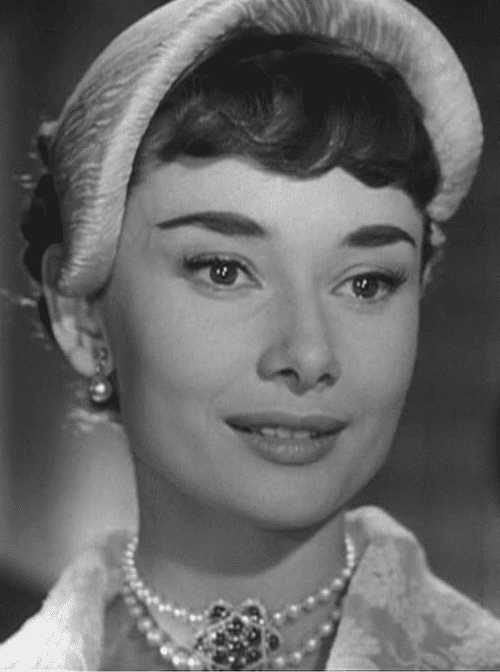 Audrey Hepburn's Matching Pearl Earring & Necklace Set in Roman Holiday Circa 1953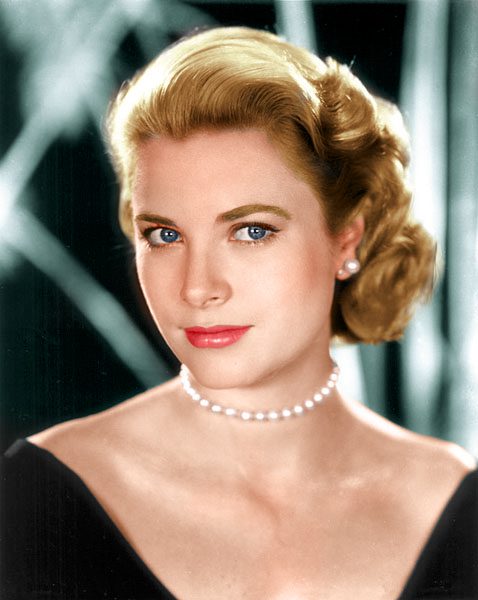 Grace Kelly Sporting Matching Pearl Earrings & Necklace Set
Pearls added a touch of elegance to various outfits, including tailored suits, afternoon dresses, twin sweater sets, and cigarette pants, blending seamlessly into the wardrobe of a fashion-conscious woman. A modest pearl stud earring paired with a single or double-strand necklace became an indispensable part of most daily ensembles, epitomizing understated glamour.
While drop earrings were an option, the preferred choice for many women was clip-ons or screw-back versions, catering to both comfort and style. Two prominent figures in the spotlight, Audrey Hepburn and Grace Kelly, were known to be avid pearl enthusiasts. The fact that they were frequently captured in photographs adorned with pearls played a considerable role in lifting this timeless piece of jewelry to iconic status, symbolizing elegance and sophistication across the globe.
Resources:
Blog Resources for Information and Media

My Jewelry Repair
Continuing Jewelry Repair For Decades to Come
The 1950s saw a rise in glamorous jewelry trends, reflecting the extravagance of the era. Today, while the styles may have changed, the need for jewelry repair remains constant. Whether it's restoring a beloved family heirloom or fixing a favorite piece of jewelry, My Jewelry Repair's restoration services allow us to keep the memories and sentimental value of these pieces alive.
Contact us today to learn more about our easy online jewelry and watch repair service!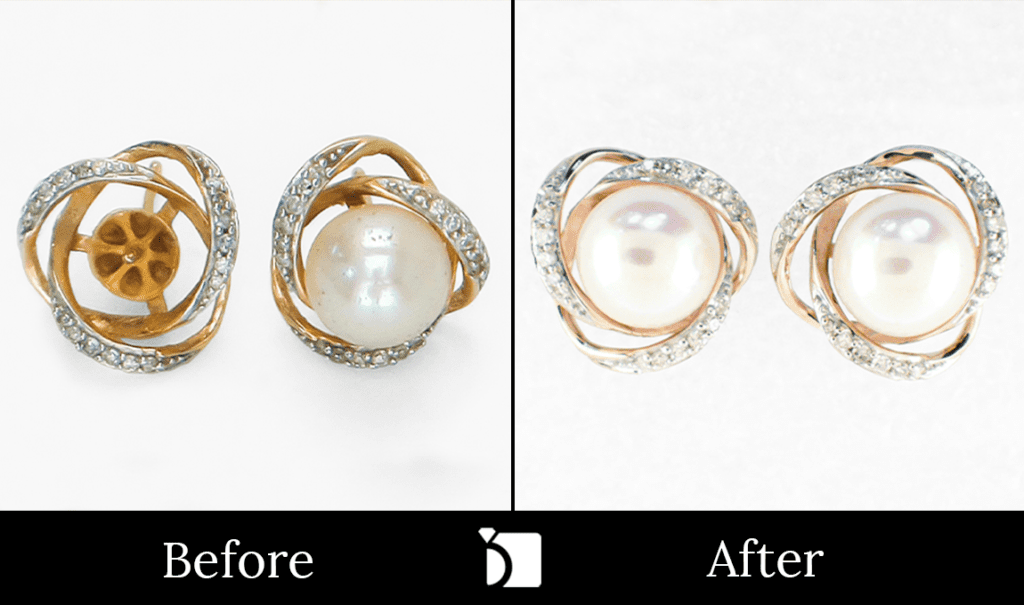 Pearl Earring Resetting (Before & After #129)