A Detailed Look Into The Ring Sizing Process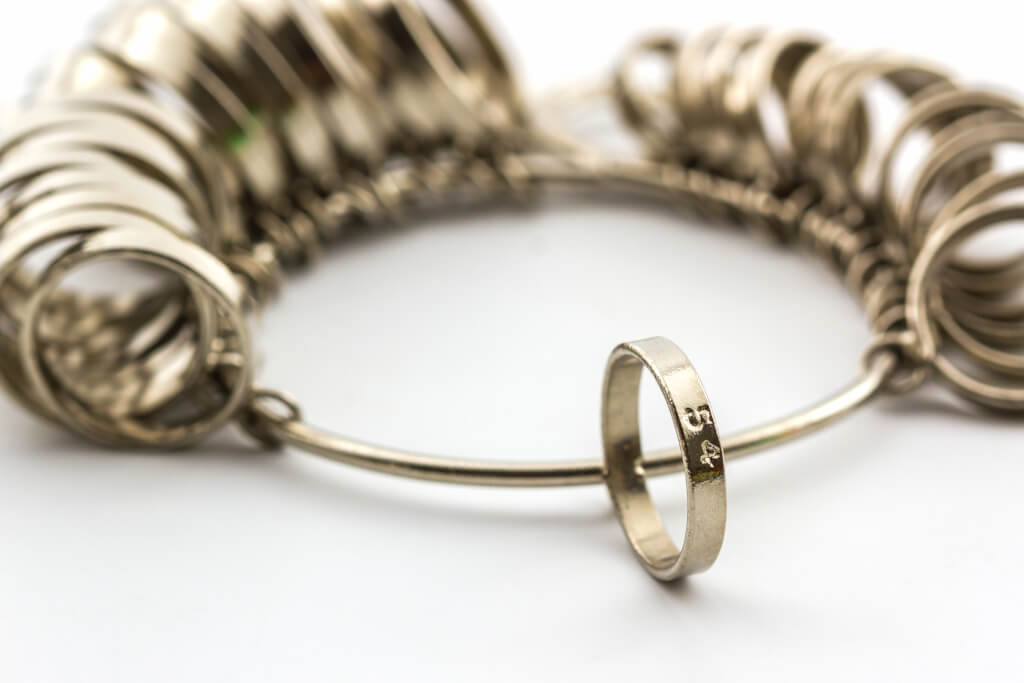 Ring Sizing is a practice many people need but one they are often unsure of. If you didn't know, most new rings are sold in a common size by the majority of retailers: a stock size 7 for ladies and size 10 for men. So unless you are a perfect size 7 or 10, you will likely need to have your ring re-sized. It's also not unusual for people to change sizes, like maybe wanting to wear the ring on a different finger. Therefore, from time to time you may need a ring sized up or down. Whatever the reason, ring sizing is a very common practice so there is no need to worry.
Things to Know About Ring Sizing:
All rings have sizing limitations depending on the design. For example, designs with plain shanks, are straightforward and simple. Whereas ornate designs, and rings with patterns that surround the band, are more difficult. The general rule is that a ring can be altered up or down two sizes. But of course, for every rule there are always exceptions, so it is always best to defer to an expert for guidance. For more info on how resizing works for various designs/types click here.
The Breakdown
1) MJR's Master Jewelers can size Gold, Sterling Silver, Bronze, Brass, Palladium and Platinum. Sterling Silver and Platinum is a metal that not all jewelers can work on, however, ours can.
2) Stainless Steel, Titanium and Tungsten cannot be sized.
3) Ring Sizing should only be achieved by either adding or removing metal to obtain the desired size, and that is exactly what we do. When a ring is sized up or down, the shank will be manipulated to achieve a larger or smaller size. If the ring contains gemstones at the top and on the sides they can become unstable or loose. Our Master Jewelers always examine all aspects of the ring, including the gemstones, to make sure they remain secure and tight.
4) We avoid metal contamination by matching the new metal, and soldering it to the existing ring. We never mix metals e.g. if your ring is made of 14kt gold then we will only use 14kt gold etc.
5) Part of Ring Sizing is to restore the circular shape and then solder it back together. Then completely clean the ring to remove any oxidation caused during the soldering process. The ring is also polished inside and out to smooth its surface and achieve the desired finish. When the job is complete, there should be no indication or visible details that the ring has been resized.
6) If your ring contains gemstones, it may be necessary to remove those gemstones and reset them after sizing. This is because the normal Ring Sizing process introduces heat to the metal that can potentially damage some gemstones. Because of this we use Induction Welders that focus the heat only where needed, and therefore the gemstones are protected and no damage occurs.
7) We use Laser Welders when working on Platinum, since it is the best tool for working on high melting point metals. By fusing the metal molecules together the Laser Welder creates a section just as strong as the original.
When sizing a ring up, a new piece of metal must be added. This will require the new piece to be soldered to the existing one, and it is very important to get a perfect bond. We use the highest quality precut butt joint pieces, so that we get the perfect fit. As a result we achieve the perfect bond without leaving any visible soldering lines. The method of using precut pieces eliminates thin shanks, and also greatly reduces porosity in the metal and produces an overall better final product.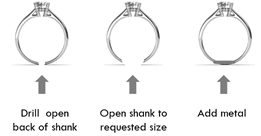 Sizing a ring down is similar to sizing up. When a ring is made smaller, the jeweler must cut out the appropriate amount of metal from the bottom of the ring shank and then join and solder the piece back together.
For more information about our Ring Repair and Sizing Services, please click Here.