Give New Life To Your Older Jewelry
Regardless of the current state of your jewelry's setting, we're here to help! Your jewelry's setting can be restored to its former glory or transformed into a new creation entirely.

Restore your brilliance with a gemstone resetting today!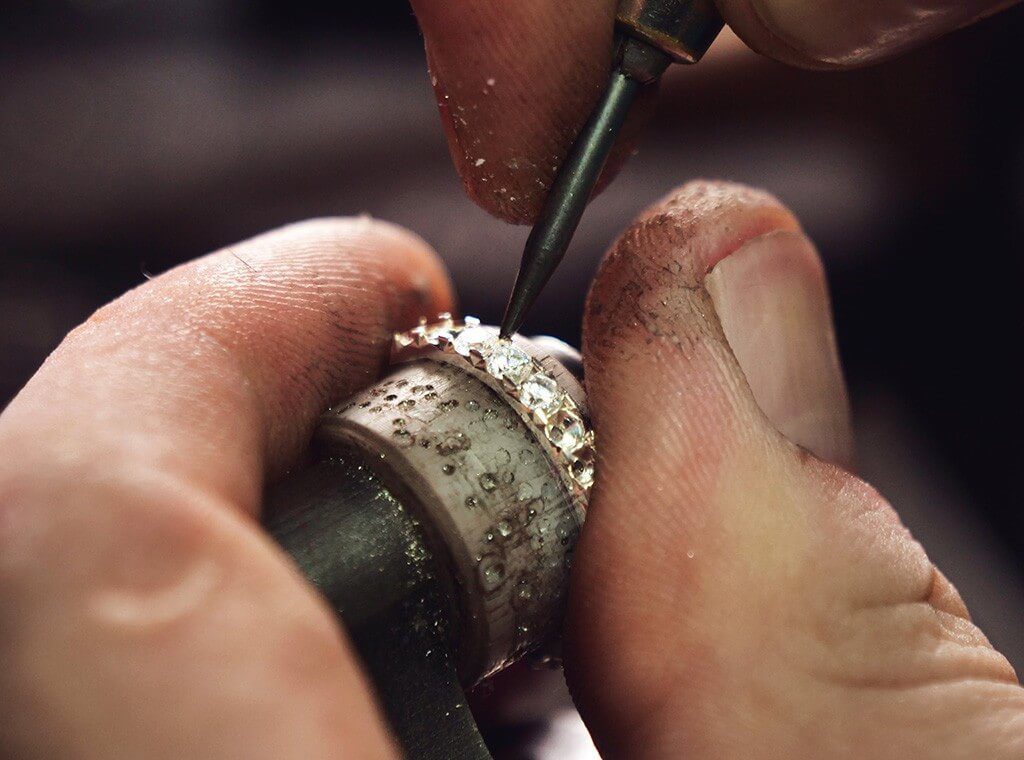 Any type of diamond, any type of setting, any type of jewelry:
We've got you covered.
Repair & Transform Your Setting
Repairing Your Setting
If you are interested in the repair of your jewelry's current setting, our master jewelers will evaluate and provide the necessary repair services in order to make it look as beautiful as the day you got it!

Perhaps the most common repair service would involve the repairing of your setting's prongs. This process would include either the tightening of your current prongs or the creation of new prongs in order to securely hold your gemstones in place – all done without interfering/changing your item's current setting design. Possibly the best part of our gemstone resetting service may be that our master jewelers have the necessary skill to perform a gemstone resetting service without leaving any trace of their work.
Transforming Your Setting
If you are interested in the complete transformation of your jewelry's current setting, we are more than capable of catering to a wide range of design ideas/preferences! Along with the redesign of your jewelry's setting, we are also able to provide access to any gemstone replacements you may wish to include in your jewelry's setting transformation.

This process would begin by us evaluating your item first hand and gaining a better understanding of the potential your jewelry item has in regard to the setting transformation you wish to have completed. If our master jewelers feel your gemstone resetting is possible and your desired setting redesign can be accomplished, we then will begin your item's gemstone resetting service.
Invisible Setting Repairs
Is it possible that you are in need of a Gemstone Resetting for your Invisible Setting?
An Invisible Setting demonstrates the rare jewelry technique of setting stones side-by-side, hiding the metalwork underneath, which can give the appearance of a larger stone. At My Jewelry Repair, we have a team of master jewelers who specialize in the crafting and repair of Invisible Settings. This also includes the process of Gemstone Resetting for an Invisible Set jewelry piece.

For more information regarding our Invisible Setting services, please visit our Invisible Setting Repairs service page.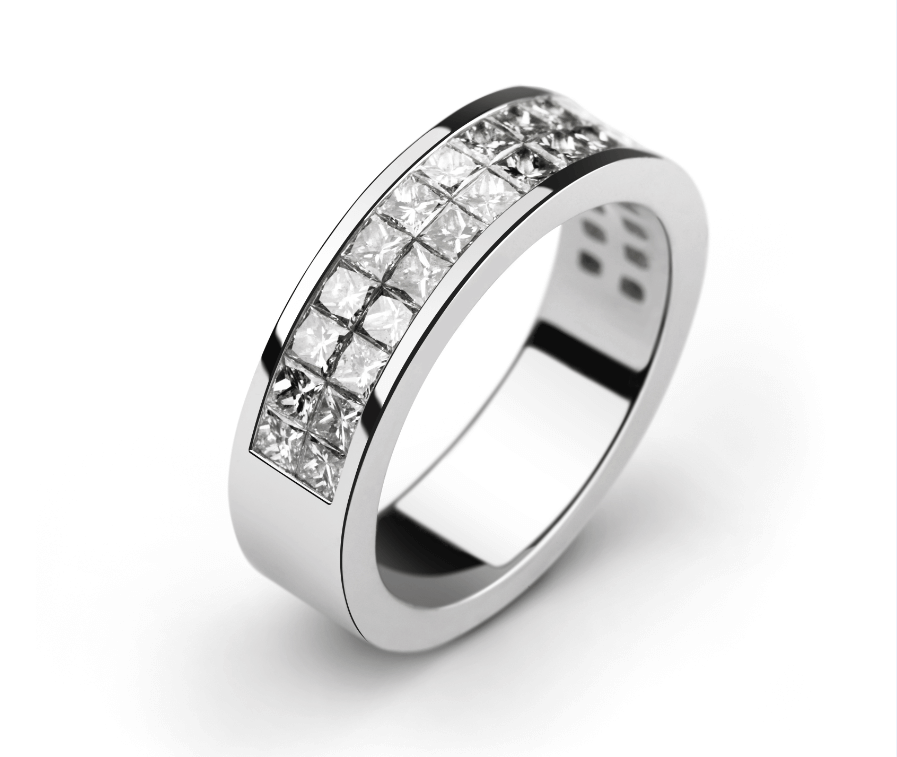 Why Choose Us to Reset Your Gemstones?
The skill and experience of our master jewelers allow us to provide the highest caliber gemstone resetting service to you all from the comfort of your home!

With over 25 years of jewelry repair experience, we are confident that we can supply any and all gemstone resetting needs you may have.

From prong repair to a complete setting transformation, our master jewelers are ready to make your item look new again!
We are proud members of the

Our team includes gemologists certified by

State-of-the-Art Setting Labs
We have built out custom labs for our master craftsmen to have everything they need to focus on settings. This level of attention is needed for top of the line jewelry settings of the kind our premier manufacturing partners require.

These clean environments are equipped with the best jeweler benches, tools, and high tech microscopes.

Have Questions?
How Do You Reset Gemstones?

The process of resetting gemstones can be quite simple or extremely intricate depending on your jewelry's setting. For example, a simple four-pronged ring would involve the repairing/tightening of the ring's prongs, potentially including additional metalwork depending on the damage. In the case of an invisible set jewelry piece, the gemstone resetting process would be a lot more intricate as the gemstones are held together by the pressure from other gemstones/the jewelry's setting design itself, not by prongs.
Who Does Gemstone Resettings & Where Do I Go to Get It Done?

A Gemstone Resetting service requires the expertise of a master jeweler and a Professional Stone Sourcing team. At My Jewelry Repair, we have both of these necessary elements in order to offer the highest caliber of gemstone resetting.
With us, you don't have to go anywhere! Our online, contactless service makes it possible to reset your gemstones all from the comfort of your home!
How Much Does a Gemstone Resetting Cost?

The price of a Gemstone Resetting service varies depending on the price of new gemstones (if needed), the amount of damage caused to the setting, as well as the labor required to perform a setting redesign (if one has been requested), etc.
For more information regarding the pricing of our jewelry repair services, feel free to check out our Pricing page.
What Standard of Gemstones Does My Jewelry Repair Use?

At My Jewelry Repair, the standard of gemstone we use varies depending on the standard of gemstone we are replacing. If there is not a request for a specific caliber of gemstone, we will find one that matches the quality of your gemstone perfectly. Of course, if you wish to increase the quality or lower the quality of your gemstone, those changes can be accommodated upon request.
For alternative gemstone options, as well as more information regarding the Professional Sourcing of our diamonds/gemstones, please visit our Gemstone Replacement service page
How Does Gemstone Resetting Online Work?

You Never Have to Leave Your Home with Our Online Jewelry Repair Process!
Create your order.
Print your shipping label and order slip.
Choose your insurance, pack your repair(s).
My Jewelry Repair provides step-by-step instructions for safe packaging and travel. All you have to do from there is schedule USPS courier pickup if you don't want to leave your home, or drop-off (with your nearest USPS location). Tracking included for safe arrival and transparency.
You'll never have to navigate a baffling mall layout again, looking for a 'quick' repair that takes forever. All you have to do is put the item in the mail and we'll have your perfected item back to you in no time!
How Long Does a Gemstone Resetting Service Typically Take?

On average, a Gemstone Resetting service takes 3-5 business days, but the timeline will vary depending on numerous factors, such as the required labor, the extent of the damage to your setting, the receiving of necessary gemstones/materials, etc.
For more information regarding the timeline of your Gemstone Resetting service, please refer to our Standard Timelines page.
You Have Questions, We Have Answers!

If you have any questions regarding our Gemstone Resetting service, please feel free to Contact Us. We are more than happy to answer any questions or discuss any concerns you may have!
Reset Your Gemstone Today!
"Excellent prices"
"Great job excellent prices will use again" Pleasantville, NJ
Wendy S.
"I will certainly use again"
"Great job , and reasonable price. I will certainly use again for any repairs" Anchorage, AK
Mike R.
"Their customer service is phenomenal"
"Great experience! They kept me informed and even sent me before/after pictures. The waiting time was acceptable and their customer service is phenomenal. Thank you!"
…
San Francisco, CA
Damaris T.
"I am really impressed!"
I have been delighted with the thought and care that has gone into every aspect of my dealings with My Jewelry Repair. From my first
…
encounter on the website through to having my wife's necklace expertly repaired and returned so rapidly at a price I felt was absolutely fair, the company has shined. It is professionalism at its finest!
Scott Doughty
"Wow…Looks good as new"
"Wow….Stunning repair. Great Job fixing a diamond cut rope chain that was broken in two. Looks good as new. Cant even tell it was repaired!!!!!
…
Thank You. OHHH and great service, reasonable cost with timely shipping. You have my business going forward. 10+"
Donald Hallam
"Fantastic work done on my charm"
"I am 100% satisfied with the craftsmanship and quality of the work that was done on my charm. If ever i need any of my
…
jewelry repaired again i will be coming back. I'm very happy"
shawn williams