Why Have Dive Have Become So Popular?
Dive watches have been around for several decades and have undergone significant evolution over time. They have now become increasingly popular among the general public, not just among divers. Many people wear dive watches primarily for their style, although the functionality is still a useful feature. Let's deep dive into why these versatile timepieces have become so popular (all pun intended).
What Is a Dive Watch?
Simply put, a dive watch is a timepiece specifically designed to be worn underwater and be water resistant up to 100 meters. It has been most commonly worn by divers to help keep track of decompression and how much oxygen is in their tank. Nowadays, it also worn by non-divers for other recreational water sports as well as casual wear.
Dive Watch Essential Features
Rotatable bezel with dive time scale and luminous dot
Water resistance of at least 20 bar (200m)
Waterproof bracelet (metal or rubber)
Luminous material for low-light visibility
Screw-down crown for water and dust protection.
A Brief History of the Dive Watch
The history of dive watches dates all the way back to the 1920's where the concept was first put into place. Hans Wilsdorf, founder of Rolex, created the first ever water-resistant wristwatch with the 1922 Rolex Submarine. This timepiece was attached on a hinge inside a second outer case, where the crystal and bezel were screwed down to make the outer case watertight preventing water from getting into the movement. The 1922 Rolex Submarine paved the way for the first "modern" dive watches including The Rolex Submariner and Omega Seamaster, which are still being manufactured and worn by many today. Multiple other dive watches were created during the 1950's and it was around this time that dive watches started to become more common-they became especially common with military divers.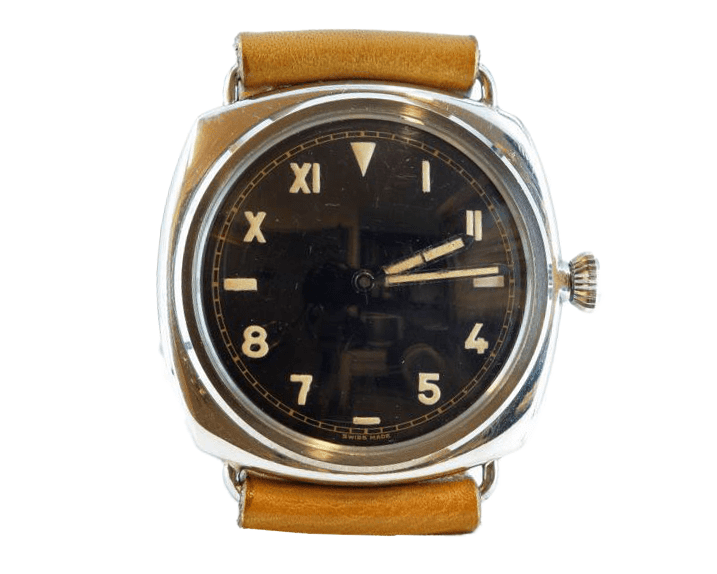 Milestones in Dive Watch History
1926: Rolex releases waterproof Oyster watch
1932: Omega presents Marine watch for diving
1936: Panerai develops prototype watches for Italian Navy divers
1942: Aqua Lung invented by Cousteau and Gagnan for SCUBA diving
1953: Blancpain debuts Fifty Fathoms, first modern dive watch; Rolex introduces Submariner, first dive watch resistant to 100m
1957: Omega releases Seamaster 300 dive watch; Breitling launches Superocean dive watch
1967: Rolex introduces Sea-Dweller watch with Helium Escape Valve for COMEX divers
1971: Omega debuts PloProf professional dive watch
1994: Omega launches Seamaster Diver 300M
2005: Omega adds Planet Ocean to Seamaster collection
2012: Rolex Deep Sea Challenge reaches Mariana Trench's bottom with James Cameron
2019: Omega Seamaster Planet Ocean Ultra Deep sets new depth record for a watch.
The Versatility, Style & Influence of a Dive Watch
From Sea to Street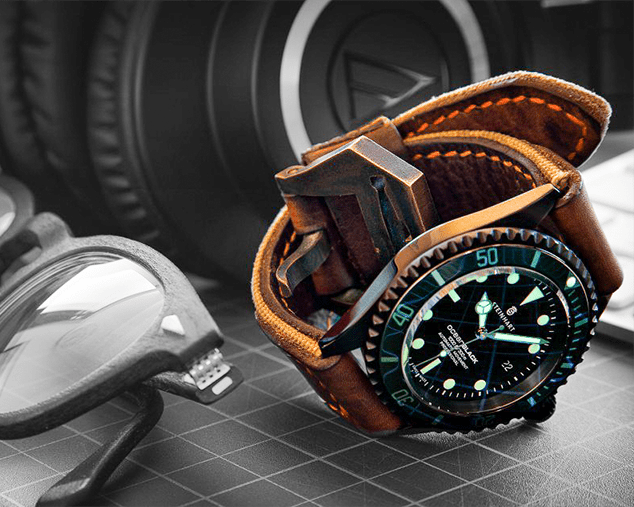 One of the of the main reasons dive watches have become increasingly sought-after is because it goes well with most clothing styles, is extremely practical and has had major influence through pop culture. If you look at most dive watches, the general design can be both subtle and bold at the same time, making it the perfect pairing for any outfit and any occasion. The dive watch itself can not only tell time both on land and underwater, but it can also withstand humidity & direct sunlight, making it the ideal watch for most climates.
Surfacing in Pop Culture
Dive watches have also risen to popularity through many of the classic movies we all know and love. These include the Rolex Submariner Ref. 6538 worn by Sean Connery in James Bond (1962), the Porsche Design Orfina Chronograph worn by Tom Cruise in Top Gun (1986) and the Omega Speedmaster worn by Tom Hanks in Apollo 13 (1995) just to name a few. This pop culture influence made a huge impact on why more people favored dive watches over the casual every day watches.
RESOURCES:
https://www.crownandcaliber.com/pages/dive-watches
https://en.wikipedia.org/wiki/Diving_watch#/media/File:Radiomircalifornia.jpg
https://pxhere.com/en/photo/1422921

https://www.ablogtowatch.com/brief-history-waterproof-watches/

https://www.allinwatches.com/why-dive-watches-popular/
https://www.watchmaster.com/en/journal/stories-en/divers-watches-how-it-began-and-developed-till-today

https://www.bobswatches.com/watch-resources/dive-watches


Premier Watch Repair Services
When your watch needs quality care and repair, we are here to provide it. With our online mail-in service, you can have your timepiece serviced by certified watchmakers in elite environments from anywhere in the country without leaving the house. Click here to learn more about our watch repair services and Certified Watchmakers.