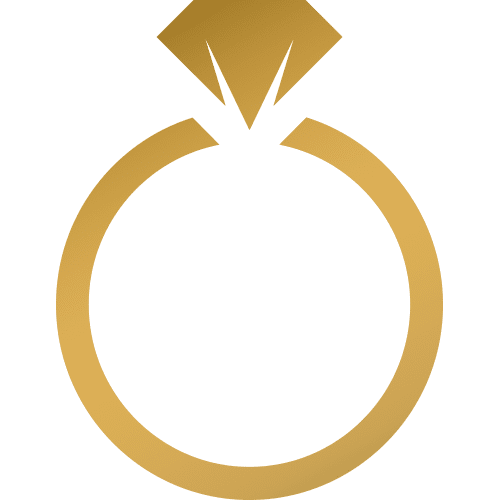 Cleaning & Caring For your ring
Over time, jewelry can lose its original beauty due to tarnishing, dullness, or dirt accumulation despite holding significant emotional and monetary value. That's why it's crucial to keep your jewelry looking its best, from everyday cleaning to deep polishing.
Why Should You Clean Your Ring
Regularly cleaning your ring is crucial to preserve and uphold the overall quality of your jewelry and extend its lifespan. Frequent cleaning and maintenance will help you detect any irregularities that require attention, as dirt and environmental debris can often conceal them. The most common causes of ring tarnish are body oils, sweat, lotions, and other external factors. Proper cleaning makes it easier to spot any necessary repairs, so it's essential to clean your rings frequently.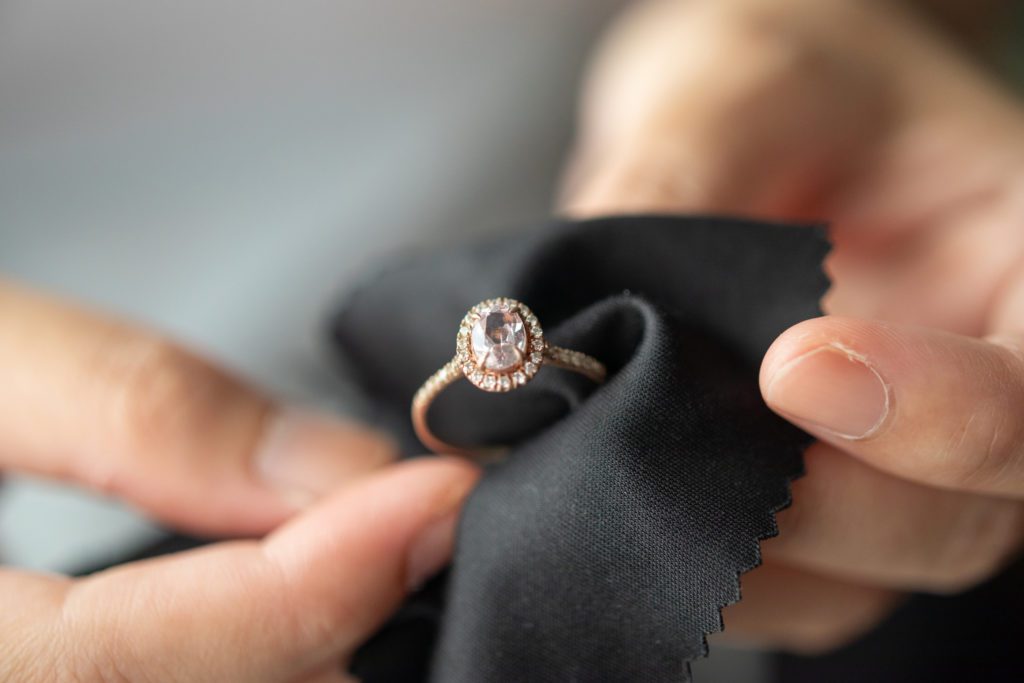 How Often You Should Clean Your Ring
Experts recommend that you get your jewelry professionally cleaned and polished every six months, depending on its frequency of use and the circumstances, in order to keep it in top condition. For instance, an occasionally worn item such as a gemstone ring for special occasions will require less cleaning than an everyday item.
How To Clean Your Ring At Home
To clean and polish your ring at home, immerse it in a solution of warm water, dish soap, and aluminum foil for five minutes. Gently scrub the ring with a new toothbrush and rinse it with warm water before air-drying it on a towel. Household products like lemon juice, club soda, and Alka-Seltzer can also be used, but research their impact on precious metals first to avoid damage. Avoid using baking soda, as it can cause scratches. Different metals require different cleaning processes, and professional services are available for those without materials or expertise.
How To Store & Care For Your Rings
To properly store and prevent damage to your rings, avoid overcrowding them and keep them in a jewelry box or a soft, lined pouch. Remove them before engaging in activities that may cause damage and avoid exposure to harsh chemicals or extreme temperatures. Regular professional inspections ensure that stones are secure and the settings are in good condition.
Understanding the Professional Clean, Polish, & Inspection Process
While cleaning your jewelry at home can be a convenient and cost-effective option, there are times when it may be necessary to seek out the expertise of a professional cleaner. A basic clean, polish, and inspection are part of the routine care and maintenance needed to keep your jewelry looking like new.
During the inspection process, the jeweler will examine all parts of the jewelry, including the setting, the prongs, and the metal itself. They will check for any cracks, scratches, or discoloration that may have occurred due to daily wear and tear. Furthermore, they will ensure that the gemstones are securely set and not in danger of becoming loose or falling out. In some cases, they may also use special tools to test the authenticity of the gemstones and metals.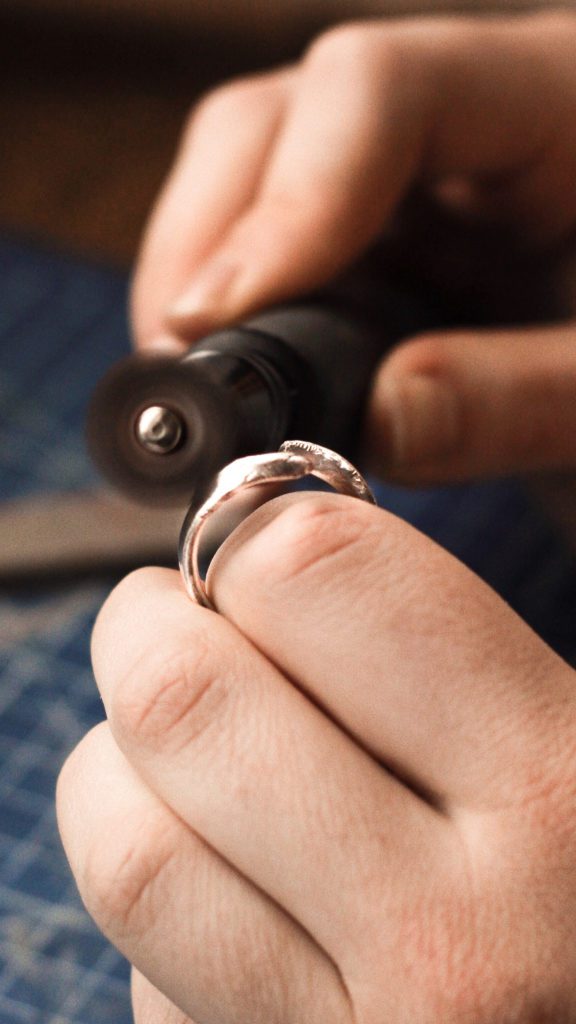 The 3 Steps of a Professional Clean & Polish
Step 1- Buffing & Polishing: The jewelry is buffed and polished to remove any minor scratches. This step will make the surface of your jewelry smooth and shiny.
Step 2- Cleaning: To remove dirt and other substances from jewelry, it's cleaned based on the gemstones present. An ultrasonic cleaner can be used for robust stones like diamonds, rubies, and sapphires. Fragile ones like opals and pearls require special cleaning. A steam cleaning is then done to remove any leftover dirt or cleaning agents.
Step 3- Plating: White Gold jewelry is Rhodium plated and requires re-plating after cleaning for a bright finish. Similarly, gold or silver-plated items made of sterling silver or brass also need re-plating after buffing, polishing, and cleaning to restore the finish.
A Summary To Ring Cleaning & Polishing
Ultimately, the key to maintaining your jewelry's appearance and value is to stay proactive and not wait until a problem arises. Regular maintenance from a professional jeweler can help ensure that your favorite pieces of jewelry will last a lifetime and beyond.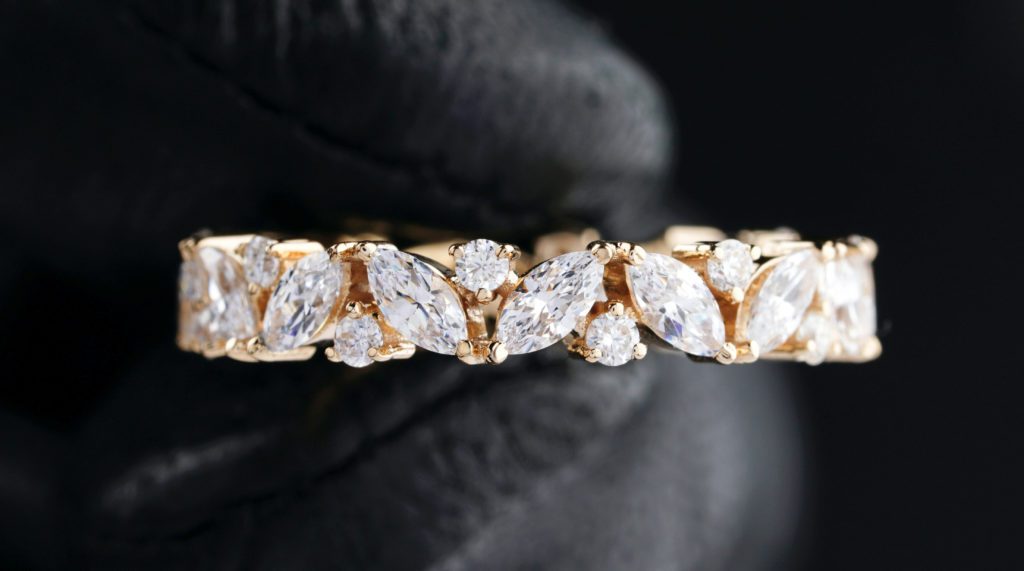 For a full breakdown of our professional clean & polish services, please visit Clean & Polish Services.
Updated 7/2/23
My Jewelry Repair
Premier Ring Repair Services
At My Jewelry Repair, we understand that your rings are more than just pieces of jewelry; they are cherished symbols of love and memories. When your ring needs quality care and repair, we are here to provide it. With our online mail-in service, you can have your rings serviced by master jewelers in elite environments from anywhere in the U.S. without leaving the house.
To learn more about our ring repair services and master jewelers, please visit our Ring Repair Services Page.
Our team includes gemologists certified by

We are proud members of the

"It feels and writes better than new."
"The nib on my Mont Blanc was bent after I dropped it on the floor. I sent it My Jewelry Repair. Shortly after it was
…
"The nib on my Mont Blanc was bent after I dropped it on the floor. I sent it My Jewelry Repair. Shortly after it was repaired and returned, it started leaking ink. I returned it was told it would cost $85 to repair. I protested, saying that it didn't leak when it was under my control and that had it been leaking, I would have mentioned it. After looking it over, a My Jewelry Repair craftsman concurred and the pen was repaired for no extra charge. That, to me, is great customer service. I have no financial interest in MJR, do not know anyone affiliated with the company, nor have I been remunerated for this review. I just like to compliment excellent customer service when I experience it."
Jim Dudas