Restoring Your Diamond Ring
Does your precious diamond ring have a missing diamond, a broken prong, or simply need some TLC. Our Diamond Ring Repair service is the solution to making your diamond ring as perfect as the day you got it!
Restore your diamond ring today!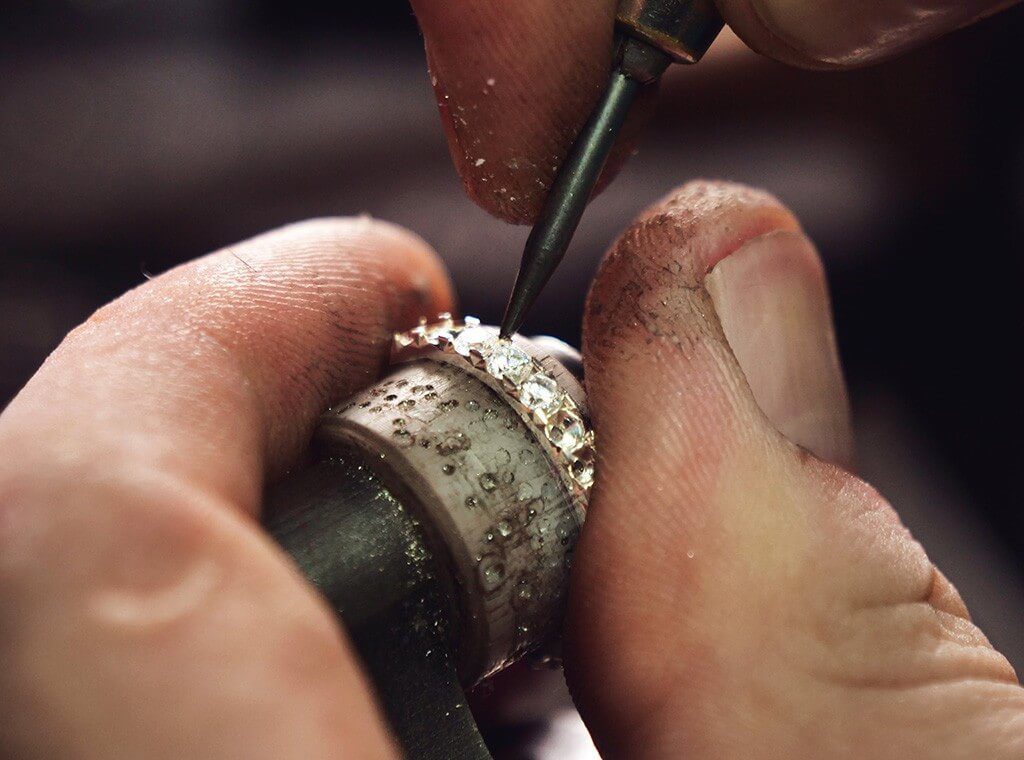 Perfecting Your Diamond Ring
Master Jewelers ~ Our in-house, hand-selected team of Master Jewelers not only have the experience and certifications to provide the highest caliber of ring repair, but also the passion for bringing your diamond ring back to life. They view each unique ring as holding the memories and experiences of our customers and take the responsibility of restoring their prized possession very seriously. You can trust that your diamond ring, regardless of the damage, will be in the right hands for the job.
Professional Stone Sourcing ~ Whether it's a brilliant-cut diamond or the popularized oval, we have a team of specialists in place to properly source any type of diamond needed for your treasured item. Your gemstones are unique and require specific attention, which we are here to provide. Our Professional Stone Sourcing team makes sure that all of your diamonds, even the ones that sometimes go unnoticed, are replaced by gems of the right caliber for your piece.
Please reference our Diamond Replacement Services page for more information.
We are proud members of the

Our team includes gemologists certified by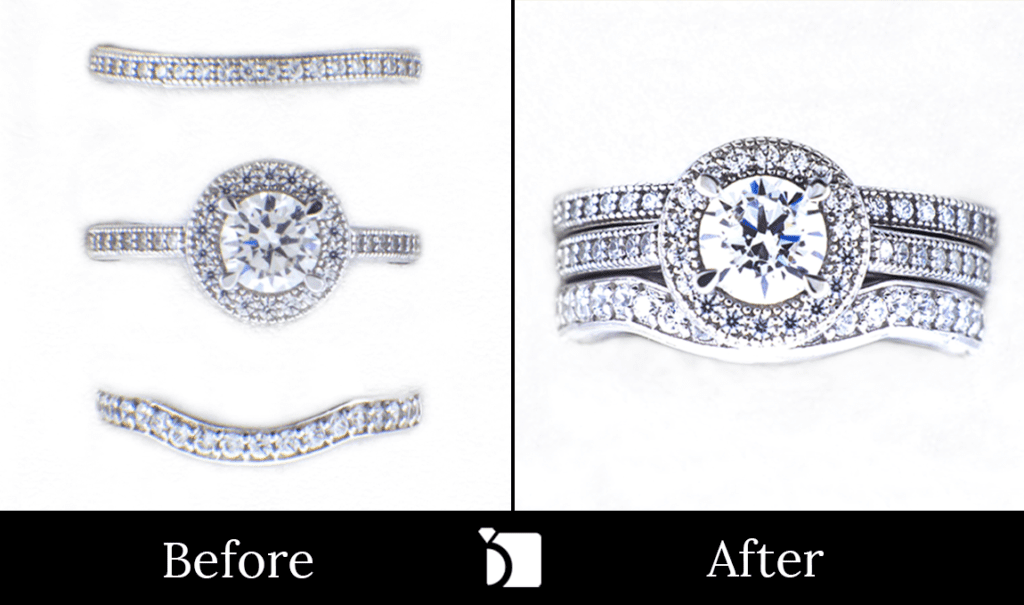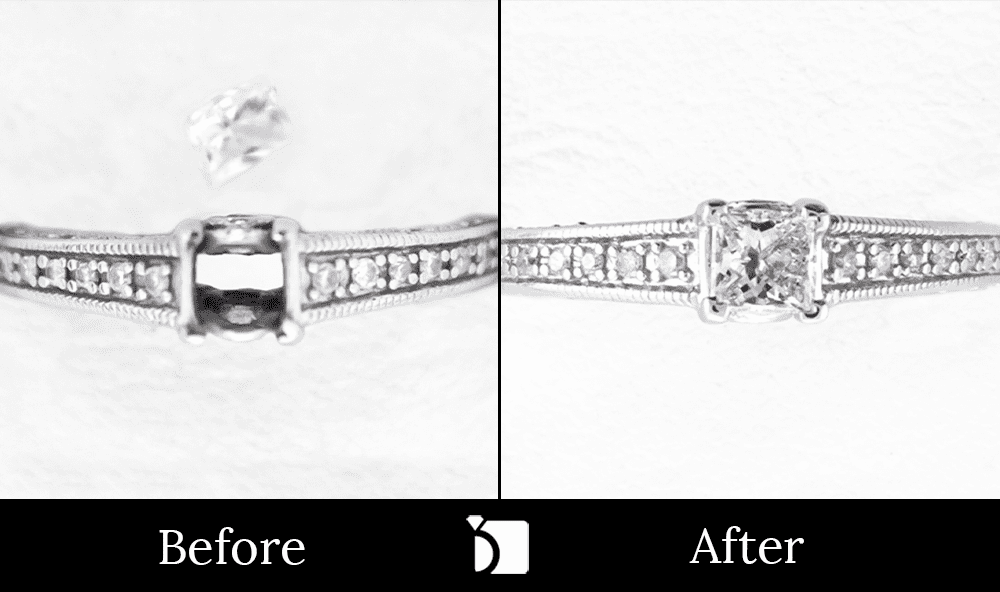 Fixing Your Diamond Ring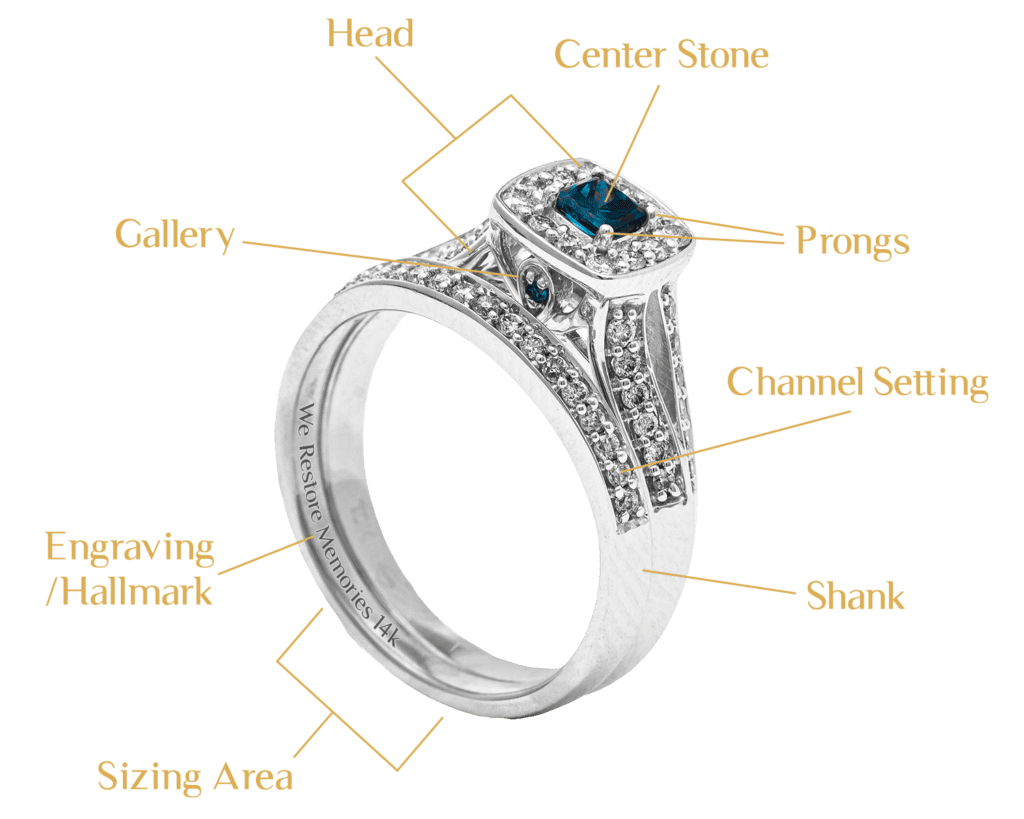 Loving Your Diamond Ring
Diamonds are more than just a pretty stone, they are the hardest natural substance known to man. Beyond this fact alone, they have many other properties that make them so valuable, such as their ability to refract light, creating the sparkle and brilliance that makes them one of the most popular gemstones in the world.
When it comes to the caring, or how we like to call it, the "loving" of your diamond, there are a few steps you can follow in order to provide your diamonds with the best chance of never losing their sparkle!
The Sparkle and Brilliance of Diamond Jewelry
Invisible Setting Repair
Is it possible that you are in need of a Diamond Replacement for your Invisible Setting?
An Invisible Setting demonstrates the rare jewelry technique of setting stones side-by-side, hiding the metalwork underneath, which can give the appearance of a larger stone. At My Jewelry Repair, we have a team of master jewelers who specialize in the crafting and repair of Invisible Settings. This also includes the process of a Diamond Replacement within an Invisible Setting.
For more information regarding our Invisible Setting services, please visit our Invisible Setting Repairs service page.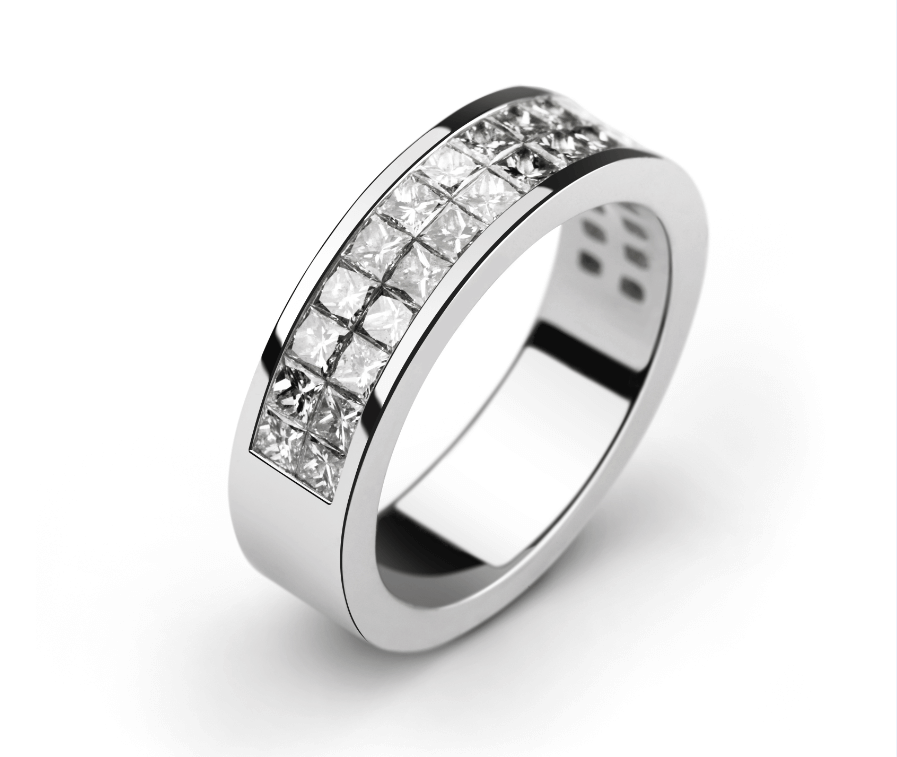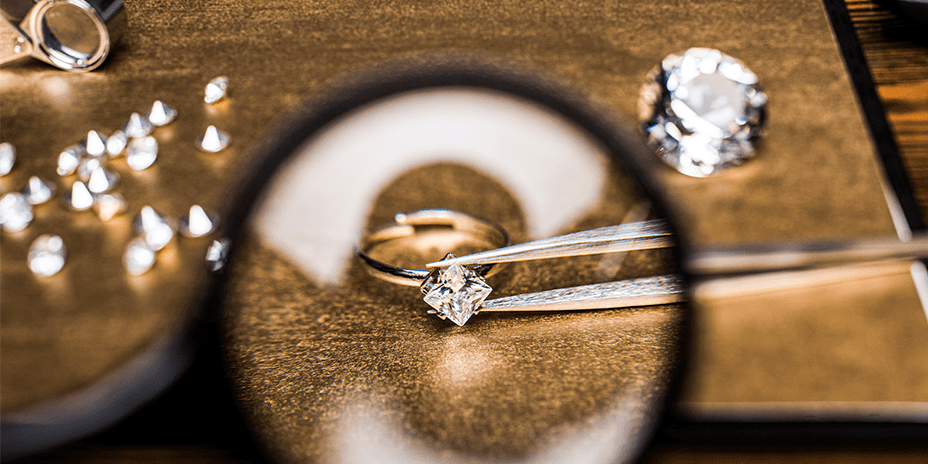 Have Questions?
What Is Broken On My Diamond Ring?

Prongs – The thin strips of metal that hold your precious stones into place on your ring. They have a tendency to break and become loose due to normal wear and time over time.
Setting/Head – The part of your ring that secures your primary stone(s) into place and attaches it (them) to the rest of the ring.
Shoulder – This is the area closest to the head of your ring. Although this part of your ring is typically the strongest and most structurally sound, if the shoulder displays side diamonds, this makes the area more prone to damage as the setting causes the shoulder to be more fragile in nature.
Shank – The general band of your ring. This metal tends to be on the thinner side as it is formed and sized to fit your finger perfectly and comfortably. Due to this, it can be snapped or broken over time with the usual wear and tear of daily use.
How Much Does a Diamond Ring Repair Cost?

The price of a Diamond Ring Repair varies depending on the price of new diamond(s), as well as the amount of damage to the ring, etc.
For more information regarding the pricing of our jewelry repair services, feel free to check out our Pricing page.
How Do You Fix a Diamond Ring?

First, we begin by evaluating your item. In the case of a missing diamond(s), we search for a perfect match to replace the missing gem(s). If your diamond ring simply needs a clean and polish, we will provide the necessary service. In the case your diamond ring has more extensive damage, we are prepared to cover all of your ring repair needs from ring resizing, all the way to soldering your ring back together.
Once all the necessary materials have been acquired and the specified service has been completed, we then finish the Diamond Ring Repair process by perfecting your ring with a clean and polish that will leave your item looking as beautiful as the day you got it.
Who Does Diamond Ring Repairs & Where Do I Go to Get It Done?

A Diamond Ring Repair service requires the expertise of a Master Jeweler and a Professional Stone Sourcing team. At My Jewelry Repair, we have both of these necessary elements in order to offer the highest caliber of diamond replacement.
With us, you don't have to go anywhere! Our online, contactless service makes it possible to replace your diamond all from the comfort of your home!
What Standard of Diamonds Does My Jewelry Repair Use?

At My Jewelry Repair, the standard of diamond we use varies depending on the standard of diamond we are replacing. If there is not a request for a specific caliber of diamond, we will find one that matches the quality of your diamond perfectly. Of course, if you wish to increase the quality or lower the quality of your diamond, those changes can be accommodated upon request.
For alternative gemstone options, as well as more information regarding the Professional Sourcing of our diamonds/gemstones, please visit our Gemstone Replacement service page
How Does Diamond Ring Repair Online Work?

You Never Have to Leave Your Home with Our Online Jewelry Repair Process!
Create your order.
Print your shipping label and order slip.
Choose your insurance, pack your repair(s).
My Jewelry Repair provides step-by-step instructions for safe packaging and travel. All you have to do from there is schedule USPS courier pickup if you don't want to leave your home, or drop-off (with your nearest USPS location). Tracking included for safe arrival and transparency.
You'll never have to navigate a baffling mall layout again, looking for a 'quick' repair that takes forever. All you have to do is put the item in the mail and we'll have your perfected item back to you in no time!
How Long Does a Diamond Ring Repair Typically Take?

Once we receive your ring, we can usually send you your estimate within 24 hours, but never more than 72 hours. Once approved, we begin working on your ring.
On average, a Diamond Ring Repair service itself takes 2-4 business days, but the timeline will vary depending on numerous factors, such as the required labor, the extent of the damage, the receiving of necessary gemstones/materials, etc.
For more information regarding the timeline of your Diamond Replacement service, please refer to our Standard Timelines page.
You Have Questions, We Have Answers!

If you have any questions regarding our Diamond Replacement service, please feel free to Contact Us. We are more than happy to answer any questions or discuss any concerns you may have!
Restore Your Diamond Ring Today!
"Like New!!!"
The service you provided was amazing,when my watch came back it was just like new.I will let everyone know about the service you provide.
Tyrone R
"The work was quality–the ring looks great"
"I was not expecting anything exceptional from a mail-in service, but I was wrong! Our ring was repaired exactly as we needed. But the communication
…
was what surprised and impressed me most. Our Sears had left town, so I called MyJewelryRepair directly to find out what to do. The lady sent me an email and told me how to send our ring. Her email included not only the link to the service site, but also detailed instructions about how to fill out the online form. It was very easy to follow her instructions on the site. Once I filled out the online form and printed the shipping label, I received a confirmation email. I also received email communications when my ring arrived, a couple of days later telling me it was being evaluated, a couple of days later telling me what work was being done, and a couple of days later when the work was completed (including before and after pictures)! Wow! It was as good as taking it to a local jeweler where I could check on it in person. And the work was quality–the ring looks great." FL
Michele
"The process was easy and painless"
"The process was easy and painless. My watch came back very well packaged and great working order. I would definitely use them again." Norcross, GA
John R.
"I love the finished product!"
"Excellent service & communication. Sent them my g.mother's ring. They found a beautiful stone, and it was on my finger in about 3 weeks. Kept
…
in contact with me the entire time, letting me know my options. Thank you Evon, I love the finished product!"
Patty H
"I feel like I have found a treasure"
"THANK YOU for restoring my Montana Silversmiths Earrings back to their original condition! You did an awesome job, and, they are as beautiful now as
…
when I purchased them over 25 years ago! I called Montana Silversmiths and spoke with Sheila Green in Customer Service, and gave her your contact information so that they can now direct their customers directly to you when they need something reconditioned. I feel like I have found a treasure in knowing that you can repair and restore everything from inexpensive pieces to very valuable pieces. You can bet that I will be sending more business your way!" Lake Charles
Jennifer Greene
"Excellent prices"
"Great job excellent prices will use again" Pleasantville, NJ
Wendy S.
"The work is invisible and expertly done."
"I'm so grateful for the excellent repair work done on my delicate necklace. The work is invisible and expertly done. The service turnaround was fast
…
and the piece was returned in a very professionally boxed presentation. Thank you." San Pedro, CA
Rosamond D.
"Had a wonderful experience with MyJewelryRepair.com"
"Had a wonderful experience with MyJewelryRepair.com. You'd think it would be tricky sending your jewelry in to be repaired without being face-to-face. But everything went
…
so smoothly that it was astounding! Their online ordering tool makes it easy to get started. You immediately get confirmation and tracking information. The staff is quick to respond to any questions you might have. And if they have any questions, you get a call for clarification. The staff I have spoken with were super-friendly and understanding (shout-out to Iris, who is especially darling!) Then, when your receive your jewelry back in the mail and it is exactly what you wanted–AND at a reasonable price? Wow! I had a pair of modest diamond stud earrings that I never wore because I feared losing them. For years, I had wanted to have them converted into lever-back earrings, but hadn't found the right local jeweler to do the work. My "new" earrings came back and they were gorgeous–simple and elegant, comfortable and secure. I now can wear them all the time without any worries. What I did next was to scrounge around in my jewelry collection looking for more projects (doesn't everyone have some?) to send to MyJewelryRepair.com—because trust is an important part of the process." CA
Read more ""Had a wonderful experience with MyJewelryRepair.com""
Carolyn B.
"Had such wonderful customer service"
"Words cannot express my thanks to this company! I recently lost a diamond out of my engagement ring. To make matters worse, it happened literally
…
the day after the store we bought the ring closed. I was reaching my breaking point until I was directed to this website. I was skeptical to say the least, I mean this was my engagement ring! After talking with a representative who assured me that everything would be fine, I sent my ring in. I followed the process diligently and any point I had a question I emailed the representative and received responses almost immediately. To top it all off, it was returned to me before my requested date! I have never had such wonderful customer service and will be using this company for all my jewelry concerns in the future!" Arkansas
Jamie Thomas
"They handled my situation extremely fast"
"They handled my situation extremely fast and I had my ring back before their estimated time. I am extremely pleased with how my ring looks,
…
and with the level of professionalism this companies employees showed. I highly recommend them." San Francisco, CA
Candy S.