We all know about wedding season. Most weddings occur in summer or early fall. But did you know that there is also an engagement season? The numbers don't lie. Roughly a third of all wedding engagements take place in November and December. The Weddington Way survey asserts that 30% of the year's engagement activity occurs during the holiday season, which is why MyJewelryRepair.com would like to take a moment to talk about ring sizing.
Engagements by the Numbers
The average age of engagement throughout the United States for men is 28-29, while women stand at 26-27 — no surprise; women do mature faster than men, after all. It doesn't matter what age you are; if you're thinking of popping the question or think that special someone has the words "will you marry me" right on the tip of their tongue, it's important to get the ring size right. Of course, you want to get it right the first time around, which is why you should send your engagement ring to My Jewelry Repair through our convenient online mail-in service.
The My Jewelry Repair Difference
The most common ring size for men and women is 10 and 7, respectively. If you're thinking your one and only might need to size a ring up or down, our master jewelers will do the job to perfection. We use the highest quality joint pieces and perform our resizing in the most conservative way possible, paying close attention to gemstones by removing and resetting them when applicable.
Ring Sizing, Ring Re-Sizing: MyJewelryRepair.com Does it All!
Many times when a jewelry shop doesn't have the goods to get the job done, they'll send it to our master jewelers because we have the tools and personnel to get the job done. We're the ring sizing source your local jeweler uses when they need to bring in a ringer (pun intended).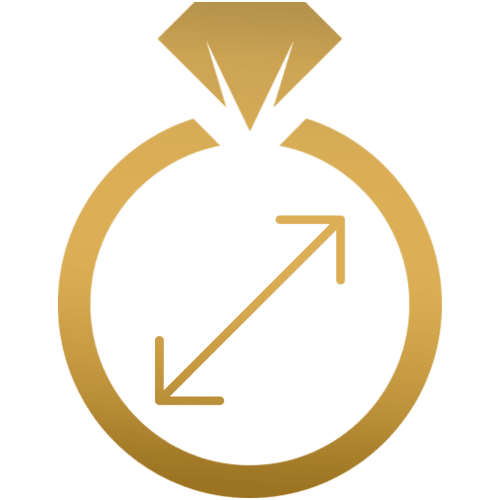 Think MyJewelryRepair.com This Engagement and Holiday Season
Whether you're about to ask the biggest question of your life, expecting an engagement proposal, or just thinking rings for the holiday season, we'll make sure your symbol of eternity, your gift that lasts a lifetime, will fit like a glove. Send your rings to MyJewelryRepair.com this engagement and holiday season to take the headache out of your engagement or holiday shopping process.
More Ring Sizing Info:
–Ring Sizing Overview
–The Ring Sizing Process
–How A Ring's Design Can Affect Sizing
–History of the Engagement Ring