Everything You Need to Know About The Ring Resizing Process
Ring Resizing is a practice many people need but one they are often unsure of. If you didn't know, most new rings are sold in a common size by the majority of retailers: a stock size 7 for ladies and size 10 for men. So unless you are a perfect size 7 or 10, you will likely need to have your ring resized. It's also not unusual for people to change sizes, like maybe wanting to wear the ring on a different finger. Therefore, from time to time you may need a ring sized up or down. Whatever the reason, ring sizing is a very common practice so there is no need to worry.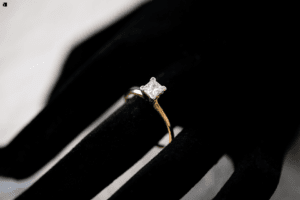 Things to Know About Ring Resizing
All rings have sizing limitations depending on the design. For example, designs with plain shanks, are straightforward and simple. Whereas ornate designs, and rings with patterns that surround the band, are more difficult. The general rule is that a ring can be altered up or down two sizes. But of course, for every rule there are always exceptions, so it is always best to defer to an expert for guidance.

How to Get The Perfect Fit For Your Ring Size
What Questions Need Answers?
There are many questions to ask when determining the size needed in order to get the perfect fit for your new ring. Our finger size can change throughout the day, depending when we become active. Temperature, the design of the ring, and which finger you put your ring on are also big factors when determining your ring size.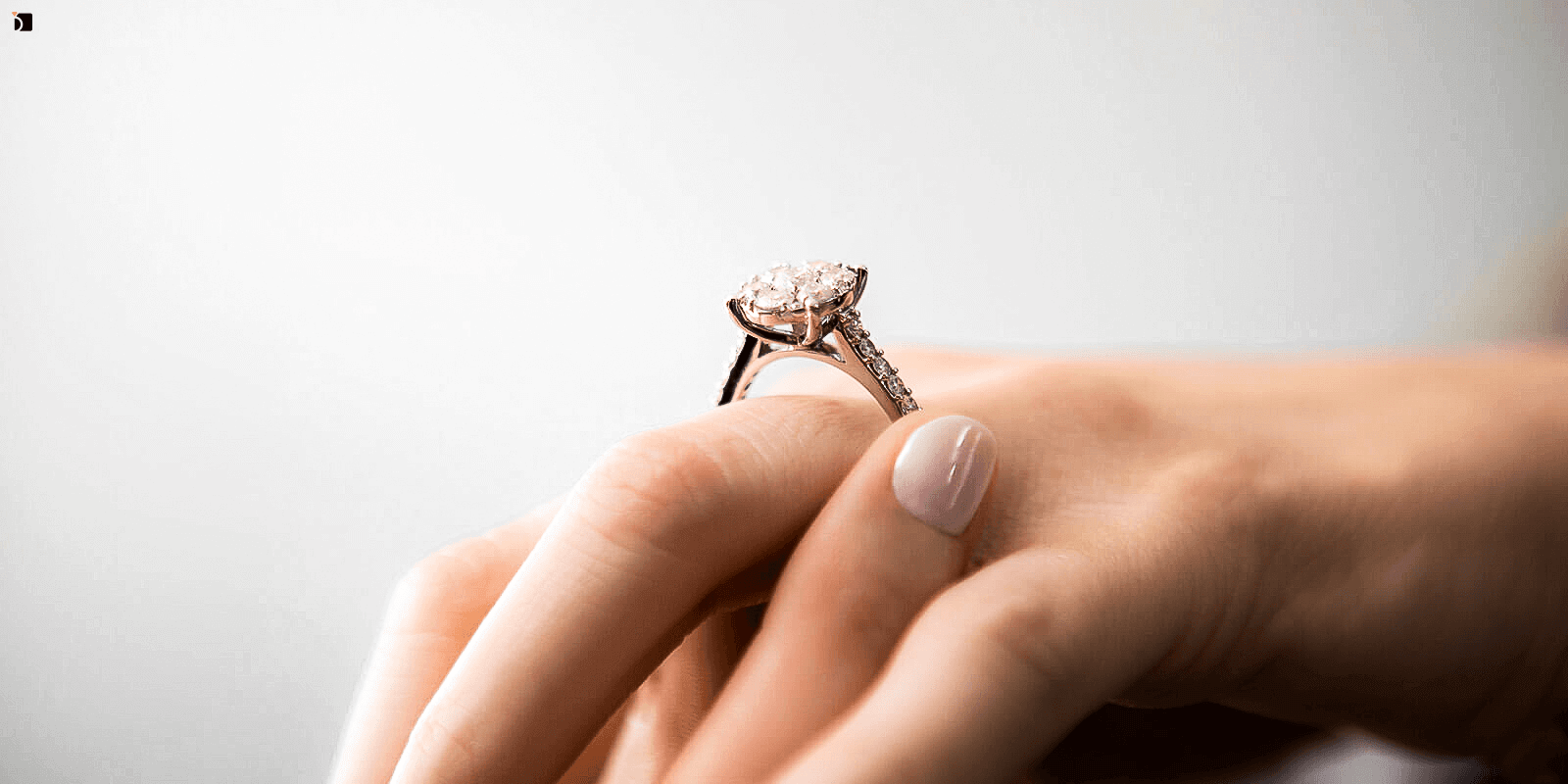 What is the Best Way to Determine Your Ring Size?
It is always best to have your finger measured by a jeweler, they have the right tools to not only measure your finger, but also to measure the current size of your new ring in order to determine how many sizes up or down the ring needs to be sized.
If that is not possible, there are a couple of other options that you can look into, including using existing jewelry and using the paper method. To learn more about how to get the perfect ring size, check out our sizing guide: Ring Sizing Guides and Tools.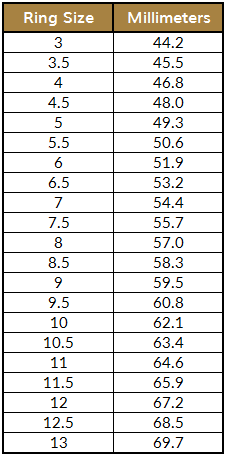 A Detailed Look Into Ring Resizing
Breaking Down The Actual Process
• Master Jewelers can size Gold, Sterling Silver, Bronze, Brass, Palladium and Platinum. Sterling Silver and Platinum is a metal that not all jewelers can work on, however, ours can. Stainless Steel, Titanium and Tungsten cannot be sized.
• Ring Resizing should only be achieved by either adding or removing metal to obtain the desired size, and that is exactly what we do. When a ring is sized up or down, the shank will be manipulated to achieve a larger or smaller size.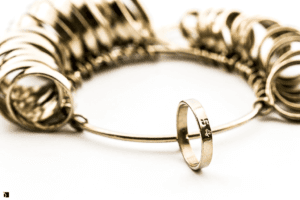 • Metal contamination must be avoided by matching the new metal, and soldering it to the existing ring. Metals should never be mixed e.g. if your ring is made of 14kt gold then we will only use 14kt gold etc.
• Part of Ring Resizing is to restore the circular shape and then solder it back together. Then completely clean the ring to remove any oxidation caused during the soldering process. The ring is also polished inside and out to smooth its surface and achieve the desired finish. When the job is complete, there should be no indication or visible details that the ring has been resized.
• In our case, we use Laser Welders when working on Platinum, since it is the best tool for working on high melting point metals. By fusing the metal molecules together the Laser Welder creates a section just as strong as the original.

What Happens When a Ring is Resized Up or Down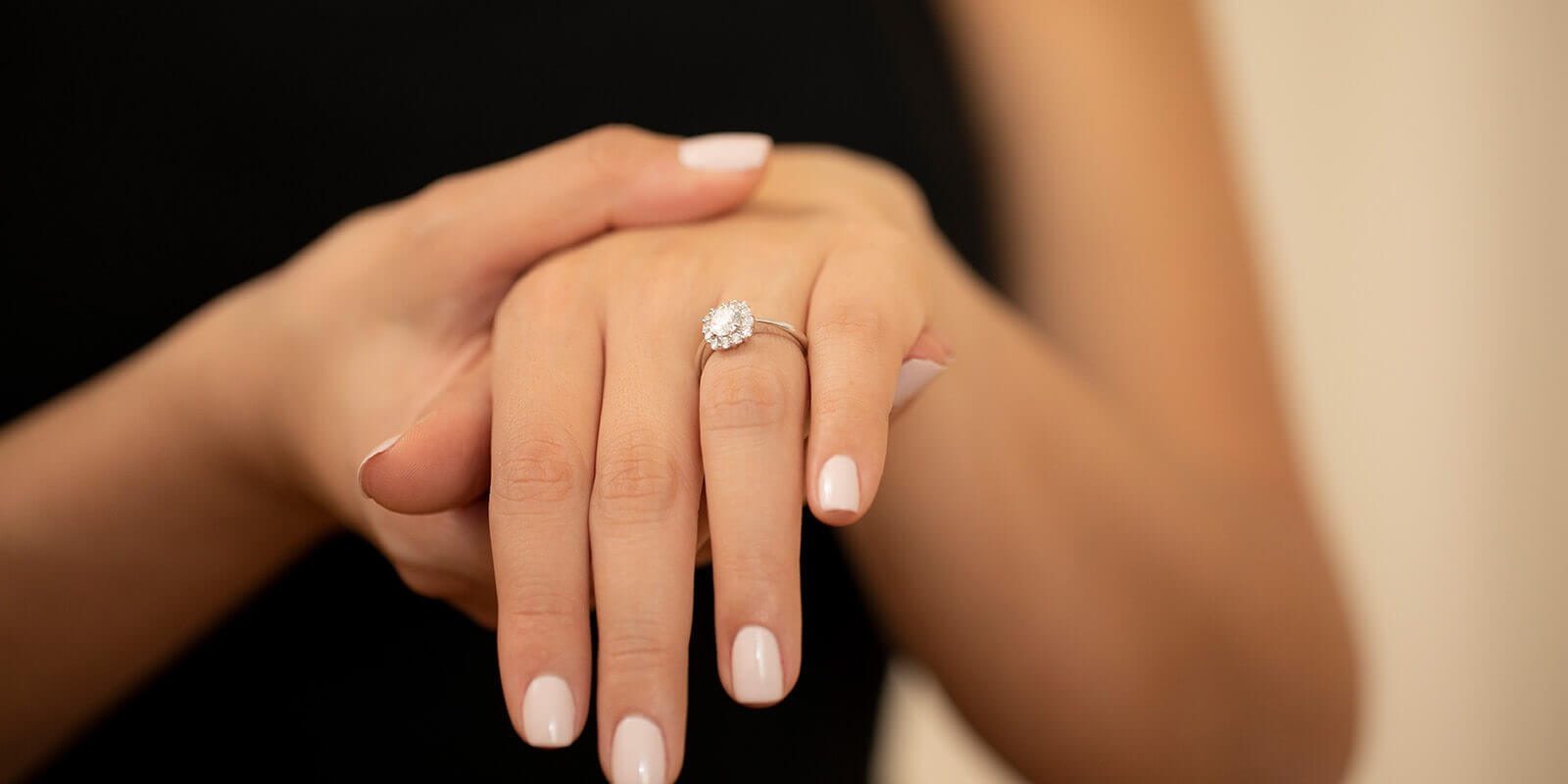 Ring Resizing Up
When sizing a ring up, a new piece of metal must be added. This will require the new piece to be soldered to the existing one, and it is very important to get a perfect bond. We use the highest quality precut butt joint pieces, so that we get the perfect fit. As a result we achieve the perfect bond without leaving any visible soldering lines. The method of using pre-cut pieces eliminates thin shanks, and also greatly reduces porosity in the metal and produces an overall better final product. Our sizing process incorporates the most exceptional standards for a world class final result.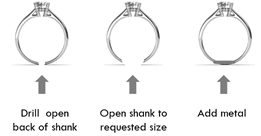 Ring Resizing Down
Sizing a ring down is similar to sizing up. When a ring is made smaller, our Master Jewelers cut out the appropriate amount of metal from the bottom of the ring shank with dexterity, then join and solder the piece back together.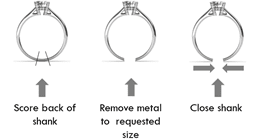 When we size your ring, we make sure that the new section is just as strong as the original. We make sure that your ring shines like the first day you bought it and comes in at a fit better than you've ever felt.

How a Design Can Affect a Ring Resizing
All rings are not created equal when it comes to how many sizes they can be sized up or down. Some are very basic and can be sized up or down 2-3 sizes, and others have very intricate designs which limit the amount it can be sized, or if it can be sized at all.
Rings with No Stones
A basic metal ring or band can usually be sized quite easily if there is ample metal and it is not hollow.
Rings with Stones
There are many different setting types, and some settings are easier to size than others. An important factor to consider is the number of stones, and how closely they are set to the ring sizing area at the back of the shank. If the ring contains gemstones at the top and on the sides they can become unstable or loose. Our Master Jewelers always examine all aspects of the ring, including the gemstones, to make sure they remain secure and tight.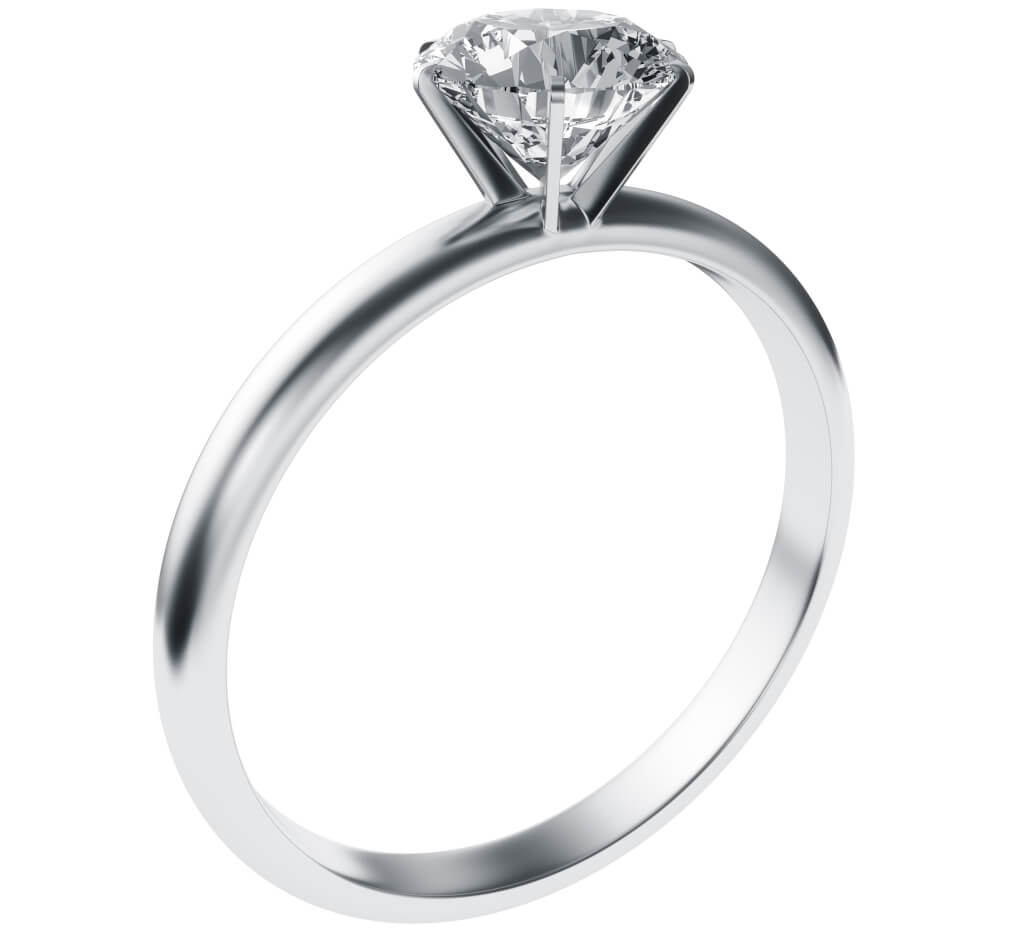 • Prong Set Stones – Stones set in a ring with prongs can easily be sized since the stones are set above the metal held by prongs. If a stone loosens during the sizing process, it can easily be tightened.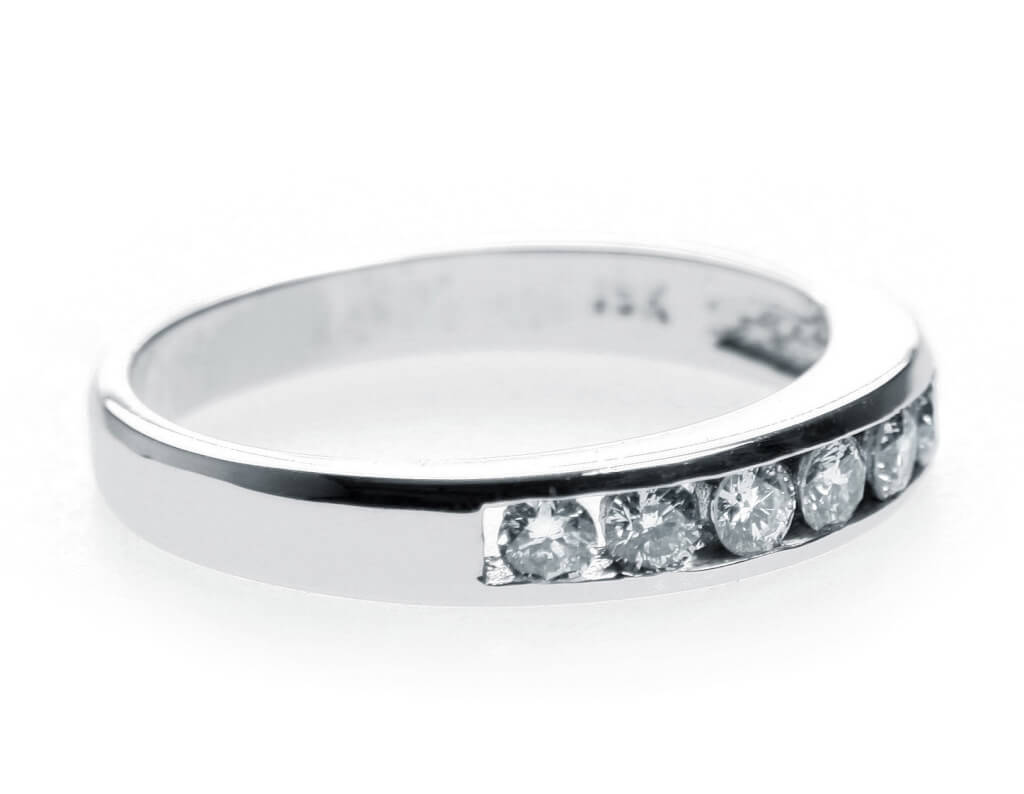 • Channel Set & Pave Set Stones – These stones are set down in the metal that is manipulated during the sizing process, therefore they can become loose, crack, chip, or fall out of the setting during the sizing process. This factor limits the amount that a ring can be sized.
• Invisible Set Stones – These stones are set side-by-side, which hides the metal work underneath, and can give the appearance of a larger stone. The stones are supported by the metal work as well as each other. This intricate setting style has very limited sizing opportunity, and must be performed by a highly-trained master jeweler.
If your ring contains gemstones, it may be necessary to remove those gemstones and reset them after sizing. This is because the normal Ring Sizing process introduces heat to the metal that can potentially damage some gemstones. Because of this we use Induction Welders that focus the heat only where needed, and therefore the gemstones are protected and no damage occurs.
Patterned Shanks
A ring with a pattern that goes all the way around the shank usually cannot be resized because the sizing process will remove or damage the pattern in the area where the work is performed. The ring can be sized if you do not mind a smooth/no pattern area on the back of the shank. Some rings with a patterned shank have an area at the back without the pattern for sizing purposes. This is referred to as a sizing bar.
Mixed Metals
A ring that is made more than one metal type may not be able to be sized. For example: 18K Yellow Gold and Platinum have a very different melting point which makes it impossible to solder or apply heat. Again, we avoid metal contamination by matching the new metal, and soldering it to the existing ring. We never mix metals!
Alternative Metals
To reiterate, some metals cannot be sized: Titanium, Stainless Steel, and Tungsten.

Are You Sure You Need to Have Your Ring Resized?
Not all issues that you may have are solved with sizing your ring. There are a features and special services that can help you with your ring repair: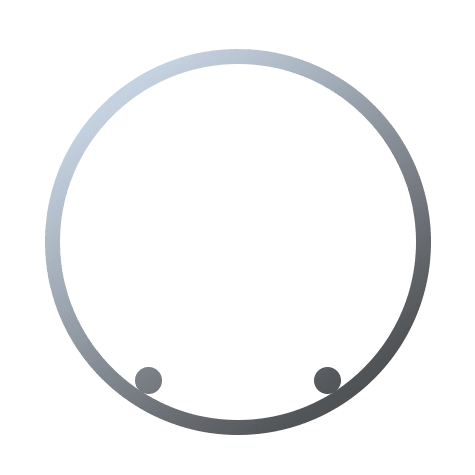 • Stabilizing Beads – Beads made of the same metal as the ring can be soldered inside the shank to prevent a top-heavy ring or a ring with a tendency to spin on your finger from spinning.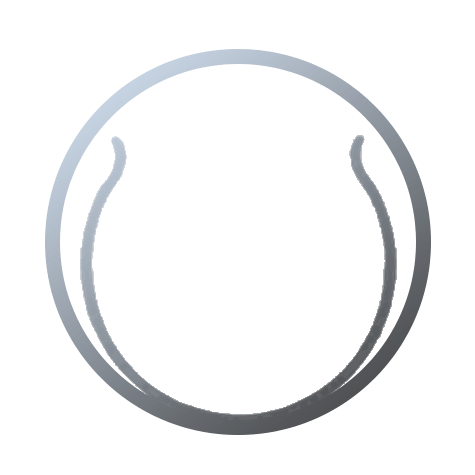 • Spring Shanks – A flexible piece of metal that is soldered on the inside of the shank to make the ring fit smaller. This is usually used when a person has a larger knuckle. The metal flexes out to go over the knuckle and then flexes back for a tighter fit and prevent it spinning when worn.
• Ring Guards – A guard made of the same metal as the ring can be soldered on the inside of the shank to make the ring smaller. This is usually used if a ring cannot be sized down far enough to fit the finger using traditional sizing methods.
• Arthritic Shanks – A design that allows the ring shank to open and close. This is used when a customer has a significant size difference between the knuckle and the finger. There are several different styles of arthritic shanks. They usually require full shank replacement (replace the existing shank with the arthritic shank).

The Premier Ring Resizing Service
Whether you need a simple sizing or one of the special services, our Master Jewelers at My Jeweler Repair can get the job done. Our easy online ordering system and mail-in service makes having your precious ring sized a simple task.
You Create Memories, We Restore Memories