Ideal Alexandrites for Luxury Settings
The care and maintenance of alexandrites is crucial for those who own them. If you're missing an alexandrite or one is loose in your jewelry, your precious June birthstone piece can be flawless once again with the skills of our Master Jewelers and Professional Stone Sourcing Team!

Restore your brilliance with the perfect alexandrite today!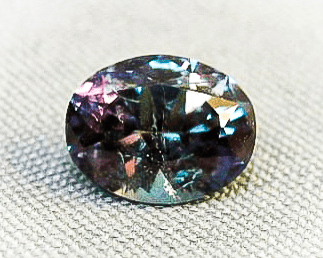 Picking Perfect and Astonishing Alexandrites
Professional Stone Sourcing ~ My Jewelry Repair leads the industry when it comes to stone sourcing, whether you need something popular (like round-brilliant), or a simple round of your selection.

Our staff of specialists will deftly source any type of alexandrite you want in order to restore or provide alterations on your treasured item. Your particular gemstone should be as unique as you are, after all. We provide custom-tailored service and treat each repair/alteration as if it's our own. Our Professional Stone Sourcing team makes sure that all of your alexandrite gems, even the ones that sometimes go unnoticed, sparkle wherever they sit. We take the time to ensure that each stone is replaced by gems of the right caliber for your unique and treasured piece.

Thoughtful Selection ~ We'll help you pair the perfect alexandrite to enhance any piece of jewelry. Regardless of jewelry type, your missing, fractured, or broken alexandrite will be replaced with the perfect match to your jewelry's specific setting. We focus on the thoughtful selection of your jewelry's alexandrite replacement, and we will always go any extra lengths available to make sure your item is flawless and left without a trace of our work.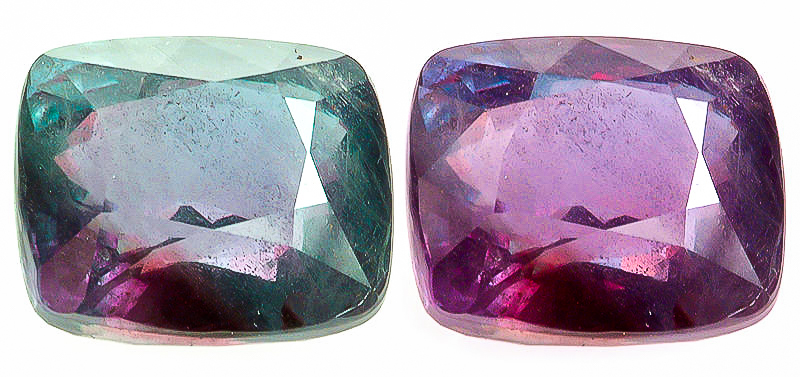 We are proud members of the


Our team includes gemologists certified by


To learn more about the history and symbolism of alexandrites, visit our June Birthstones Guide for more information!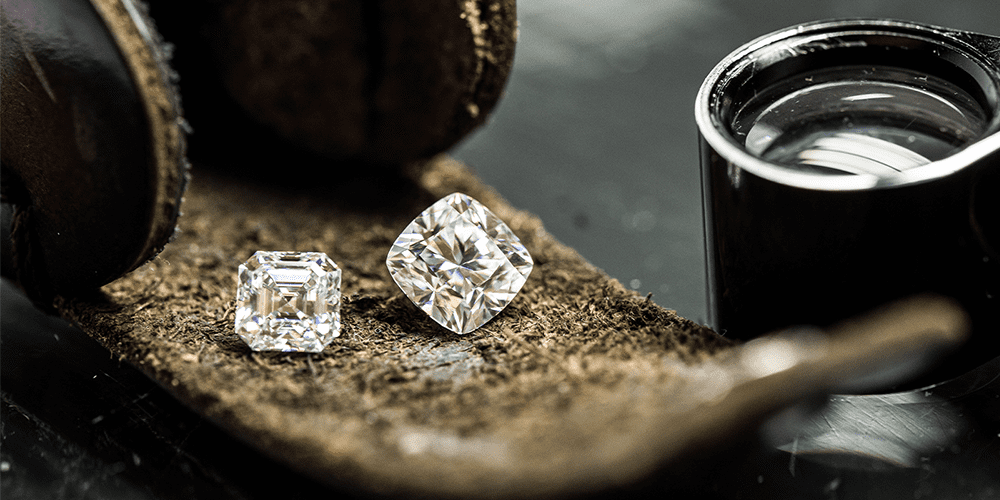 Brilliant Alexandrite Settings
Alexandrite stones are blue or bluish-green in color and often appear red or even magenta under an incandescent light. Alexandrite happens to be one of the few gemstones that has the ability to change color.

The alexandrite goes best with blue, black, red, and even green but tends to clash with orange and yellow. Popular settings for Alexandrite engagement rings include Mae, Everly as well as the Twist Ring. Cushion-cut Alexandrite engagement rings are also quite popular.
Alternative Gemstone Options
When it comes to alexandrite alternatives, synthetic options are often the most viable due to rarity and cost of natural alexandrite stones. Synthetic and lab grown gems are popular alternatives that will save you a fair chunk of change.

Ever since its discovery, this handsome stone has been associated with good fortune, abundance, luck and prosperity. Alexandrite is rare and valuable. How much you pay for your alexandrite will depend on more than a few factors, including where the gemstone was mined, size, and clarity. Color quality and the intensity of color change are among the most important factors.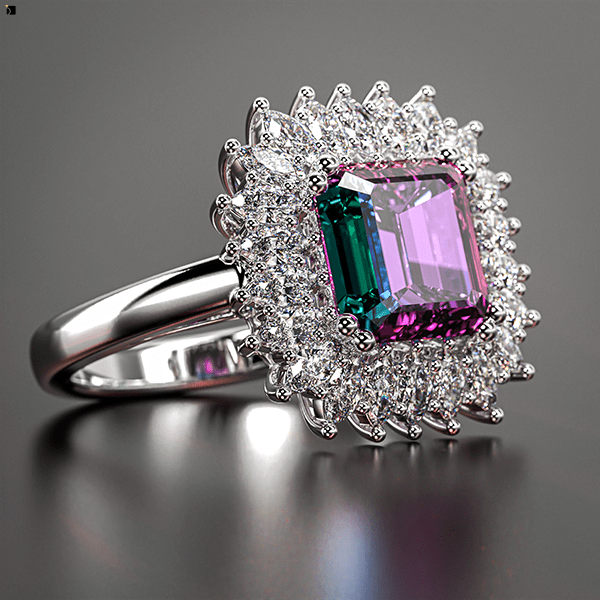 You can ensure that your alexandrite is authentic in a few ways, including enlisting the services of an experienced gemologist or jeweler. You can check yourself on the fly by testing the color change under a variety of lighting options. In brighter light, alexandrite should appear almost in an emerald green color. In dim light, alexandrite should look red or even purple in color. If it's hard for you to tell, there's a chance you may not have an authentic alexandrite.
Alexandrite Replacement Pricing Details
Alexandrite replacement services can vary depending on the piece of jewelry/item in question. In many cases, cost will come down to the stone desired and price can increase if there is damage to the setting.

My Jewelry Repair will help you source the perfect alexandrite for your jewelry, no matter what you're looking for.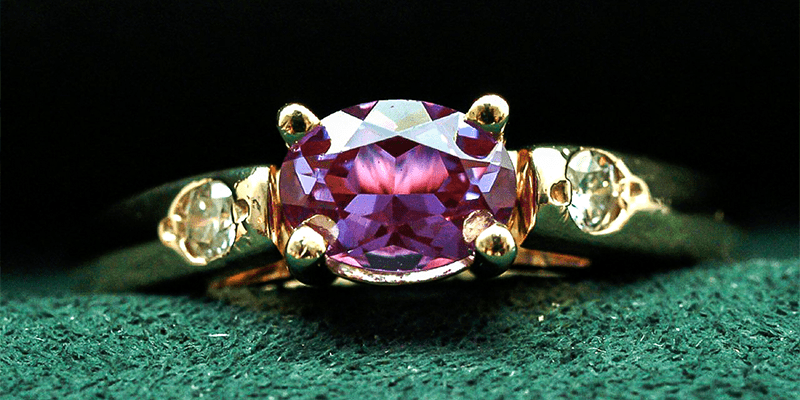 Have Questions?
How Do You Replace a Missing Alexandrite?
The process of a Alexandrite Replacement is straight-forward but requires trained eyes to be able to make a flawless switch. We aim to leave no trace of our work, which means not only will your setting be perfected, but the Alexandrite we choose will complete your jewelry piece effortlessly.
First, we begin by evaluating your item. In the case of a missing Alexandrite, we search for a perfect match to replace the missing gem(s). Once the necessary materials have been acquired, we then complete the Gemstone Replacement process by masterfully setting each of the stones. Finishing the service with a clean and polish that will leave your item looking as beautiful as the day you got it.
Who Does Alexandrite Replacements & Where Do I Go to Get It Done?
A Alexandrite Replacement service requires the expertise of a Master Jeweler and a Professional Stone Sourcing team. At My Jewelry Repair, we have both of these necessary elements in order to offer the highest caliber gemstone replacement available.
With us, you don't have to go anywhere! Our online, contact-less service makes it possible to replace your Alexandrite all from the comfort of your home!
How Much Does a Alexandrite Replacement Cost?
The price of a Alexandrite Replacement varies depending on the price of the new stone(s), as well as the amount of damage, etc.
For more information regarding the pricing of our jewelry repair services, feel free to check out our Pricing page.
What Standard of Alexandrite Does My Jewelry Repair Use?
At My Jewelry Repair, the standard of Alexandrite we use varies depending on the standard of the gemstone we are replacing. If there is not a request for a specific caliber of Alexandrite, we will find one that matches the quality of your stone perfectly. Of course, if you wish to increase the quality or lower the quality of your Alexandrite, those changes can be accommodated upon request.
For alternative gemstone options, as well as more information regarding the Professional Sourcing of our Alexandrite/gemstones, please visit our Gemstone Replacement service page
How Does Alexandrite Replacement Online Work?
You Never Have to Leave Your Home with Our Online Jewelry Repair Process!
Create your order.
Print your shipping label and order slip.
Choose your insurance, pack your repair(s).
My Jewelry Repair provides step-by-step instructions for safe packaging and travel. All you have to do from there is schedule USPS courier pickup if you don't want to leave your home, or drop-off (with your nearest USPS location). Tracking included for safe arrival and transparency.
You'll never have to navigate a baffling mall layout again, looking for a 'quick' repair that takes forever. All you have to do is put the item in the mail and we'll have your perfected item back to you in no time!
How Long Does a Alexandrite Replacement Service Typically Take?
On average, a Alexandrite Replacement repair takes 2-4 business days, but the timeline will vary depending on numerous factors, such as the required labor, the extent of the damage, the receiving of necessary gemstones/materials, etc.
For more information regarding the timeline of your Alexandrite Replacement service, please refer to our Standard Timelines page.
Alexandrite — The June Birthstone

The Birthstones of June
"If you were born in June, your month's birthstones are Pearl, Alexandrite, and Moonstone.
If you didn't already know, there are some months that have multiple birthstones, whereas some only have one. Traditional birthstones are gemstones that were most commonly associated with its respective month in the early 20th century and even beyond, with Ancient Greek and Roman philosophers associating these gemstones with the star signs. Those that are more commonly known in this day and age are the modern birthstones, which were officially named by the Jewelers of America in the 1950's.
If you would like to learn more about birthstones in general, visit our Ultimate Birthstone Guide!"
You Have Questions, We Have Answers!
If you have any questions regarding our Alexandrite Replacement service, please do not hesitate to Contact Us. We are more than happy to answer any questions or discuss any concerns you may have!
Photo Resources
Resources for Photos Used in This Service Page

Replace Your Alexandrite Today!
"The customer service team is amazing"
"I sent in a ring to be resized–my estimate also suggested a stone resetting. I hadn't planned on repairing the stone, and settled for just
…
"I sent in a ring to be resized–my estimate also suggested a stone resetting. I hadn't planned on repairing the stone, and settled for just the resizing. After accepting the repair, I had issues with my credit card going through on the website…we went back and forth with them bank and customer service team (for days) but when I was starting to feel hopeless about getting it resolved (and playing phone tag) I was informed my ring had already been shipped out free of charge, resized, and with a stone reset!
The customer service team is amazing despite being a mostly online service center. if you ever need anything resolved, ask for Eboni. she works wonders. thank you thank you thank you!"
Turtle Lake, ND
Rebecca R.
"My husband was very happy 😃"
I am happy with the service and my husband's necklace looks better than when I first bought it.
Sarah Murillo
"Excellent prices"
"Great job excellent prices will use again" Pleasantville, NJ
Wendy S.
"Fantastic work done on my charm"
"I am 100% satisfied with the craftsmanship and quality of the work that was done on my charm. If ever i need any of my
…
"I am 100% satisfied with the craftsmanship and quality of the work that was done on my charm. If ever i need any of my jewelry repaired again i will be coming back. I'm very happy"
shawn williams
"Their customer service is phenomenal"
"Great experience! They kept me informed and even sent me before/after pictures. The waiting time was acceptable and their customer service is phenomenal. Thank you!"
…
"Great experience! They kept me informed and even sent me before/after pictures. The waiting time was acceptable and their customer service is phenomenal. Thank you!"
San Francisco, CA
Damaris T.
"Wow…Looks good as new"
"Wow….Stunning repair. Great Job fixing a diamond cut rope chain that was broken in two. Looks good as new. Cant even tell it was repaired!!!!!
…
"Wow….Stunning repair. Great Job fixing a diamond cut rope chain that was broken in two. Looks good as new. Cant even tell it was repaired!!!!! Thank You. OHHH and great service, reasonable cost with timely shipping. You have my business going forward. 10+"
Donald Hallam