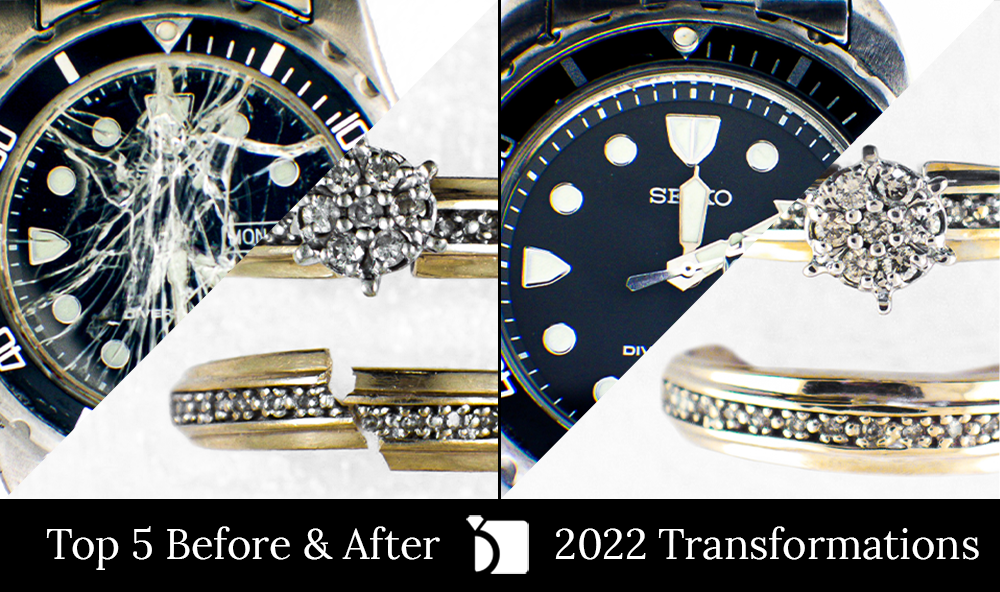 A Recap of Our Best Transformations of 2022
It has been an incredible year of repair transformations! Thank you to all who have stuck around to read all our features in 2022.

There have been 139 highlights since we started the Before & After blog series! We initially started posting some of these transformations on our social media platforms, including Facebook and Instagram. So when we launched this blog in the beginning, we did it by compiling our best repairs to that point in our first ever post.

With many many repair before & after highlights later, we'd like to start highlighting each year's best jewelry and watch transformations to end the year!

#5 – A Ruby Red Gemstone Ring Repair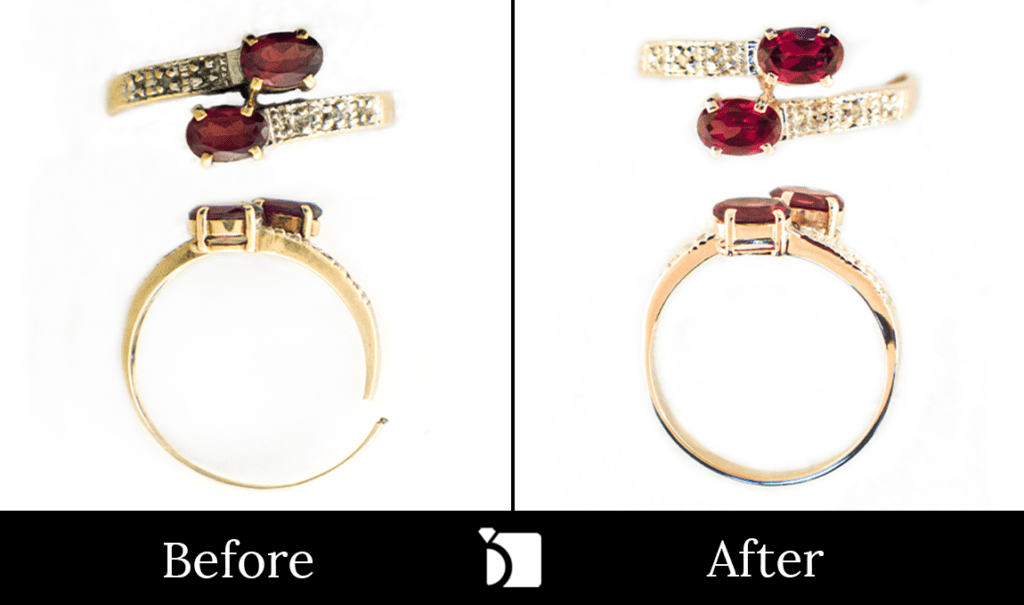 All of the repairs on this list were pretty definitely eye-catching. The first repair that we'd like to highlight is this diamond and ruby red gemstone ring repair. This one was definitely worth noting as a break in the shank is a common occurrence. We want to make sure our ring repair customers don't feel alone!

Read more: Before & After #128

#4 – An Automatically Amazing Vintage Watch Restoration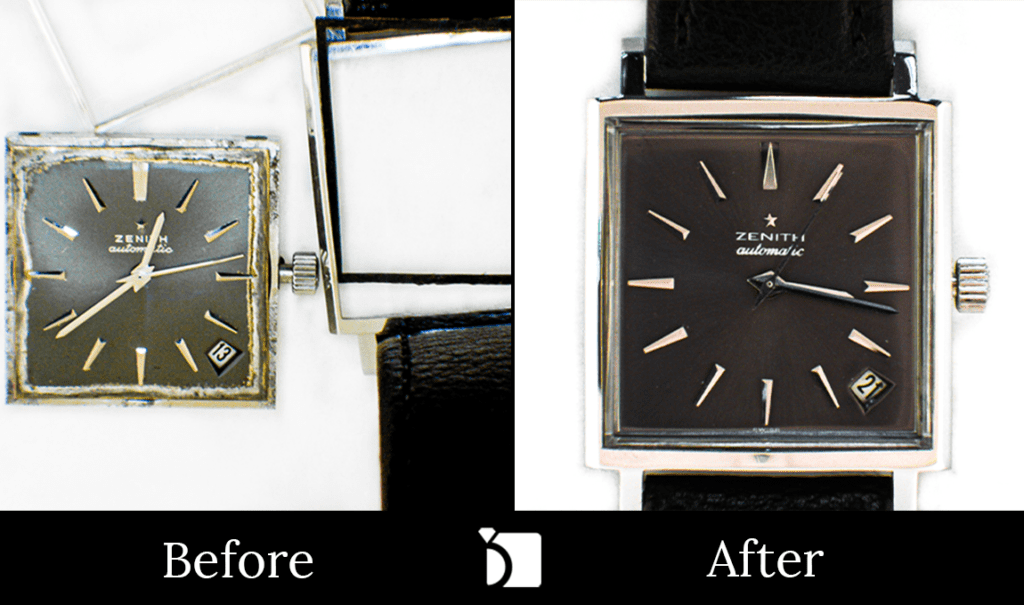 This Vintage 1960's Zenith Automatic Watch was an automatic favorite and had to be in our Top 5 transformations worth spotlighting. We do get many timepiece movement restoration requests, but old-aged movements are always a pleasure to work on, especially with this so-called Kenendy watch model!

Read more: Before & After #130

#3 – A Seiko Crystal and Quartz Movement Servicing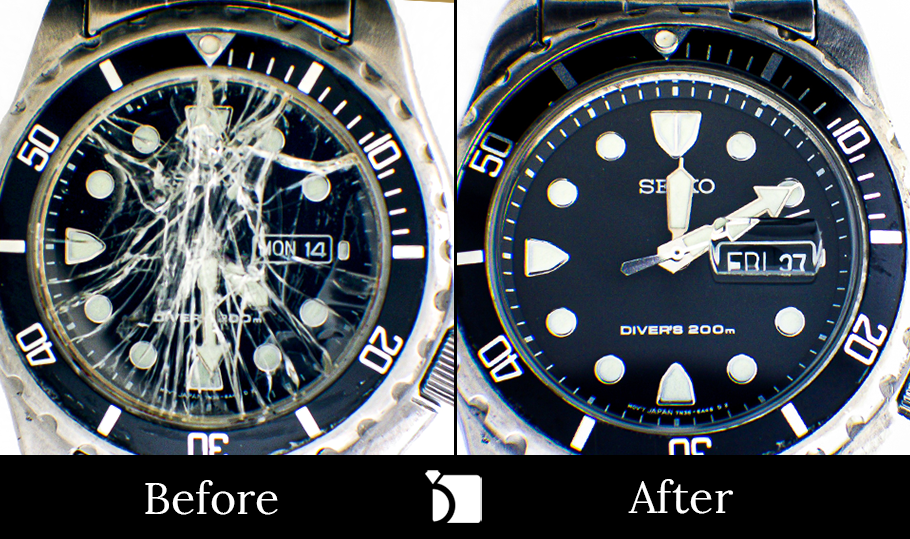 The next and third spotlight that's definitely worth mentioning is this Seiko Crystal Replacement and Quartz Movement servicing. It's important to mention that with these types of crystal replacements, the integrity of the watch movement can also be compromised, and therefore need movement servicing to get your timepiece working in its pristine condition again.

Read more: Before & After #122

#2 – A 1950's Vintage Automatic Omega Restoration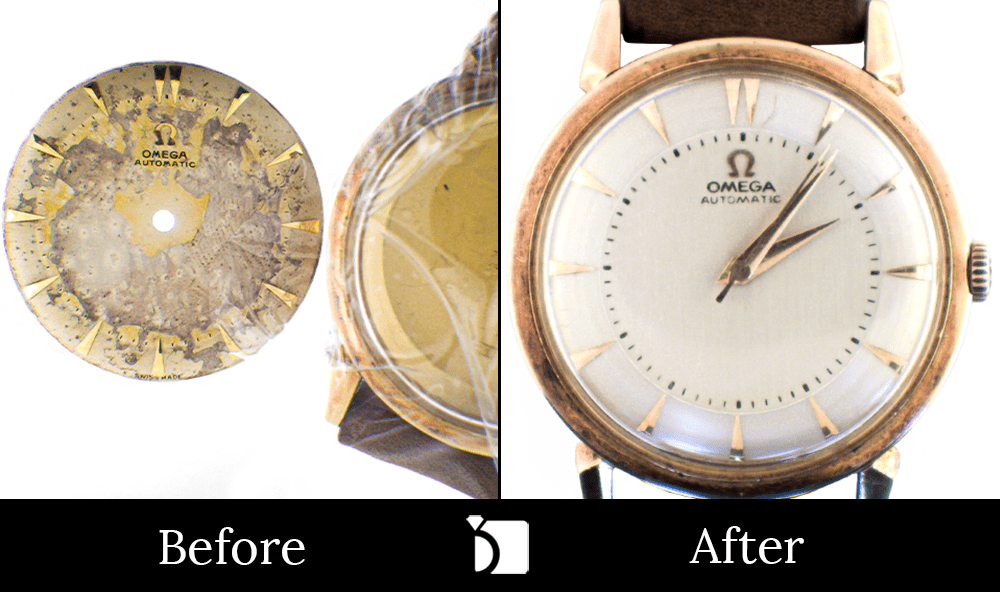 The repair transformation that came close to first place is this 1950's Vintage Automatic Omega Restoration. Arriving to our facility in separate parts, this timepiece needed some much-needed TLC. Our authorized partner Kirk Rich Dial Co. played a huge role in the restoration of this vintage piece, making this dial refinishing service the cherry on top.

Read more: Before & After #137

#1 – A Broken Symbol of Love, Restored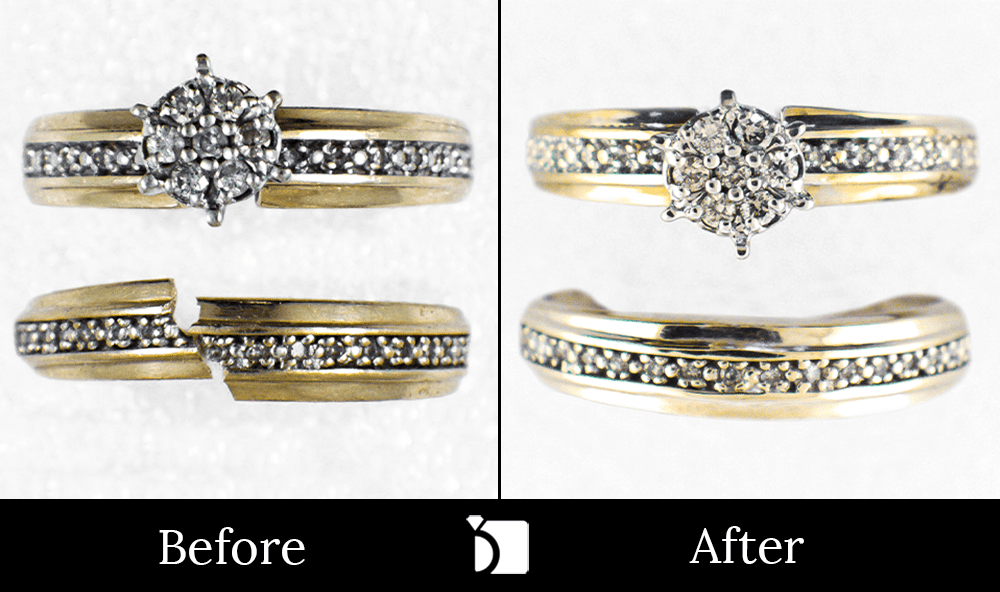 Taking the number one spot in our best transformations of 2022 has to be this broken symbol of love, restored. This repair transformation really shows the skill of our Master Jewelers, fixing this massive break in the diamond ring and repairing it with no trace of work at all.

Read more: Before & After #125

Honorable Mentions
---
That's All Folks!
Thank you for taking the time to re-visit the Top 5 of our Before and After Series in 2022! Don't worry, we will be showcasing many more of our new major transformations very soon.

My Jewelry Repair
#MJRBeforeAndAfter
Before & After #139