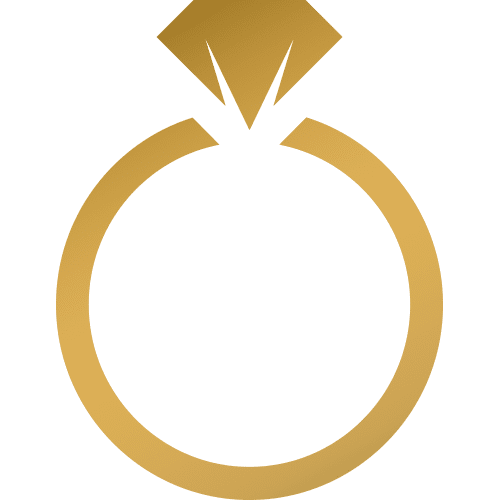 THE Ultimate ENGAGEMENT RING GUIDE
Delve into the world of engagement ring shopping: learn everything about what you should look for in your dream engagement ring from the glamour of its main stone to the personalized touch of the metal that holds it together.

Shopping For Your Dream Engagement Ring
What to Look For When Buying Your Engagement Ring
When engagement season comes around for you, it's always a good idea to know what you're shopping for before asking or being asked that one special question. We're here to help guide you through the engagement ring shopping process, making sure you're aware of all the details including the four C's of your center stone to the metal settings that holds it, and everything in between.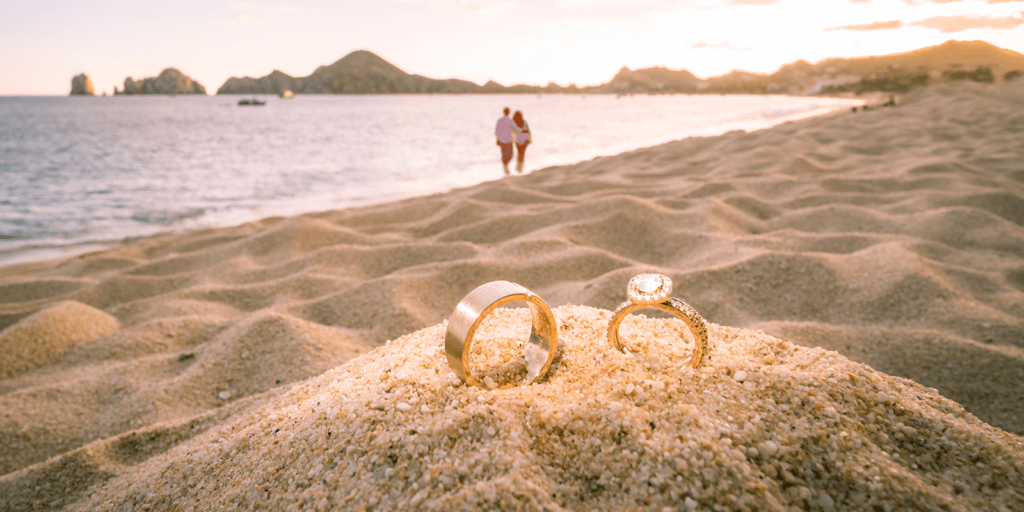 A Ring's Anatomy
The Parts of a Ring
Before we dive into the details of the diamonds, gemstones, and the metals, you must know the actual anatomy of a ring to really understanding what you're looking for.

Here are some parts of the ring that jewelers may refer to: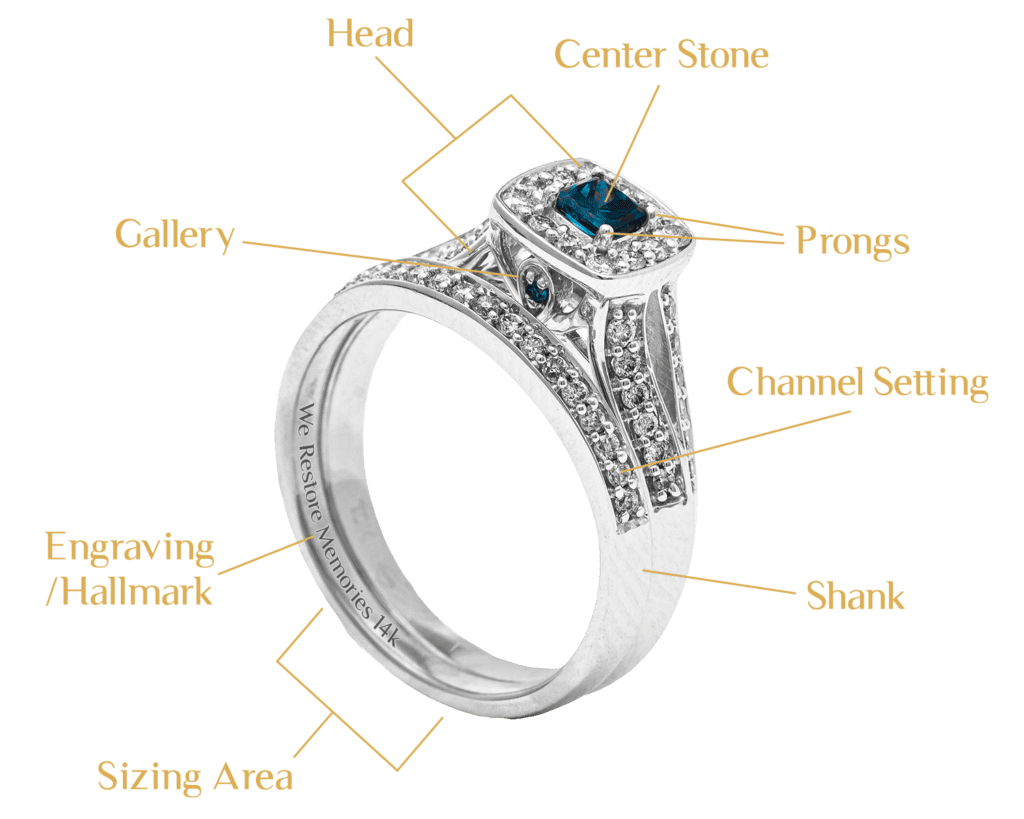 Center Stone

This is the main gemstone of your engagement ring. You can have multiple stones in the center, however, the most common engagement ring design features one main center stone.

Accent Stones

Stones around the center stone are known as the halo stones or the center cluster.

Stone Setting

This is the metal base that holds your gemstone. The common type of setting is a prong setting, which consists of prongs that are like metal claws that secure the stone in place. One of the most luxurious settings is an invisible setting, which requires specific setting expertise and skill.

Head

The head is the top section of the ring containing the center stones and its settings.

Gallery

The section beneath the head is the gallery. There are many unique designs that can be made, however, the non-decorative purpose is to provide structural integrity.

Shank

The shank, or the band is what wraps around your finger. Over time, the shank can actually shrink from wear and tear, which makes it more vulnerable to breakage.

Sizing Area

The sizing area can be found at the bottom of the shank, where engraving and hallmarks are usually placed, which can also be redone after shank repairs thank to our professional laser engraver.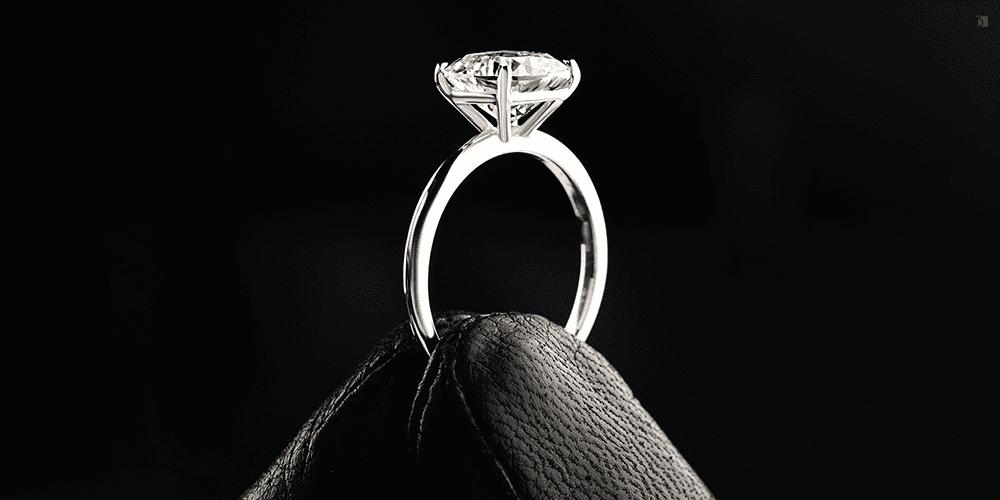 Picking the Main Gemstone
One of the first things that someone notices on an engagement ring is the main gemstone, which is most likely the most important thing that you also want to consider. We recommend going ring shopping in person to try on different cuts, sizes, designs, and colors to see what looks best on your hand!
Diamonds Versus Alternative or Colored Gemstones
The most popular gemstone that is chosen for engagement rings is, you guessed it, the diamond! However, there are pros and cons to choosing colored gemstones versus the modern choice of diamonds for the engagement ring.
One rumored con to choosing a colored gemstone is that gemstones will fade "quickly." It's true that colored gemstones will fade in color, but it also depends on the gemstone and how well-maintained it's kept.

For example, amethysts, aquamarines, citrines, and sapphires of all colored will need extra protection from sunlight.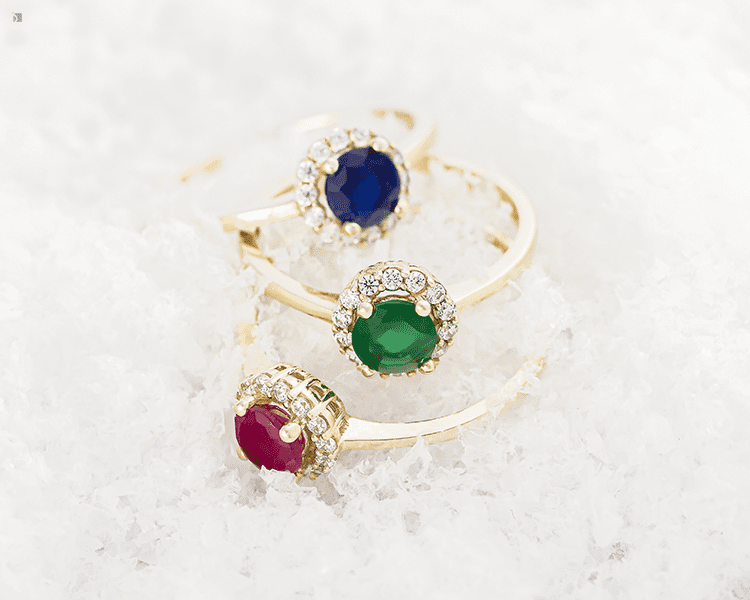 One known pro to having a colored gemstone is that some tend to hold its value due to its rarity.
Three of the precious gemstones, sapphire, ruby, and emerald, are all significantly rarer than diamonds.
If you take VERY good care of your colored gemstones, your engagement ring is definitely an investment.

One obvious pro to having a colored gemstone engagement ring is that its pop of color already stands out more than the classic diamond ring. It'll be as unique and rare as the colored gemstone that you'll have!

To learn more about the different types of gemstones, feel free to visit our Ultimate Birthstone Guide.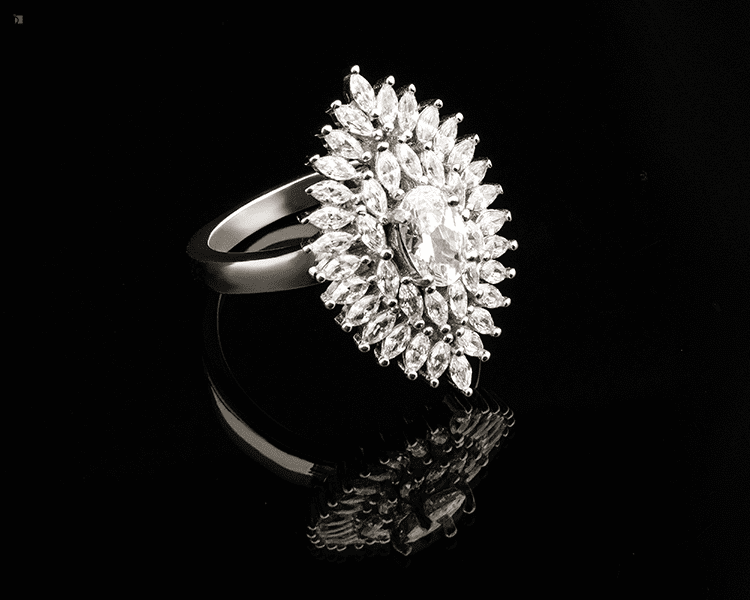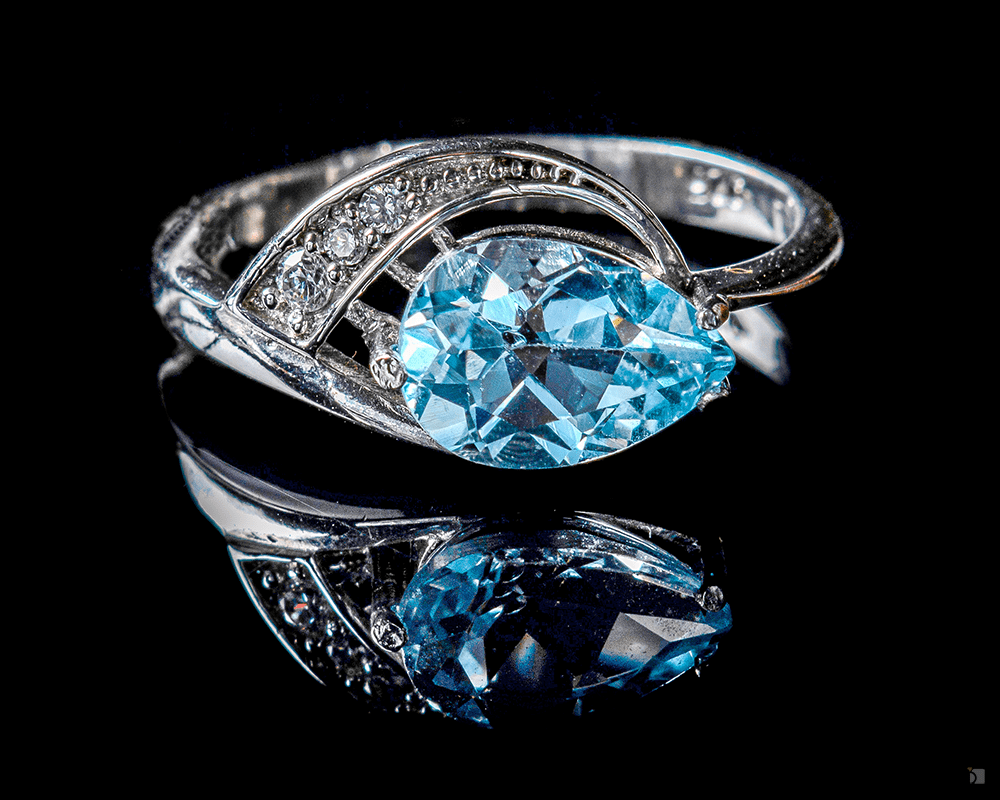 The Four C's (Cut, Clarity, Carat, and Color)
When picking your gemstone, it's important to know what the Four C's are: Cut, Clarity, Carat, and Color. Here is what you need to be familiar with when choosing your gemstone:
CUT
The cut of a diamond, or the way it's shaped, is considered to be the most important factor and refers to its prestige as it influences the way the gemstone sparkles.
This scale follows this format:

Excellent
Very Good
Good
Fair
Poor
CLARITY
The measurement of inclusions/blemishes that are present inside the diamond, and in some cases, on the outside of the diamond. This scale ranges from:

FL (Completely Flawless)
IF (Internally Flawless)
VVS1 to VVS2 (Very Very Slightly Included)
VS1 to S2 (Very Slightly Included)
SI1 to SI2 (Slightly Included)
I1 to I3 (Included)
CARAT (WEIGHT)
The size of the diamond in regard to its weight in carats. The price of a diamond grows exponentially as you reach each whole carat, starting from 1 carat and so on.
Other gemstones, such as moissanite, measure their weight by the unit "mm."
COLOR
The color of the diamond ranges from:

D to F (Colorless)
G to J (Near Colorless)
K to M (Slightly Tinted)
N to R (Very Light Yellow)
S to Z (Light Yellow or Brown)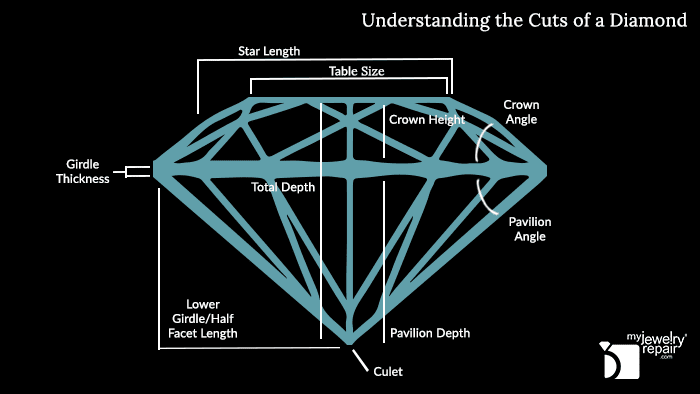 Depending on where you purchase your diamond, some establishments may provide a Diamond Certification that confirms the quality of diamond, accurate information on its grade, and ownership verification. This also can be referred to as the Fifth C when evaluating diamonds.

Each of these measurements, along with various others, are combined to create a value for each diamond that either deems it less or more expensive. It is important to note that cut and carat weight will have the greatest impact on the price evaluation given to a diamond.

To learn more details about the Four C's, feel free to visit our Ultimate Diamond Guide.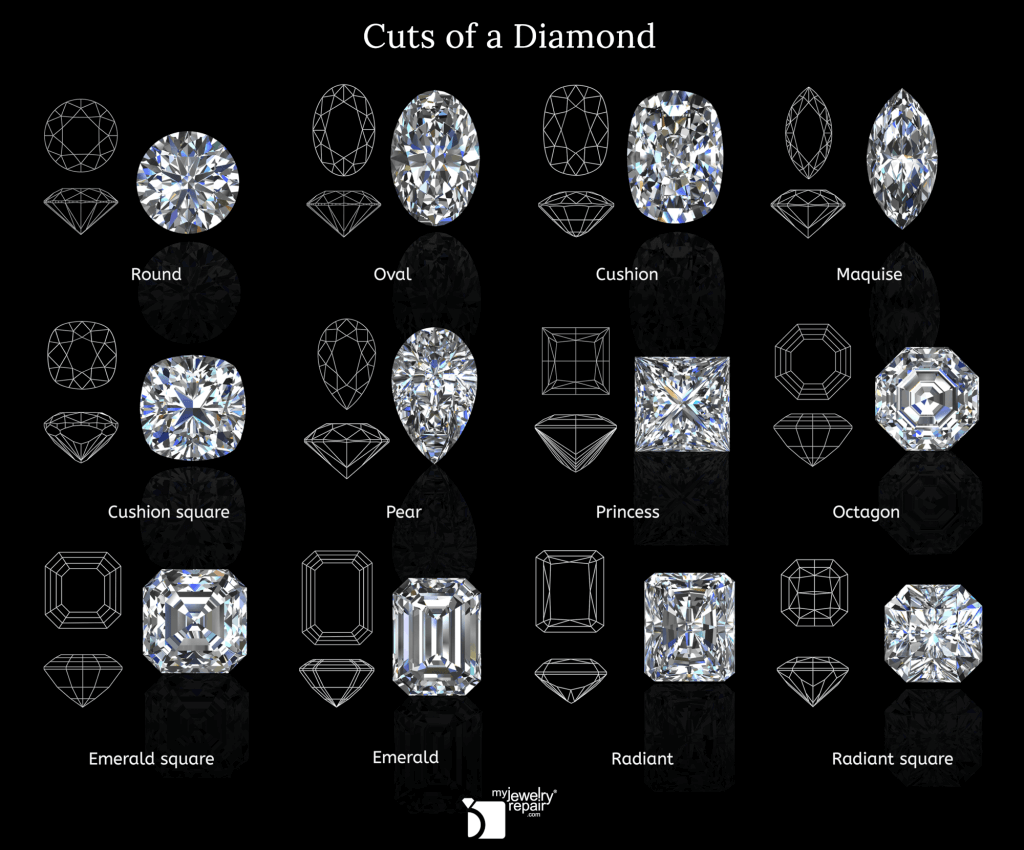 Natural Versus Lab-Grown Gemstones
The "Real" and the "Fake" of Sparkle & Brilliance

While some gemstones are mined naturally from the earth, others are grown in a lab. Lab-grown, or lab-created, gemstones are becoming more popular for the gemstone industry and are known as "the future of jewelry." They are created using cutting-edge technology that replicates the natural process of crystal formation when it comes to mined gemstones.

Created in a controlled lab environment, the most beloved gemstones like diamonds, rubies, emeralds, and many more can be created of higher quality and even more stunning and flawless than those mined from the earth. Lab-grown gemstones have the exact same physical and chemical properties as their natural counterparts, making them virtually identical in appearance.

Although natural diamonds have not lost their appeal in the slightest, there are a few advantages for lab-created diamonds beyond ethics. Lab-grown gemstones also tend to offer more affordable and more durable options.

All in all, natural diamonds are still the desired diamond of choice and there is no sign of this changing anytime soon.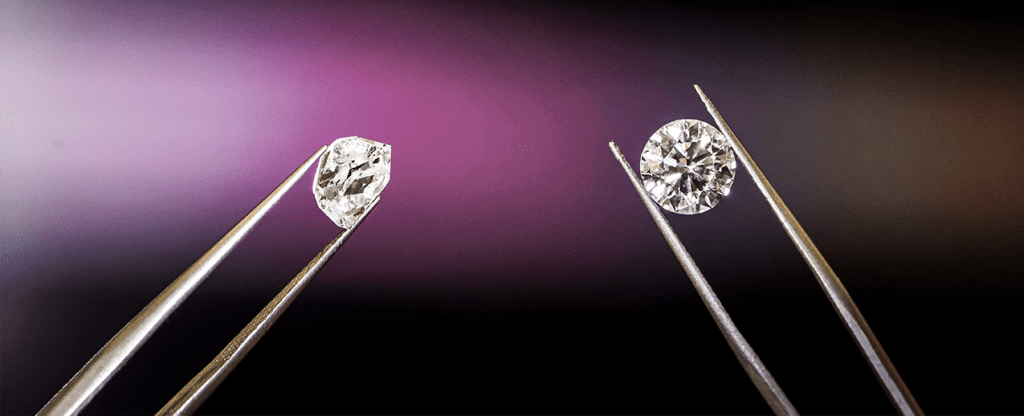 Engagement Ring Stone Settings
As previously mentioned, what is referred to as the "setting" is the metal base that holds your gemstone. You should really consider the type of setting you want for your gemstone, as it affects the way the gemstone can be viewed. Some settings allow your ring to be viewed in every direction.

Some of the gemstone setting types include:
Prong Setting

This the most common type of setting, which consists of prongs that are like metal claws that secure the stone in place.

Invisible Setting

This is the most luxurious settings, which requires specific setting expertise and skill.

Three-Stone Setting
Halo Setting
Cluster Setting
Channel Setting
Our Master Jewelers have the ability to transform your setting to refresh your gemstone ring's brilliance. In the case that you are interested in this service for your engagement ring, feel free to visit our Gemstone Resetting Services page!
Diamond Setting Examples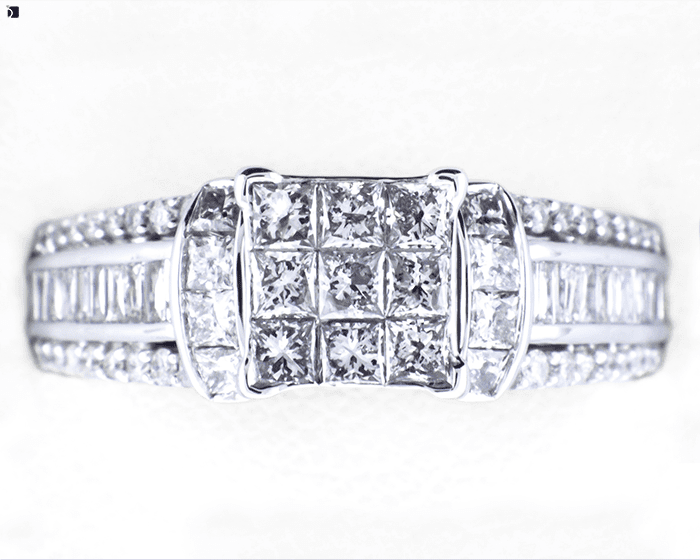 Invisible Setting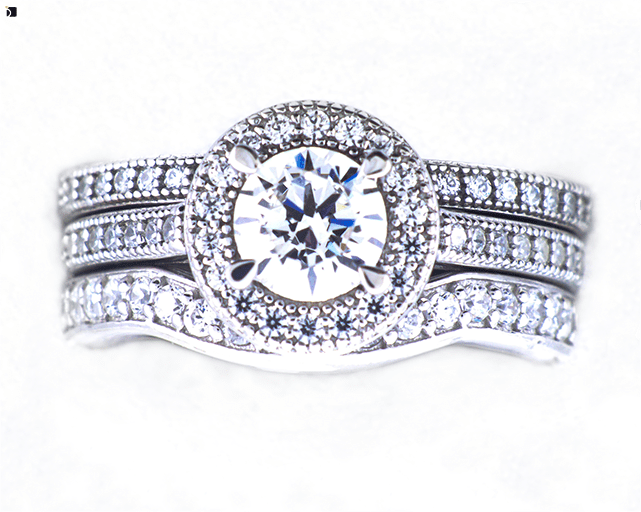 Halo Setting
Three-Stone Setting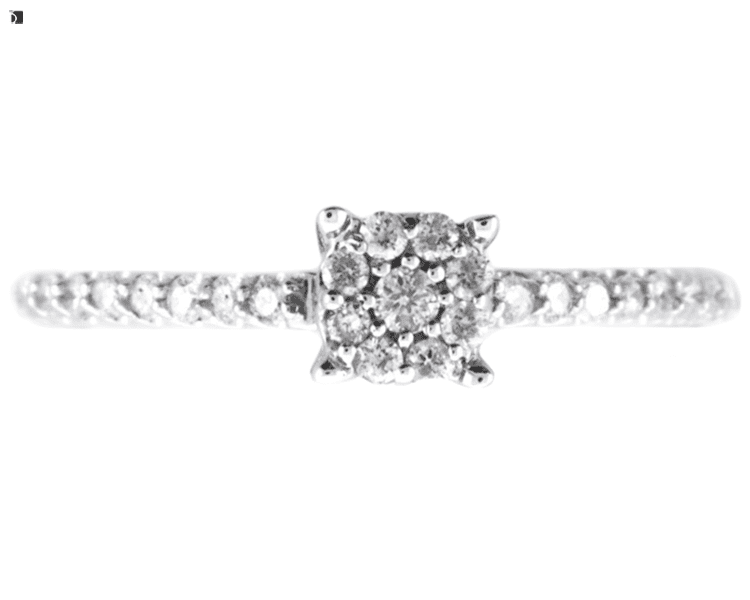 Cluster Setting
Engagement Ring Metal Types
The type of metal that your ring has also affects the appearance of the ring itself and the color of the gemstone.

The color of the metal actually can reflect throughout your gemstones, however, you can also use prongs that different in color from the main metal to lessen the effect on the gemstone!

So it's best to choose wisely as the metal can also dramatically affect how the ring looks on your hand.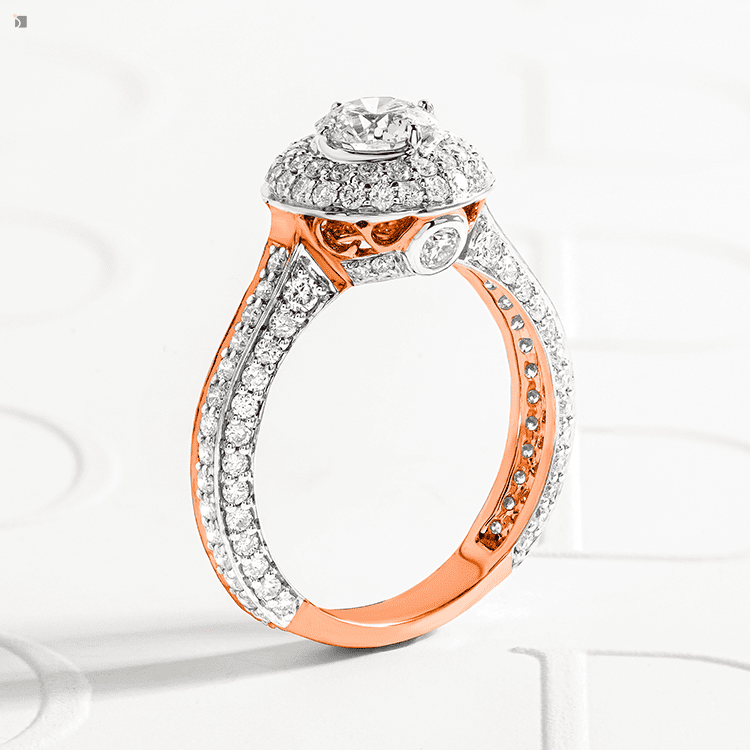 You should also consider if you do want a matching set of wedding and anniversary bands that complement your engagement ring. The design and metal of your rings will affect the choices of the others!

Here are some of the most common jewelry metals to choose from:
Yellow Gold
Rose Gold
White Gold
Platinum
Sterling Silver
What is a metal's "karat"?
A "karat" is a measurement in regard to the fineness of a metal's purity. This fineness is the measurement of fine metal weight in proportion to the piece's total weight including alloyed metals and impurities that may be present.
The traditional unit of karat is used for gold and can range from 24k, being the purest, to 22k, 18k, 14k, to 10k.

The lower the number, the more presence of alloys or impurities that are mixed with the pure gold.

Pure gold is actually more malleable, so alloys are mixed in to increase durability, which is more suitable for everyday wear.

The types of alloys that are most commonly mixed with gold are silver, zinc, copper, palladium, and nickel, which can also be mixed at higher percentages to make different colors, such as rose gold.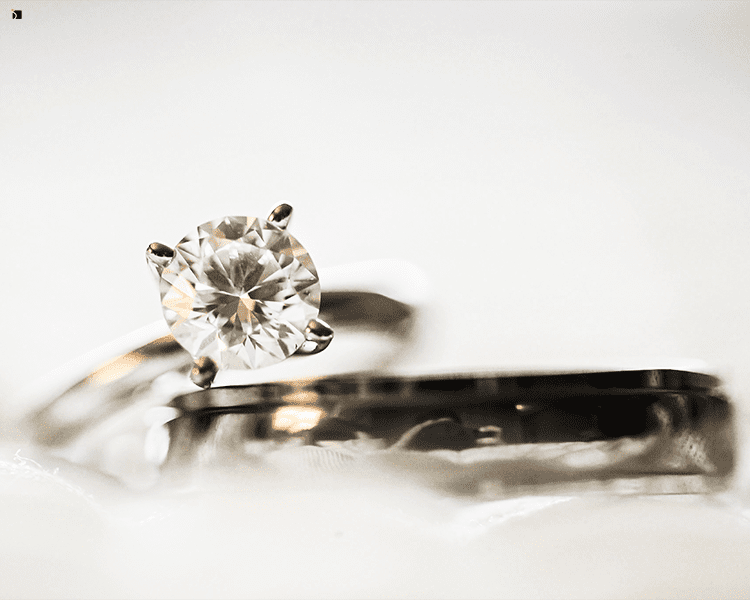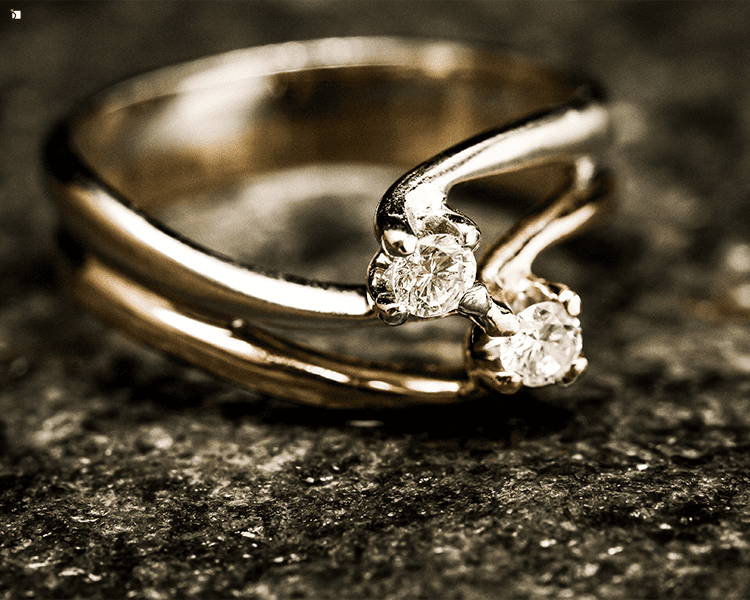 White Gold Versus Platinum
White gold and platinum both have the white metal look, but what's the difference?

White gold is actually a metal of mixed alloys that requires more maintenance and rhodium replating. Because of this, there are different levels of purity, for example, 14k and 18k. Although it's a mixed metal, it's more affordable and durable for everyday wear.

And what about platinum? This metal is actually naturally white and does not require rhodium plating as it keeps its shine. The metal is much rarer and mor expensive, however, it is actually more malleable than white gold.

If you're have trouble choosing between the two, there are other factors besides price to consider: since platinum is purer, it is better for those with sensitive skin and may be allergic to nickel.

You can learn more about rhodium replating does with white gold in our blog "What You Need To Know About White Gold & Rhodium."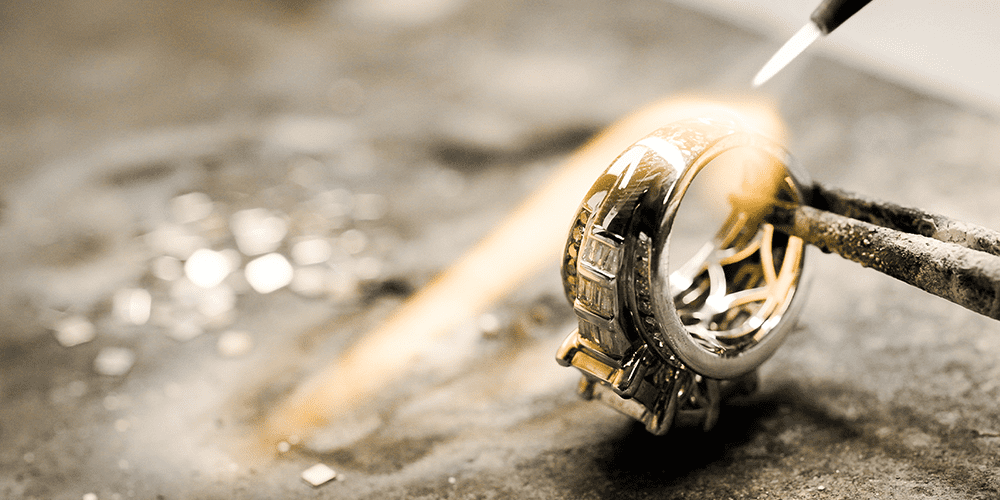 How Metal Type and Band Design Can Affect Ring Resizing
Make sure to get your ring finger measured or else you would need to get your ring resized. In the case that you do, don't worry, we happen to specialize in ring sizing services that require expert skill.

However, there are some cases where ring resizing would need to require more effort and skill than others. All rings are not created equal when it comes to how many sizes they can be sized up or down. Some are very basic and can be sized up or down 2 to 3 sizes, and others have very intricate designs which limit the amount it can be sized, or if it can be sized at all.

Here are some example of what can affect the ring resizing process:
Patterns in the shank metal

A ring with a pattern that goes all the way around the shank can rarely be resized because the sizing process will remove or damage the pattern.

Having mixed metals

A ring that is made more than one metal type may not be able to be sized, as they may have melting points that differ too much. We avoid metal contamination by matching the new metal and soldering it to the existing ring.

Using alternative metals

Some metals cannot be sized, such as Titanium, Stainless Steel, and Tungsten.
To learn more about the ring resizing process, feel free to visit our "Ultimate Ring Resizing Guide!"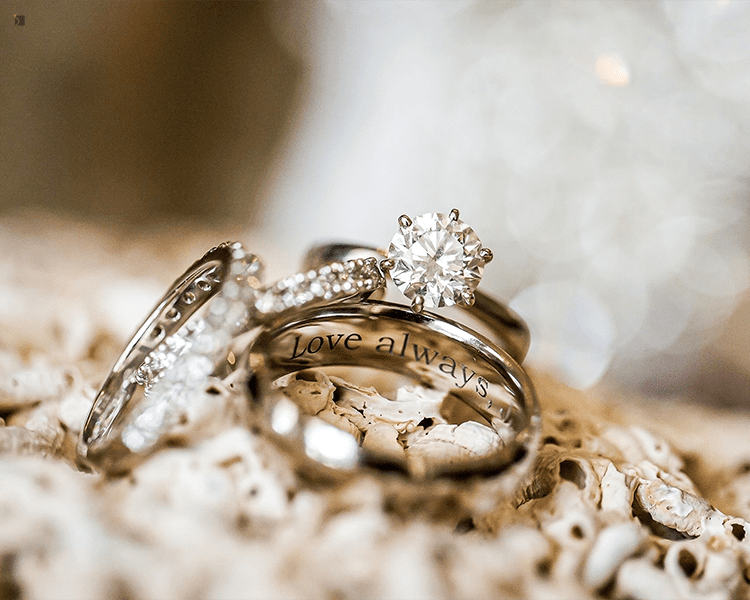 Personalizing Your Engagement Rings
Adding Engravings to Your Dream Ring
Engraving offers endless possibilities and instantly adds even more sentimental value to your precious ring. We can personalize your engagement rings, wedding rings, or any piece of jewelry symbolizing your love.

Regardless of whether you say a lot or little, by having your engagement ring engraved, you are creating a unique touch!

Our Laser Engraver is a highly flexible laser engraving machine that is able to mark a wide variety of small parts with optimal precision. What was once a specialty of some jewelers is now the expertise of a programmable machine, able to engrave essentially any metal, with any design, in any size or color.

In the case that you're interested in our engraving services for your treasured ring, visit our Engraving Services page.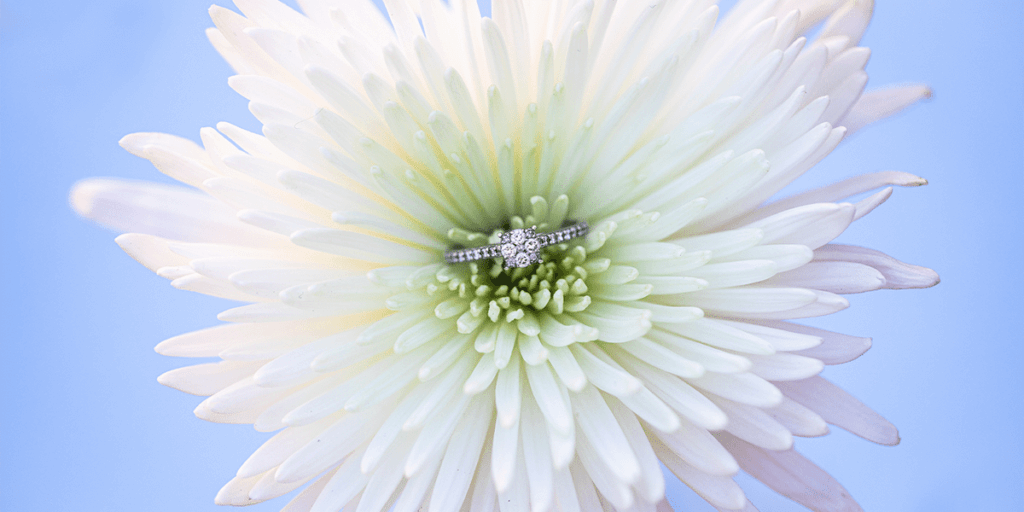 ---
Have Questions?
How Much Does Ring Repair Cost?
Very dependant on the service, but something like sizing a ring down is pretty straightforward and will cost $39.99. However, something like a gemstone replacement can vary greatly based on the size and type of stone. Here is a breakdown of a lot of the most common type of services.
Ring Repair Pricing
Pricing chart for costs associated with common ring repair services.

Items Listed Below Include Complimentary Clean & Polish




| Service | Starting Price |
| --- | --- |
| Ring Size Down (Up to 3 sizes) | $39.99 |
| Ring Size Up (Up to 3 sizes) | $44.99 |
| Prong Re-tipping (Up to 12 Prongs) | $49.99 |
| Solder 2-3 Rings Together | $49.99 |
| Rebuild / Replace Prong | $19.99 |
| Set Stones (1-5 Stones) | $49.99 |
| Solder / Fix break in Ring | $44.99 |
| Stone Replacement | Estimate |
| Other Miscellaneous Work | Estimate |
| Replace Head & Set Stone, | Estimate |
| About our : Ring Sizing Services », | |
| See Full : Pricing List » | |
How Does Ring Repair Online Work?
Our experienced team evaluates each ring resizing on an individual basis, delivering personalized care to every item we receive for repair. No hidden fees. If additional jewelry repair is needed, we let our customers know up front. A lot of times we provide extra services like rhodium plating at no extra charge to the client.
For more information, click here.

How Long Does Ring Repair Take?
Once we receive your ring, we can usually send you your estimate within 24 hours, but never more than 72 hours. Once approved, we finish work on the ring and have it reviewed by Quality Assurance within 2-4 business days.
The total time depends on your location and the shipping option you choose. We provide free standard shipping utilizing USPS Priority Mail, which is 2-3 days, but we offer faster options as well
For more information visit: Standard Repair Timelines

What If I Don't Know What Kind Of Ring Repair I Need?
We get a lot of ring sizing requests, as well as requests for prong retipping and stone replacements. Think about how often you use your hands. Rings go through a lot of wear and tear. Stones can become loose (which would require a stone tightening procedure), prongs can break, and the ring itself may need a professional clean and polish to make it look like new again. Whichever service you require, we can do it all!
Common Ring Repair Situations
Ring doesn't fit properly and needs to be re-sized
White gold (rhodium) has worn off
Stones are falling out because of worn down prongs
Ring had to be cut to be removed fron a finger and requires oldering
From bringing a ring size up or down, to soldering rings together, we have all of your ring repair needs covered!
Unless you're a specialist, don't try this at home. We see a lot of interesting stuff that comes to us from those do-it-yourself folks.
Are There Any Ring Repair Certifications?
Tons. Unfortunately, a majority of them are not well respected.
Unlike our watchmakers that get certified by trusted and established bodies recognized worldwide(usually based in Switzerland like WOSTEP), there is no recognized equivalent that one could point to for Ring Repair Certifications. The closest organized body that resembles what watchmakers have is GIA, however that is for gemologists. And while understanding gemology definitely aids in a Jeweler's knowledge, it isn't specific to Ring Repair.
That isn't to say that there aren't some certifications that we will send our Jewelers to for training anyway.
Experience is definitely the most important indicator of a Jeweler's quality.

Why Is This Better Than Ring Repair 'While You Wait On Site?'
Online Ring Repair is better than on site places as we have access to world class facilities and an array of master jewelers. Are you sure you don't want to stay home and get back to your favorite hobbies?
Your Local Jeweler Usually Sends Them Out
Oftentime, local jewelers cannot perform the work you require anyway and have to send out their ring repairs. Care to take a guess where? That's right, to MyJewelryRepair.com 😀
Skip the middle man, you can send it right to us!

'Where Can I Find Ring Repair Near Me?'
With My Jewelry Repair… Anywhere!
You Never Have to Leave Your Home!
When you find your self asking where to go, you'll be glad to know we can provide services from anywhere in the country! We have locations on both coasts and offer free standard shipping – even from Alaska and Hawaii.
All of Our Services Are Available at All Times
From New York City to San Diego, Seattle to Miami, our services are not limited by location, and can serve you anywhere in the U.S. with Free Standard Shipping. Meaning you can get the highest quality in ring repair without restriction
Print your shipping label and order slip. Choose your insurance, pack your repair(s). My Jewelry Repair provides step-by-step instructions for safe packaging and travel. All you have to do from there is schedule USPS courier pickup if you don't want to leave your home, or drop-off (with your nearest USPS location). Tracking included for safe arrival and transparency.
You'll never have to navigate a baffling mall layout again, looking for a 'quick' repair that takes forever. All you have to do is put the watch in the mail and we'll have it back with a quick turnaround, fully restored, fully functional.
Want to look into our Ring Services?
We are proud members of the

Our team includes gemologists certified by